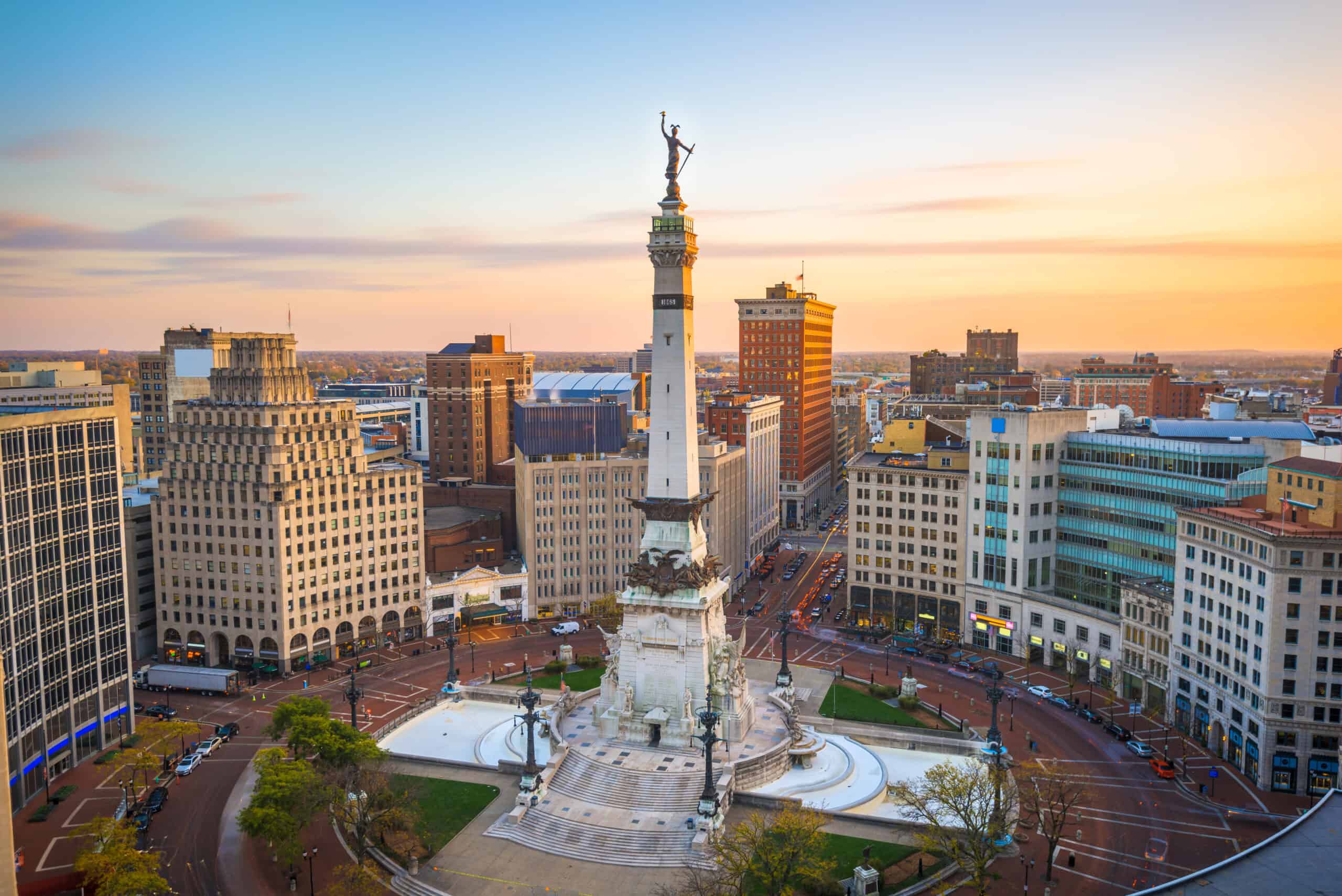 Indianapolis, Indiana's capital, is known for the Indy 500, the Colts, and one of the largest children's museums in the country. Besides these incredible attractions, this city has much more to offer. It doesn't matter if you love the country or the city; Indianapolis has a variety of unique attractions for you to enjoy with your children. Exploring with your children is a beautiful way to bond, learn about culture, and add excitement to your relationship. You've come to the right place if you need fun things to do with kids in Indianapolis.
Key Points
The Children's Museum of Indianapolis is a must-stop for all families. It can provide your children with a mix of entertainment and education!
If you want a place where your kids can play without it costing you a dime, head to the Colts Canal Playspace, the Kennedy King Memorial Initiative, or Holliday Park.
Indianapolis has a great zoo for your kids to explore. This can be a great opportunity to teach your kids about respect for nature and for our planet.
Fun Things for Kids to Do in Indianapolis
The Children's Museum of Indianapolis
The Children's Museum of Indianapolis is the largest children's museum in the world. It has a wide variety of exhibits to explore, from Scooby-Doo! Mansion Mayhem to a new Dinosphere exhibit. New exhibits are always being added to the museum. They also take care of the smallest visitors, offering unique playscapes that keep them occupied for hours. Spending the day at this museum is sure to excite everyone in the family.
Cost: Varies by the day you visit but ranges from $18 to $30 for general admission
Indianapolis Zoo
Visiting a zoo is an enriching experience for children and adults alike. The visit allows you to learn more about your favorite animals and more. The Indianapolis Zoo is home to a wide variety of animals. The Dolphin In-Water Adventure is a child favorite, allowing guests to get in the water with these playful friends!
Cost: Adult tickets start at $32.75, and child tickets start at $28.75
Fun City Scavenger Hunt
Do you and your children enjoy puzzles and scavenger hunts? Indianapolis City Scavenger Hunt is a fun way to spend the day exploring the city. The scavenger hunt consists of five stops and is two hours long, making it fun and manageable for families with younger children.
Cost: $12.99 per player over 5 years of age
Conner Prairie
Your child will enjoy spending the day at Conner Prairie if they enjoy history. First, you can explore a prairie town straight from 1836. Next, sit in a one-room schoolhouse and discover how children used to learn. Then, go on a balloon voyage ride or encounter amazing animals. Conner Prairie is full of unique activities to explore together as a family.
Cost: General admission tickets vary depending on the season, starting at $10
Greatimes Family Fun Park
Greatimes Family Fun Park is a favorite of locals in Indianapolis. A fun place to go during the warmer months, Greatimes has many attractions to choose from, such as go-karts, miniature golf, and an indoor play place, making this a wonderful place to spend the day.
Cost: Activities require the use of play points. Play points are bought per dollar—for example, $1=100 play points
SoChatti Chocolate
If you and your child have a sweet tooth, SoChatti Chocolate is a fun place to go together. You can book a tasting and explore many different treats. They also offer a kids' class that teaches all about chocolate making! If you have an older child, there's other classes that you can try together as well. They have a large store with many different types of chocolate, as well as some fruit nectar to try!
Cost: Price varies
Zip City
Zip City is an excellent place to spend the day with active children. Your child can burn off energy with the trampoline park, zip line, and climbing walls. But that is not all; Zip City has a sky lounge, ropes course, and laser tag. You and your child will have a blast exploring their many activities.
Cost: Starting at $24.95
Go-Kart Racing Indianapolis
Go-kart racing is a great activity for your child who loves speed and adrenaline. The indoor track at Go-Kart Racing Indianapolis makes this fun activity possible even in bad weather. You even can purchase a Speedpass for $64.95, giving you two races, a t-shirt, and a membership!
Cost: Starting at $25.95
Smiley Indoor Playground And Arcade
Smiley Indoor Playground and Arcade is a fun indoor place to spend the day with your child. When you visit Smiley, you can access an entertaining arcade, a rice pit playground, a lego room, and a jungle gym. This is perfect for letting your little ones explore and play off some energy.
Cost: Starting at $11/hr for ages 2 and under, $14/hr for ages 3-10
Sky Zone Indy South
Sky Zone Indy South is a fantastic activity gym. Offering activities like Wipeout, Ninja Warrior course, Sky Joust, and more, your family will surely be entertained. They even have a toddler zone, making this activity possible for families with the littlest ones.
Cost: Vary depending on the day and time
Indianapolis Indians Game
Taking your sports lover to an Indianapolis Indians game is a cost-effective way to enjoy baseball with your family. You can let your child join the Knot Hole Kids Club for a one-time fee of $20. With this purchase, they will receive tickets to all home games, have the opportunity to go on the field to announce "play ball," run the bases after the game on Sundays, and more!
Cost: Varies per game
IMAX Theater
The IMAX Theater prides itself on being an immersive experience for each movie-goer. The sound system is outstanding, and the pictures have the highest resolution. The details put into the IMAX experience make your time at the movies much more than when at your typical theater.
Cost: Starting at $7 per child or $10 per adult for 60 minutes or less
White River State Park
Walking downtown Indianapolis allows you to hit many attractions. This includes the White River State Park. Doing so will give you a beautiful view of the river and access to many other places on this list, such as the IMAX theater and the Indianapolis Zoo. Visiting the White River State Park is a lovely way to spend the afternoon with your child.
Cost: Varies depending on the attraction
Colts Canal Playspace
The Colts Canal Playspace is a unique playground in downtown Indianapolis. This playground has bright colors that appeal to children, engaging climbing equipment, and soft ground, making it enjoyable for toddlers. Older children can find plenty to do here, with climbing objects and rope structures for them to conquer. There are no bathrooms here, but public bathrooms can be found a short walk north.
Cost: Free
Eagle Creek Park
Eagle Creek Park is a beautiful place to explore if your child is a nature lover. This park offers boating, fishing, and hiking. Eagle Creek has over 3,900 acres of forest and 1,400 acres of water to explore. It is only a few minutes outside of the city, making it the perfect escape to nature.
Cost: Starting at $5 a vehicle
Kennedy King Memorial Initiative
Does your child love learning about history? Visiting the Kennedy King Memorial will give you an appreciation for the work toward peace. It will also give you a newfound understanding of the progress that has taken place in Indianapolis and the United States while honoring two men who changed history.
Cost: Free
Holliday Park
Holliday Park is one of the oldest parks in Indianapolis. If you go six miles outside of downtown into Holliday Park, you can feel like you walked straight into a nature-lovers dream. You can watch wildlife like birds, rabbits, foxes, etc. Go on a nature hike, play on a playground, and more. Holliday Park offers an excellent escape for those who love the city yet yearn for nature.
Cost: Free
Tuttle Orchards
Orchards are for more than just visiting in the fall. Tuttle Orchards is a lovely place to visit any time of year. The store is open year-round and sells apples, meats, baked goods, etc. Tuttle Orchards offers many family activities depending on what time of year you visit. In the fall, you can visit the pumpkin patch, ride a wagon, or race through a corn maze. Play on the hay playspace, pick some apples, or view bees; the activities are many.
Cost: Free to enter the farm
Indianapolis Motor Speedway
When a person hears Indianapolis, they typically think of the Indy 500. This is because this largest racing event in the US is located at the Indianapolis Motor Speedway. Experiencing the speedway and seeing a race as a child can create lasting memories, making this a fantastic opportunity if you are near Indianapolis. Just be sure to bring those noise-canceling headphones for sensitive ears.
Cost: Varies per event
Indiana Historical Society
The Indiana Historical Society prides itself on being an immersive way to experience history. When you visit the Indiana Historical Society, you can explore their new exhibit Eva Kor From Auschwitz to Indiana. Eva was a Holocaust survivor who Mengele used in experiments. This exhibit allows you to hear her testimony of forgiveness and strength. You can also see documents that shaped America and learn about authors.
Cost: Adults start at $15, youth $5, and children under 5 are free
Indiana State Museum
Indiana State Museum is home to many historical sites, exhibits, and galleries, allowing you to travel the state and see history. In addition, the museum offers interactive exhibits that explore Indiana's most influential animals, Indiana's founding people, and more.
You could also head out into Indiana and visit the Culbertson Mansion, a philanthropist who became one of the wealthiest men in the state. Maybe you would like to see the Levi and Catharine Coffin House. A house that helped keep over 1,000 people safe while heading to Canada for freedom. These are just a few excellent historical sites you can visit when choosing the Indiana State Museum.
Cost: The museum starts at $17/adult, $12/youth, and children under 3 are free. Prices vary on historical sites
The Treehouse Indoor Playground
The Treehouse Indoor Playground was built to provide a safe and fun place for families in the community to bring their children. The best part? It is entirely free. The playground is open Tuesdays and Thursdays from 9-11 a.m. to 1-3 p.m.
Cost: Free
The Well Community Center
The Well Community Center is located inside The Well Community Church. It was created to bring families together in a fun and safe environment. For $30, you can reserve the use of the community center for 15 people or fewer.
Cost: Starting at $30 for two hours
West Commons Playground and Splashpad
In Central Park, you can find West Commons Playground and Splashpad. Park amenities include a waterpark, playground, trails, and more. Splash pads are an excellent choice for summer days when it's hot.
Cost: Staring at $12/youth and $15/adult
Indy Attraction Pass
Why limit your adventure to one place? For those looking for maximum fun on a budget, the Indy Attraction Pass is a great way to go. You can purchase a one-day or three-day pass to several attractions across Indianapolis. These attractions include Conner Prarie, Eiteljorg Museum, Indiana Historical Society, Indianapolis Zoo, The Children's Museum Of Indianapolis, and more., making it possible to explore even more of the city of Indianapolis with your child.
Cost: Starting at $39
In Conclusion
There are plenty of fun places to go with children in Indianapolis. For your history buff, you can take them to the Indianapolis State Museum or the Kennedy King Memorial. If you have an active child, they will enjoy Sky Zone or Zip City. The Indy Attraction Pass gives you more options for your pocketbook. There is no shortage of entertainment for you and your child in Indianapolis.