[addtoany]
If you were to take polls and surveys of what the favorite foods of people in the United States of America are, I would be willing to bet that the two sources of inspiration for this meal would rank near the top of the list.
Pizza, a distinctly Italian creation that has slowly been Americanized, and tacos, which originate from Mexico but have also been Americanized, are very popular foods for people to love and this particular meal is combining the best elements of both. As a result, the combination creates one of the best meals you could ever have: taco pizza!
Homemade Taco Pizza
Pizza has been so popular for so long that it has entered the realm of a myriad amount of variations that can be conducted onto it. From white pizza to Hawaiian pizza to cheeseburger pizza and more, the construction of the pizza is such a simple, brilliant idea that it is practically begging for chefs and aspiring cooks (and even people who just cook at home for themselves or for their families) to experiment on it, as if they are artists painting on a blank canvas.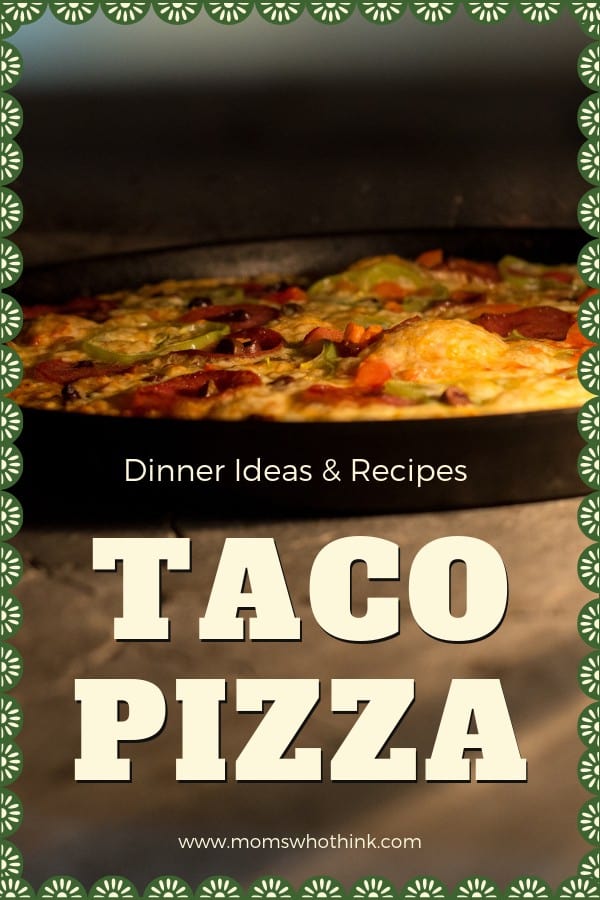 This particular pizza concoction blends the delicious flavors of Mexico and Italy into one delicious and harmonious cuisine that will be beloved by the entire family and does not take any longer to cook than your average pizza with a few select toppings.
Not to mention, this can also be cooked at home! It is not just a specialty pizza that you feel like trying out when you order from a local pizza place. It is the homemade taco pizza, which consists entirely of ingredients and steps that are not just able to be carried out at home but are encouraged to do so. Stay in for the evening and don't worry about answering the door for a delivery driver. Instead, gather the entire family around to help put the toppings on themselves, creating the pizza they will love with their own hands.
After all, few meals taste better than the ones that you make all on your own. Not only is it delicious, but it is also a symbol of a job well done.
Tacos and Pizza
One of the best parts of this homemade taco pizza recipe is how versatile and dynamic the recipe is, as a whole. Obviously, to know how to make, prepare, and cook a homemade taco pizza, you have to know how to cook a pizza. Once you have a base knowledge of what is required to make a pizza, you can pretty much make any sort of pizza you want, experimenting with the type of sauce you use as the base (if any) and the toppings that are spread about on top of the sauce.
But this particular recipe not only teaches you how to make a homemade taco pizza, but it can also definitely give you some ideas on how to make tacos if you ever decide to go back to keeping it simple.
To create a homemade taco pizza, this particular recipe calls for the ingredients to consist of ground beef, green pepper, cornbread twists, and salsa, but this is obviously a very niche combination of Mexican cuisine-inspired flavors. For example, pork sausage can be utilized in place of the ground beef and there are way more peppers than just green peppers. We all know that salsa can be taken in a myriad of different directions, but the key ingredients here are the cornbread twists.
Cornbread is insanely delicious and it is definitely a game-changer if you ever try to make tacos after experimenting with taco pizza. Definitely keep them in the mix and you will find that all meals can simultaneously be a breeze and about of deliciousness when following this recipe!
If you enjoyed this recipe, make sure to check out our Taco Pizza and our Bubble Pizza.
Print
Taco Pizza
---
Author:

Total Time:

35 minutes
8 ounce

lean ground beef and/or bulk pork sausage

¾ cup

chopped green sweet pepper

1

–

11½

oz. package refrigerated corn bread twists

½ cup

bottled salsa

3 cups

shredded taco cheese blend (

12 ounces

)
---
Instructions
1. In medium skillet cook ground meat and sweet pepper over medium-high heat, until meat is brown and pepper is tender.
2. Drain off fat and set aside.
3. Unroll corn bread dough (do not separate into strips).
4. Press dough into the bottom and up the side of greased 12inch pizza pan.
5. Spread salsa over dough.
6. Sprinkle with meat mixture and cheese.
7. Bake uncovered in a 400°F oven about 20 minutes or until bottom of crust is golden brown.
8. Cut into wedges and serve.
Prep Time:

15 Minutes

Cook Time:

20 Minutes

Category:

Main Course

Method:

Baking

Cuisine:

Tex-Mex
Keywords: homemade taco pizza, pizza and tacos
The image featured at the top of this post is ©Igor Ploskin/Shutterstock.com.