Today we're digging into two of the most fun Tex-Mex mouthfuls: chimichangas and flautas. These mouthwatering delights have gained popularity on American dinner tables worldwide, especially here in America. Though they're less well-known than their more mainstream counterparts, you already know more than you realize about these two dishes. In this article, we'll explore their unique characteristics, nutritional differences, potential substitutions, and other culinary swaps you and your family can enjoy.
Chimichangas and Flautas: Are They the Same Dish?
When it comes to chimichangas and flautas, there is often confusion about their similarities and differences. While they both share a common heritage and core ingredients, they are not exactly the same thing. The big differences are the size of each, what you put on the inside vs. what you put on the outside, the quantity that people typically consume in a sitting, and the mechanics of how you consume them.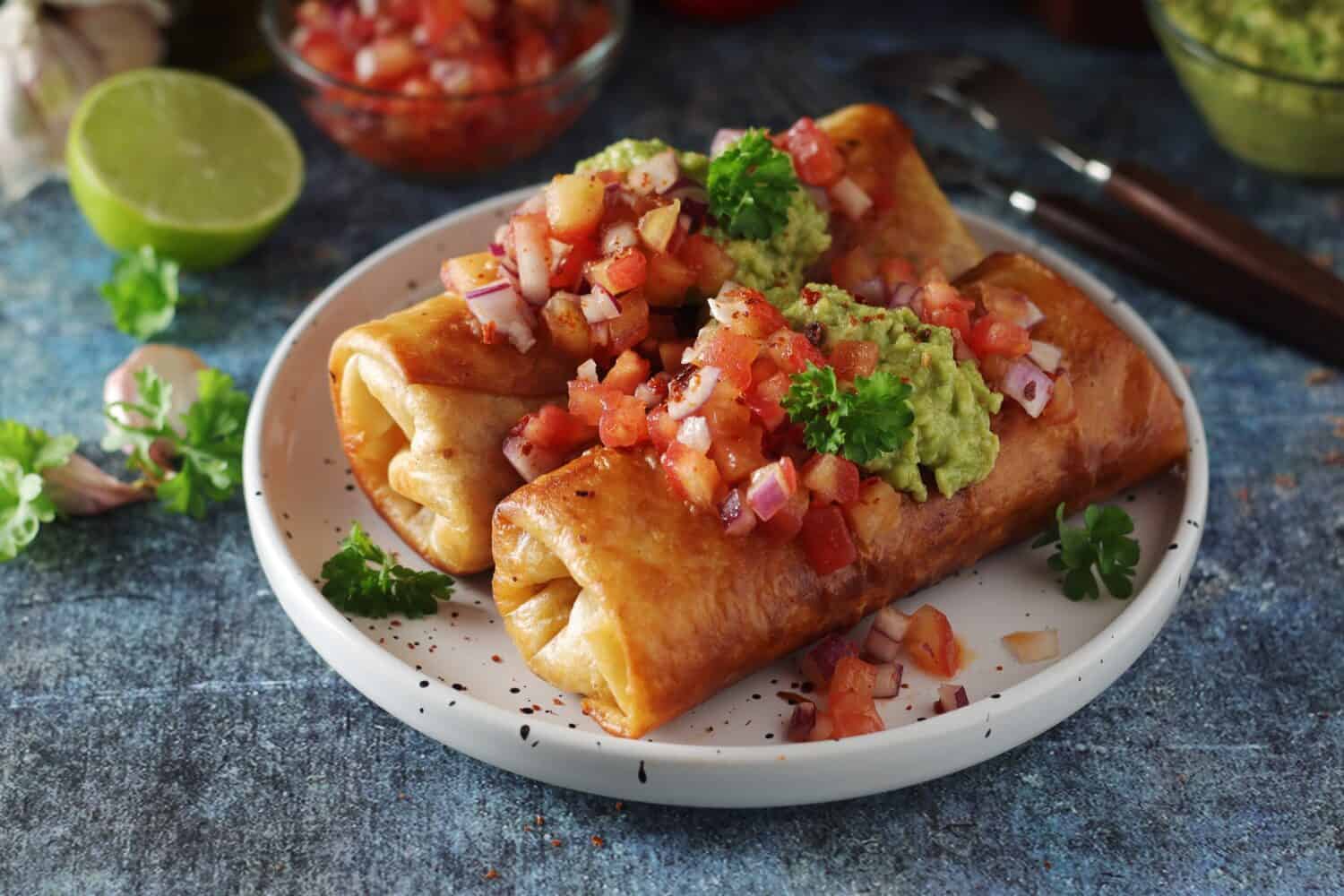 Chimichangas
Chimichangas originated in the Sonoran region of Mexico and are essentially deep-fried burritos. These delectable little parcels are typically filled with a savory mixture of seasoned meat, beans, cheese, and vegetables. The tortilla is folded and sealed before being submerged in hot oil to achieve a golden, crispy exterior. Done right, the tortilla will shatter when you bite into it, adding a truly delightful textural element to your favorite flavor profiles. They're often served with traditional sauces like salsa roja or salsa verde, queso, or guacamole. Occasionally they're served smothered in sauce with melted queso fresco on them, but our personal preference is to have several dipping options before us, and to eat them with our hands.
Flautas
Flautas, on the other hand, have their roots in various regions of Mexico. Traditionally, you make flautas by rolling corn tortillas tightly around a flavorful filling, usually consisting of shredded chicken, beef, or cheese. If you're feeling crazy, you can load the interior up with all three. Then you fry them until they become crispy and resemble the shape of a flute, hence the name "flautas."
If you're saying to yourself that these sound very similar to the iconic 7-11 taquito, you are correct. The popular convenience chain is, in fact, selling you flautas under the guise of being tiny tacos. We forgive them, though, because whatever you call them, they are easily one of the fastest, most delicious, most crowd-pleasing dishes in existence. We dare even your pickiest eater not to love them, especially because of how portable they are. The smaller serving size is also less overwhelming for apprehensive tasters.
What are the Nutritional Differences Between Flautas and Chimichangas?
There are several really important nutritional differences between chimichangas and flautas. Keep in mind that these values may vary depending on the specific ingredients used and the cooking methods employed. The single-unit size of each dish is also very different. A single flauta is much smaller than a single chimichanga; they are not a 1:1 portion size comparison, and that's important to remember.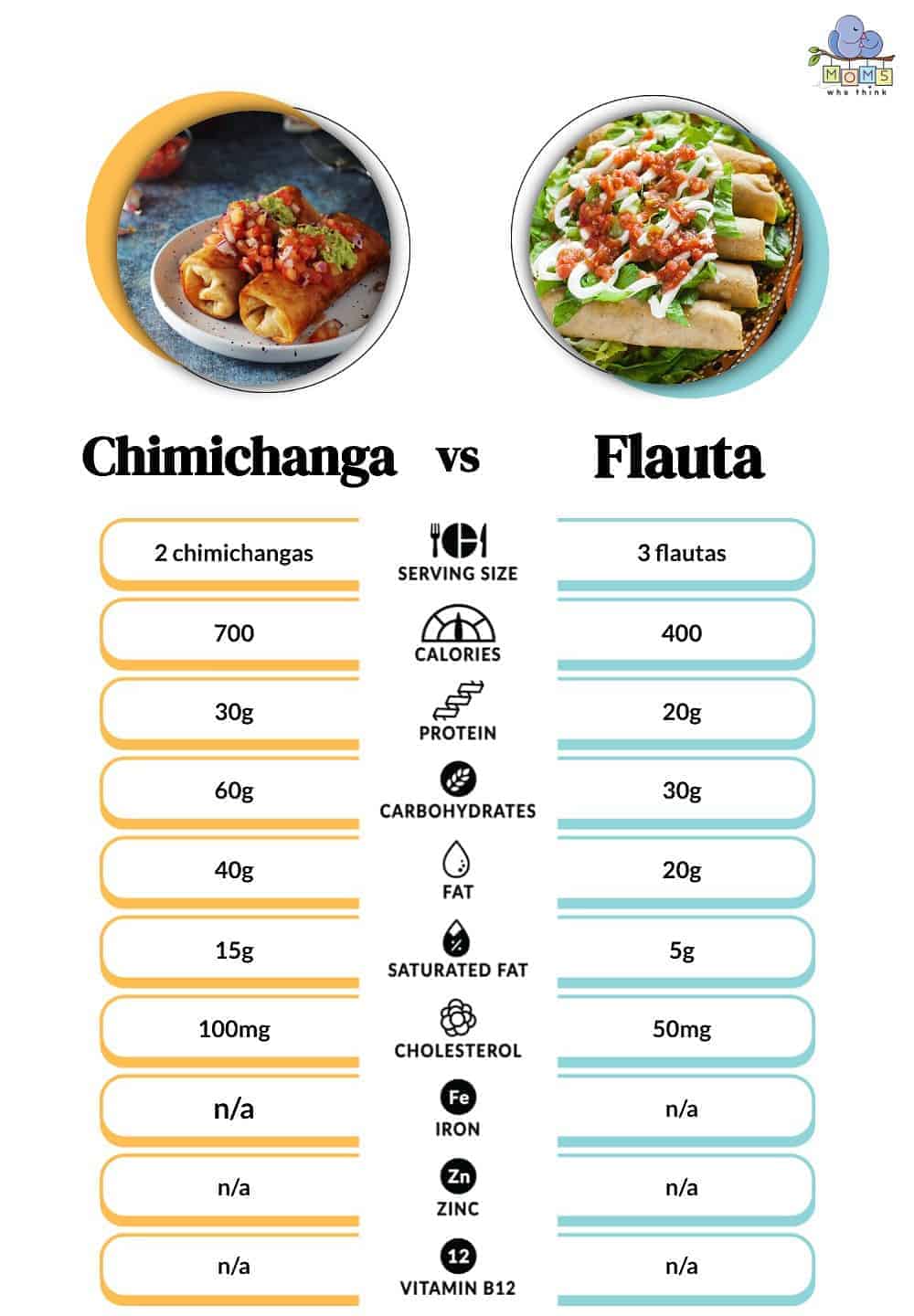 What Makes Chimichangas Unique?
Due to the deep-frying process, chimichangas tend to have a slightly higher calorie and fat content than flautas. However, by using lean meats, whole-grain tortillas, and incorporating healthier cooking techniques like baking or air frying, you can adapt this dish into something that balances flavor and nutritional benefits without sacrificing the textural elements we all love so much.
What Makes Flautas Unique?
Flautas, also contain a moderate amount of calories and fat because you traditionally prepare them by frying them. However, their smaller individual size compared to chimichangas often results in a lower calorie count… You just have to watch your portion control! Eating half a dozen of these will really add up calorically if you're not careful. And, like with the chimichanga, opting for lean protein fillings and baking instead of deep frying can further enhance their nutritional profile.
Can They Be Substituted for Each Other?
While chimichangas and flautas have distinct differences, they can be substituted for each other in some cases, depending on personal preference and the desired texture.
Your personal preference is the trump card here, but you can substitute these two distinct dishes for each other as often as you want or need. Take into consideration the amount of time you have to prepare the food, how many people you need to feed, and how you're going to eat the meal. (If you need something you can feed your kids in the car, you're looking at flautas. If your teenage son has his hockey team coming over, chimichangas are the play.)
Chimichangas as a Flauta Substitute
If you're craving flautas but don't have the time or ingredients on hand, you can prepare chimichangas instead. The key is to use smaller tortillas and roll them tightly to resemble the shape of a flauta. While the texture may differ slightly, the flavors will still be delightfully satisfying.
Flautas as a Chimichanga Substitute
If you're hankering for chimichangas but only have corn tortillas available, fear not! You can make flautas using flour tortillas and fill them with your desired ingredients. While the end result may lack the characteristic deep-fried crunch, you'll still experience the wonderful fusion of flavors.
When scaling one dish to substitute for the other, you have to keep in mind that the base size of each culinary unit is different. If you're swapping flautas in for a chimichanga, you're going to need 3-5 flautas to meet the caloric and nutritional values of a single deep-friend burrito.
Other Substitution Options: Expanding Your Culinary Repertoire
Apart from substituting chimichangas and flautas for each other, let's explore other delicious substitution options to add variety to your Mexican culinary repertoire.
Enchiladas: Enchiladas, rolled tortillas filled with meat, cheese, or vegetables and topped with a savory sauce, are a fantastic alternative to both chimichangas and flautas. Whether you bake them or fry them, they offer endless flavor possibilities.
Tostadas: Tostadas are flat, crispy tortillas topped with various ingredients, such as refried beans, shredded meat, cheese, and fresh toppings like lettuce, salsa, and guacamole. They provide a different texture and flavor profile that can satisfy your cravings.
What Are Some Examples of Healthier Cooking Techniques for Chimichangas vs. Flautas?
It was mentioned earlier, but bears repeating. T there are definitely alternatives to deep frying both of these dishes that offer healthier options for your family meals. when it comes to replicating crunch without adding in the health concerns of deep frying, you cannot beat the air fryer in terms of efficiency or efficacy.
Baking these in a hot oven on a sheet pan with a rack will also get you similar results. You have to brush the tortilla down with a small amount of oil to help facilitate the Maillard reaction that leads to the toasty golden-brown color and satisfyingly crunchy texture, but you'll still be adding far less oil to the dish than you would be if you deep-friend them submerged in an entire vat of fat.
You can also improve the nutritional value of both of these with the dips and sides you consume alongside them. We love queso and refried beans as much as the next mom, but when making smart swaps, we use fresh salsas and guacamole to increase the dishes' vitamins, minerals, fiber, and healthy fats.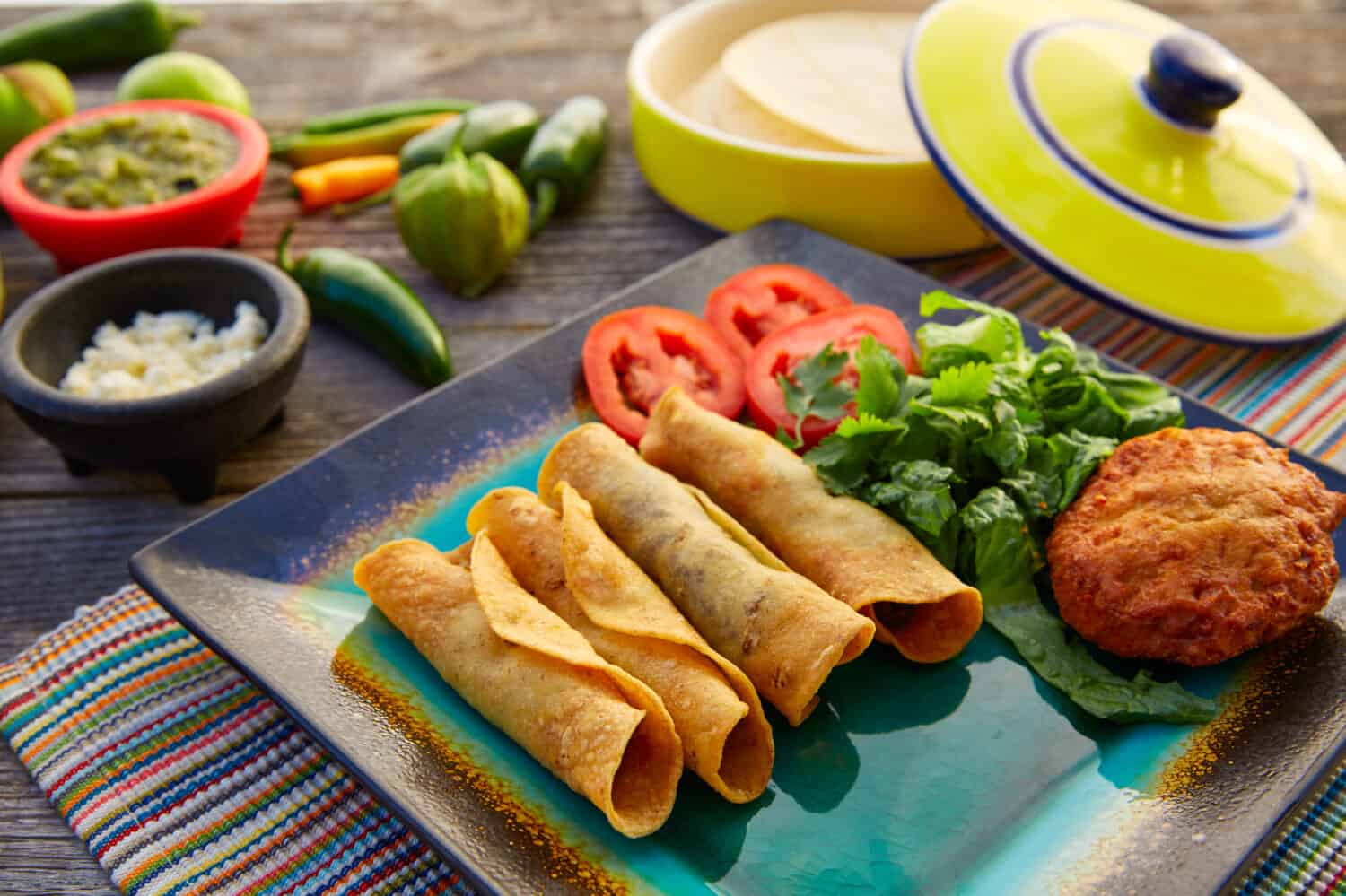 Best Chimichanga Recipes
Print
Baked Chicken Chimichangas
---
Author:

Yield:

16

chimichangas

1

x
6 tablespoons olive oil, divided
3 pounds chicken breast, cut into bite-size pieces
1 teaspoon salt
1 teaspoon ground black pepper
1 cup onions, diced
1 cup green bell pepper, diced
2 teaspoons ground cumin
1 teaspoon cayenne red pepper
1 teaspoon dried oregano
1 cup thick and chunky salsa (medium or mild)
16 (8 inch) flour tortillas
4 cups four cheese Mexican shredded cheese
Supplies:
6 one quart freezer bags
2 one gallon freezer bag, labeled
On hand for each entrée:
Sour cream
---
Instructions
1. In a large skillet with 4 tablespoons olive oil, brown the chicken on medium high heat until no longer pink. Season the chicken with salt and pepper. Place the cooked chicken in a bowl, set aside.
2. Reduce the heat to medium and add 2 tablespoons of the olive oil to the skillet. Sauté the onion, green pepper, cumin, cayenne pepper, and oregano until tender. Add the chicken back to the pan and cook until heated through, stirring often. Stir in the salsa and heat for one minute. Set the pan aside.
3. Divide the chicken mixture evenly between 2 one-quart freezer bags; seal and set aside. Place 8 flour tortillas into 2 one-quart freezer bags; set aside. Divide cheese evenly between 2 one-quart freezer bags. Place one bag chicken mixture, one bag tortillas, and one bag of cheese into each of the one-gallon freezer bags.
To Serve:
1. Remove one entrée from the freezer and place in the refrigerator to thaw completely.
2. Preheat the oven to 400°F. Spray a large sheet pan with nonstick spray; set aside.
3. For each chimichanga, place ½ cup of the chicken mixture in the center of the tortilla. Sprinkle ¼ cup of the cheese on top. Fold in the opposite sides of the tortilla over the chicken mixture. Roll up the tortilla, enclosing the mixture, and place it seam-side down on the sheet pan. Make the rest of the Chimichangas and place them on the sheet pan. Spray the tops of the Chimichangas with nonstick spray. Bake 10 minutes. Serve with sour cream.
Notes
Freeze for up to 3 months.
Best Flautas Recipes
Conclusion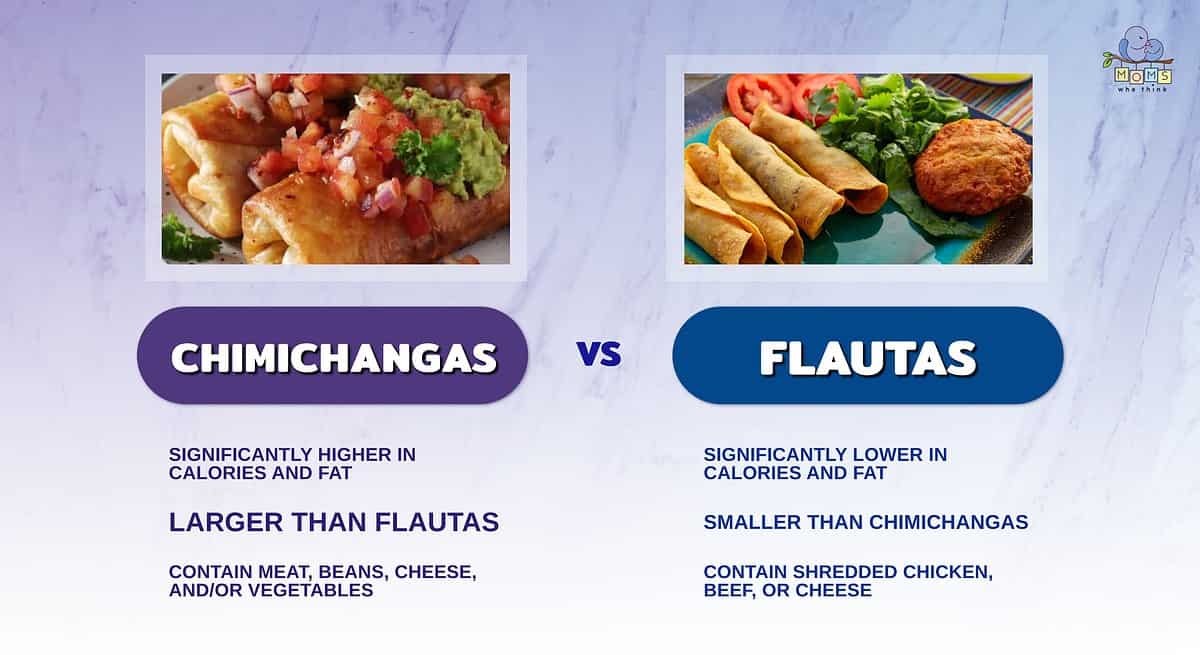 Chimichangas are a lot higher in fat and calories than flautas. Since flautas are on the smaller side, it's important to control your portion size so you don't over-indulge. It's easy to wrack up the calories if you eat half a dozen flautas in one sitting.
Chimichangas are certainly bigger than flautas, meaning each one will be more filling.
Flautas usually contain shredded chicken, beef, or cheese, while chimichangas can contain a mix of ingredients or even just beans or vegetables.
You can now confidently navigate the world of portable Tex-Mex cuisine, distinguishing between chimichangas and flautas with ease. Remember, while they may have similarities, chimichangas and flautas have their own distinct characteristics, nutritional merits, and potential for substitutions. So, get creative, experiment with flavors, and remember that the sky is the limit when it comes to the possibilities in making both of these delicious options your own.