Fruit: it's not just for breakfast or snacks anymore. Fruit is a great accompaniment to a lot of savory meals. One of the best ways to use fruit is with meat, and apples are one of the best.
Apples are a perfect pairing with pork. If you haven't tried it before, one bite will reveal all of the deliciousness of the combination. Both sweet and savory, this dish will delight your taste buds. This spiced apple pork tenderloin is a savory dish that is warm and comforting for chilly evenings.
Pork Tenderloin with Cinnamon Apples
Pork tenderloin is an excellent choice for a family meal. The taste of the flavorful, tender pork makes a delicious and savory dish. The fragrance of apples, cinnamon, and brown sugar will fill your house with the homey aroma of autumn.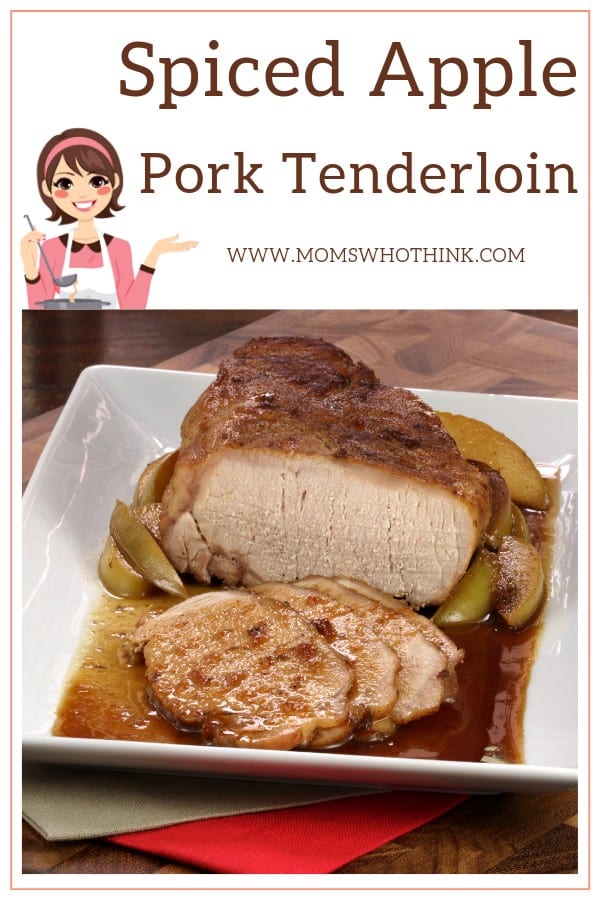 Adding fruit to meat can win over even the pickiest of eaters. Who doesn't love the taste of apples and cinnamon? Children who normally aren't great meat-eaters can be enticed with sweetened, spiced fruit.
As a bonus, adding fruit to pork tenderloin makes the dish a nutritional superstar. You get the protein from the pork as well as the vitamin C and fiber from the apples. You can't get much easier than this when it comes to putting together a healthy meal for your family.
Because the pork tenderloin and apples are already a complete meal in themselves, that makes it easy to choose a side dish. You can choose something light and healthy like a salad or serve it on the side with some dinner rolls or bread.
Another flavorful side that complements pork tenderloin with cinnamon apples is mashed potatoes. You can use either regular russet potatoes or sweet potatoes for even more nutritional benefits. Sweet potatoes, in particular, go well with cinnamon apples and are high in vitamin A.
Pork Tenderloin and Apples
Making pork tenderloin and apples can be a delicious and hearty dinner for your family. It doesn't take too long to cook. But if you're like me, you want to spend as little time in the kitchen as possible while still getting a great meal on the table.
If you love your Instant Pot or crockpot like we do, you may be wondering if you can make pork tenderloin and apples in them. And the answer is that yes, you can! Here's what you need to do if you want to make pork tenderloin in your Instant Pot or crockpot.
To make the pork tenderloin in the Instant Pot, you'll want to rub all the spices on the pork tenderloin first. You'll also want to add a cup of vegetable broth to help cook the meat correctly.
Add the broth to the Instant Pot first. Then add the tenderloin and apples next. Set on manual and cook for 7-10 minutes. The meat will still be a bit pink if you cook it on the lower end of the time, so set your cook time according to how well-done you want the meat to be.
Keep in mind that pork only has to cook to 145 degrees F, so it can still be a bit pink in the middle while being thoroughly cooked to a safe temperature.
Pork tenderloin sometimes has a reputation for being a bit dry. That makes it a perfect fit for either cooking quickly in the Instant Pot or cooking slowly over low temperatures in a crockpot.
Spiced apples are the perfect pairing for pork tenderloin. Regardless of how you decide to cook your pork tenderloin, it's guaranteed to be delicious when you combine it with tasty apples and cinnamon.
Other Great Apple Dinners to Try
Pork and apples isn't the only great dinner out there that includes apples. Apples are abundant in the fall, so finding dinner recipes that incorporate them is a great idea. Here are a few great suggestions to get you started.
If you want to continue pairing apples with meat, you can try chicken next. Chicken is beloved for its nutritional content, so when paired with apples it can make a meal that's both nutritious and delicious! Pick apples that strike a good balance between sweet and savory, keeping in mind chicken's neutral taste.
Another great option is a salad with apple in it. Salad may not be a kid's choice for dinner, but it's certainly a healthy way to enjoy some apples. There are a lot of different salads that incorporate apples, especially ones created specifically with the fall or winter season in mind. An apple salad is a great dish to bring to a gathering, too.
Our final suggestion is another pork dish. Instead of just making pork and apples, why not add in some candied pecans? This will certainly amp up the sweetness, making it another favorite dinner with kids. There are few better combinations than pork, apples, and pecans, so what are you waiting for? Go and try it!
If you enjoyed this recipe, make sure to check out our Breaded Pork Chops with Cream Gravy and our Ham and Potato Casserole Recipe.
Print
Spiced Apple Pork Tenderloin Recipe
---
Author:

Total Time:

1 Hour
Description
Making pork tenderloin and apples can be a delicious and hearty dinner for your family. It doesn't take too long to cook. But if you're like us, you want to spend as little time in the kitchen as possible while still getting a great meal on the table.
---
3

pounds

pork tenderloin

1/2

cup

brown sugar, packed

2 1/2

cups

warm water

2 Tablespoons

cornstarch

1 teaspoon

ground cinnamon

1/2 teaspoon

nutmeg

1/2 teaspoon

ground ginger

4

Granny Smith apples, peeled, cored and chopped

1/3

cup

raisins
---
Instructions
Preheat the oven to 400 degrees F. Place the pork tenderloin in a roasting pan.
In a medium bowl, whisk the brown sugar with the water until dissolved. Use the whisk to add in the cornstarch, cinnamon, nutmeg and ginger. Combine well.
Add the apples and raisins to the mixture, stirring to coat with brown sugar mixture.
Spoon the apple mixture around the pork tenderloin. Cover and bake 30 minutes.
Uncover the pork and spoon the apple mixture over the top and sides of the tenderloin.
Return tenderloin to the oven, uncovered,  and bake 15 to 20 minutes longer, or until browned and cooked through (a meat thermometer inserted in the center should read 150 degrees to 160 degrees F).
Serve pork in slices with the spiced apple cinnamon sauce on top of each slice.
Prep Time:

10 Minutes

Cook Time:

50 Minutes

Category:

Main Course

Method:

Baking

Cuisine:

British
Keywords: pork tenderloin with cinnamon apples, pork tenderloin and apples