Let's Get Ready for Baby!
Sign up for our monthly pregnancy email series, and you'll get regular updates on your baby's development, helpful timelines to get ready for their arrival, must-have baby needs and so much more! PLUS, you'll get instant access to the MomsWhoThink "Ultimate Guide to Baby Naming in 2022."
CLICK HERE
to get started!
[addtoany]
Ham is a classic main entrée for many holiday meals. It was always on the table at every holiday when I was growing up. Just seeing that there was a ham on the table equaled that it was a special occasion. It's one of those traditions that I wanted to keep for my own family.
To cook a ham properly takes a couple of hours, though fortunately, most of that is not spent in hands-on cooking time. Still, the savory scent of this smoky meat will fill your house as it cooks. Your family will associate it with holidays and special occasions just as mine does. Is there anything more welcoming when you arrive at someone's house and it smells like delicious food?
Even though cooking a ham takes a couple of hours, it's definitely worth the wait. You can make a plain ham, of course, and I still think it tastes good that way. But it's even better when you have a delicious topping that enhances its flavor.
The glaze for this fruited baked ham takes it from delicious to truly magical. Fruit is well known for being an excellent accompaniment to pork. The flavors complement each other so well, you'll wonder why you ever made ham any other way.
Baked Ham Easy Recipe
Baked ham is easy to make. In fact, few other recipes have quite the payoff as baked ham. It tastes as you put in a lot of effort to make such a delicious tasting meal. Little did I know that when I was a kid eating ham at Grandma's for a Sunday dinner that it was so ridiculously simple to prepare.
Ham is impressive both because of how good it tastes, but also because it's such a large cut of meat. As a large cut of meat that weighs several pounds, it often tends to be more expensive. This is probably the biggest reason that most families save ham for dinners on special occasions.
Of course, a large cut of meat like ham is perfect for serving a crowd—such as hosting your extended family for a holiday dinner. But another good thing about having such a large piece of meat is that even with serving a crowd, you're still likely to have leftovers.
Sometimes the flavor of meat changes when reheated, but ham is an exception. Leftover ham still tastes just as good when it's reheated, which means you won't have to struggle to choke it down. Leftover ham works well in a variety of other delicious dishes.
First, leftover ham makes for a yummy sandwich, whether for lunch or dinner. Because the slices of a baked ham tend to be thicker than deli ham, it will be a more filling sandwich. You can also use leftover ham in a variety of casseroles and soups. Just knowing that you have a couple of pounds of ham leftover from a previous dinner makes your week's meal planning a lot easier. And while the initial cost of ham can be a bit substantial, it actually works out to be a good deal when you consider how many meals you can make out of it.
Baked Ham with Fruits
Baked ham with fruits is always a good combination. This recipe calls for apples and cherries, their sweetness cut with the tangy flavor of orange juice. Because it uses preserves, it's about as easy as it gets to make the fruit topping for this recipe.
But there are plenty of other fruits that go well with ham, as well. Pineapple and ham are a classic combination that always complements each other. Whether you just put canned pineapple rings on top of the ham as it bakes or makes a pineapple puree to serve on top, it's sure to be a hit.
Cranberry is another fruit that goes well with ham. You might be surprised by this since it isn't the most common combination. But the only real surprise is how good it tastes! A homemade cranberry chutney, with coarsely chopped fresh cranberries, is a star-studded addition to your meal ideas.
Nutrition experts are always saying that families need to do better about consuming more fruits and vegetables. But this can often be difficult in reality, especially if you have kids who are picky eaters. Adding fruit to your dishes is a sneaky but effective way to get them to eat more fruit. Consider making baked ham with or without fruit—your family will love you for it!
If you enjoyed this recipe, make sure to check out our Maple Pecan Pork Chops and our Pork Chops Devine.
Print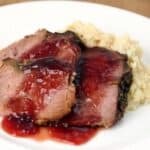 Fruited Baked Ham Recipe
---
Author:

Total Time:

3 hours 15 minutes
Description
The glaze for this fruited baked ham takes it from delicious to truly magical. Fruit is well known for being an excellent accompaniment to pork. The flavors complement each other so well, you'll wonder why you ever made ham any other way.
---
1

–

3

to 4 pounds cooked boneless ham

½ cup

apple preserves

1 cup

cherry preserves

¼ cup

orange juice
---
Instructions
Place ham in a shallow roasting pan. (If desired, score ham by making diagonal cuts 1-inch apart in fat in a diamond pattern).
Insert an oven-safe meat thermometer.
Roast, uncovered, in a 325°F oven for 1½ to 2¼ hours or until thermometer registers 135°F.
Let stand for 15 minutes before carving.
In a saucepan combine apple and cherry preserves and orange juice.
Heat through and serve over ham.
Prep Time:

15 Minutes

Cook Time:

3 Hours

Category:

Main Course

Method:

Baking

Cuisine:

American
Keywords: baked ham easy recipe, baked ham with fruits