Winter squash are plentiful this time of year and are fairly inexpensive. They keep well at room temperature before cooking and provide a versatile vegetable option. This family of starchy vegetables includes pumpkin, butternut squash, and acorn squash. Acorn squash is a popular winter squash to serve stuffed and roasted. They can be softball size, or much larger. They do not get quite as large as a pie pumpkin.
Acorn squash come in many varieties and their ribbed exterior can range from white to darkest green. Before you cook them they make a wonderful fall centerpiece on table or counter. Often you will see an acorn squash with patches of bright orange on the shell contrasting with the green and white. When you cut open an acorn squash you will see flesh that can be creamy white to dark orange. The seeds are similar to pumpkin seeds and are white.
The acorn squash recipe that many people are familiar with usually employs lots of butter and brown sugar baked in the cavity of the squash, but this Stuffed Acorn Squash recipe goes beyond the common and creates a lovely golden side dish, with no added fat or sugar, just the natural sweetness of the ingredients perfectly baked.
A Great Vegan Thanksgiving Side Dish
Since this recipe has no butter or meat added it is vegan. It makes a great starchy vegetable to put on your holiday table. The shredded carrots offer a splash of color, while the pineapple and golden raisins add all the sweetness you might need. Ginger is considered to be a warming spice. If you or your family find ginger to be too hot, substitute cinnamon or nutmeg, depending on your taste.
One small Stuffed Acorn Squash will easily serve two people with each getting half of the squash. If the squash is larger you can plan on two servings per half. Cooked as directed, this dish is almost completely fat free. It is high in fiber and a great source of vitamin A.
This Stuffed Acorn Squash recipe is so easy to follow, it is certain to become a standard dish for fall days. Other fruits and spices will substitute in easily. Instead of pineapple, pair the shredded carrots with finely diced apples and regular dark raisins. Sprinkle on pie spice instead of ginger.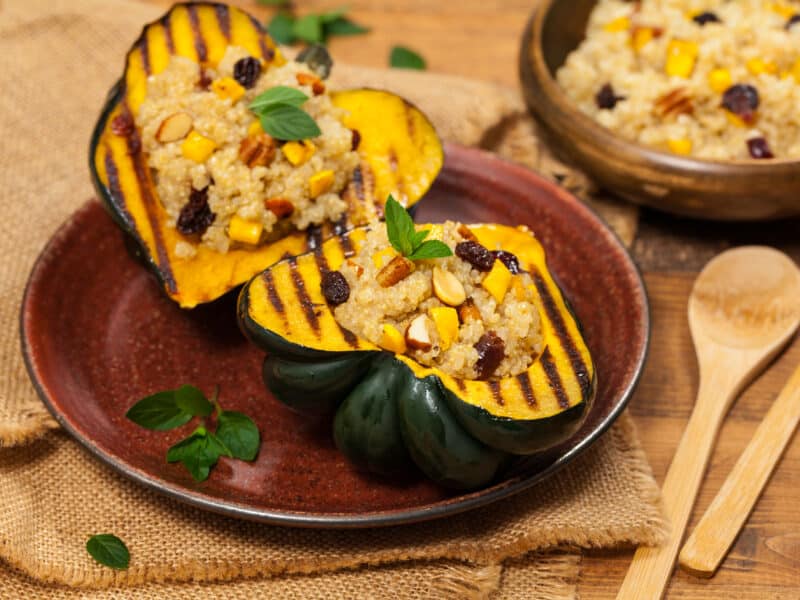 One-Dish Stuffed Acorn Squash
Make this Stuffed Acorn Squash a one–dish meal by adding meat to the vegetables. Choose ham or mild sausage crumbles for a savory twist. I like apples with sausage, and ham with pineapple. Other options are to add a scoop of leftover dressing, cranberries and chopped turkey to the cavity of the squash and baking it.
Monitor cooking times on this recipe. Squash is done when it can be easily pierced with a fork. Things that affect the time required are the size of the squash and how well your oven is calibrated. This is an easy and delicious dish that can be place in a moderate oven while you are cooking something else. There is very little preparation to end up with a bright and cheerful holiday dish.
Enjoy Stuffed Acorn Squash on your Thanksgiving table or the day after. Your imagination is all you need for a tasty and satisfying vegetable dish.
Print
Stuffed Acorn Squash
---
Author:

Total Time:

40 minutes
2

acorn squash

2

carrots, grated

1

can (8 ounces) crushed pineapple

2 Tablespoons

dried white raisins

¼ teaspoon

ginger
---
Instructions
Cut squash in half; scoop out seeds. Place in baking dish.
Combine remaining ingredients and spoon into squash cavities.
Bake at 350°F for 30 minutes or until squash is tender.
Prep Time:

10

Cook Time:

30