The autumn season brings in some of America's favorite traditions. Thanksgiving (and Thanksgiving dinner!) is at the top of the list for most families. What are some of your family's iconic dishes at this time of year?
Warm Spiced Pumpkin Bread
Can you smell the pumpkin, cinnamon, and cloves baking in the oven? There is something about fresh pumpkin nut bread that just warms the heart and the soul. Warm pumpkin bread is a signal for some families that the time to be together is fast approaching.
What is your favorite pumpkin nut bread recipe? Do you have a recipe passed down through the generations of your family, or are you ready to start your family tradition? Besides Thanksgiving dinner, where else can you service pumpkin bread? We have a few pumpkin bread recipes worth checking out in addition to this one such as: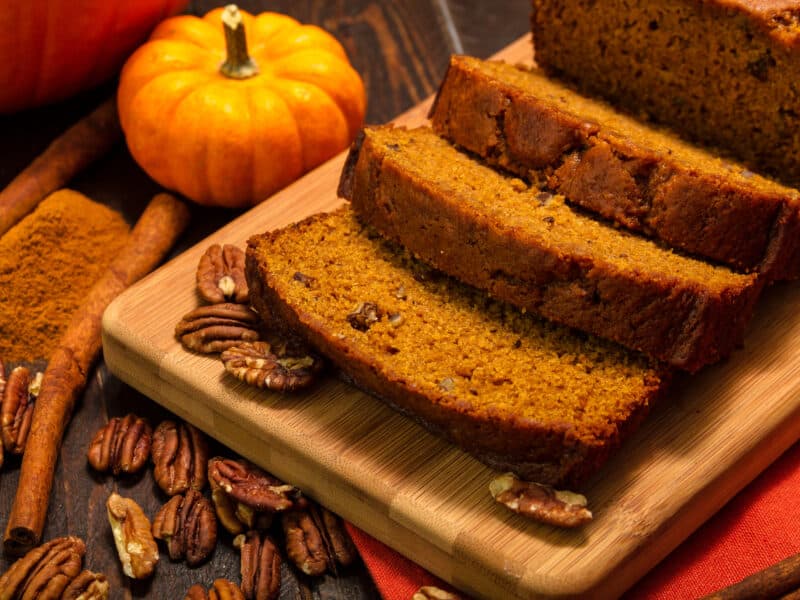 Occasions for Serving-up Fresh Pumpkin Bread
The recipe is so easy to make and inexpensive. There are a host of ways you can serve it up. You can make smaller loaves and wrap them in colored foil paper with a sweet little message and give them as gifts. The little loaves make great gifts for friends, acquaintances, your kids that are off at college, or just anyone you feel inclined to give a gift too.
Slicing up a few loaves for home placing them on a tray with spreadable cream cheese, honey butter, or a goat cheese spread is a delicious snack. Before putting the bread on your plate, you could toast it a bit for a little crispy texture. Add a smooth spread on top of your bread, and you have a match made in heaven.
Delicious Pumpkin Bread Variations
Pumpkin walnut bread or pumpkin spice nut bread are some of the more popular variations of famous pumpkin bread. There are so many other things you can add to embellish your loaves of pumpkin.
For example, you can add 1/2 cup of shredded carrots to your loaves. The carrots add a little sweet and a fuller, healthier feel to your bread. Carrot-pumpkin bread also goes fabulously with cream cheese spreads. Especially a pineapple-orange cream cheese spread. The fruit and vegetables complement one another well.
Something as simple as adding a nut other than walnuts is a welcomed variation. You can add sliced almonds, chopped cashews, pecans, or hazelnuts. Flavored nuts can also add a gourmet flair, such as chopped cinnamon pecans, sesame cashews, or roasted almonds.
Another way to creatively spice up your pumpkin bread is by adding coconut, milk or dark chocolate chips, or toffee pieces. A word of caution when adding chocolate chips or toffee pieces it is best not to add them directly to the batter while mixing. Just sprinkle them on top of the loaves before baking. The chips will sink into the bread a little bit as it is baking.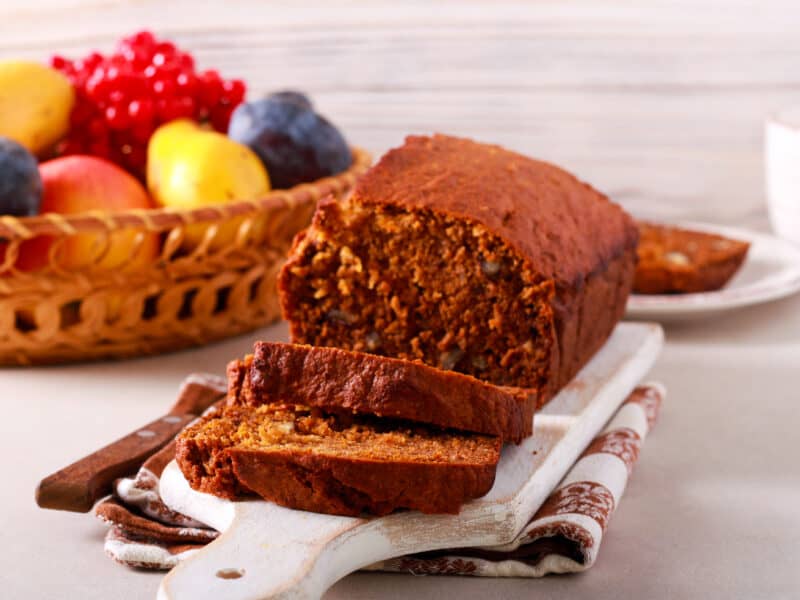 Time to Bake the Bread
Now that we have discussed so many delicious variations, it is time to make the bread.
If you want to make several choices of pumpkin bread at one-time easy and quickly, then go ahead and make the base delicious pumpkin bread recipe. You may want to make more than one batch of it. The more you make, the more love you can share.
Once you have made the basic recipe, divide the batter into equal portions in separate bowls. Then add your desired flavor enhancers. What will they be?
Toasted Coconut Cashew Pumpkin Bread
Cinnamon Pecan Pumpkin Bread
Roasted Almond Pumpkin-Carrot Bread
Dark Chocolate Pineapple Pumpkin Bread
The pumpkin lovers' loaf options are endless. It's time to get started. Grab your pumpkin, flour, butter, sugar, eggs, and let's bake beautiful pumpkin bread!
Print
Pumpkin Nut Bread
---
Description
Pumpkin Nut Bread is quick and easy homemade sweet bread with a bit of a nutty crunch with the addition of chopped walnuts in the batter. This recipe is perfect for holiday baking, it doubles as both a delicious treat with coffee or as an easily wrapped home baked gift.
---
1 cup

butter, melted

4

eggs

1

can (14½ ounces) pumpkin

½ teaspoon

salt

2 teaspoons

baking powder

1 teaspoon

baking soda

1 teaspoon

ground cloves

1 teaspoon

ground nutmeg

1 teaspoon

ground cinnamon

1 cup

sugar

1 cup

brown sugar

2¾ cups

flour

1 cup

chopped walnuts
---
Instructions
Melt butter. Add eggs and pumpkin. Beat thoroughly.
Add sugars, baking soda and powder, and spices. Beat thoroughly until all lumps are removed.
Add flour. Beat thoroughly.
Add nuts and mix.
Spoon into 2 greased bread pans.
Bake for 1 hour at 350°F. Test with toothpick to ensure loaves are ready.