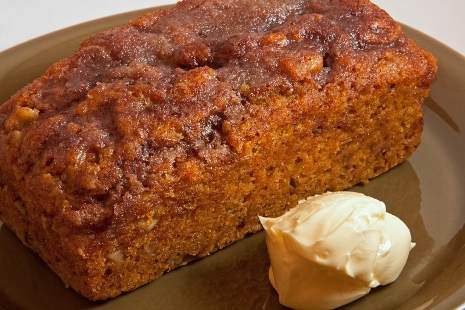 Pumpkin Bread Recipe
This is an incredibly delicious pumpkin bread recipe that's filled with rich aromatic spices and pumpkin flavor. Perfect for a tasty quick breakfast or a treat at the end of a meal with cream cheese frosting added to the top. Pumpkin is wonderful for recipes because it not only adds flavor, but keeps breads and cakes moist. This is a recipe you'll want to make often!
Pumpkin Bread
Ingredients:
3 1/2 cups flour
2 2/3 cups white sugar
2 3/4 teaspoons baking soda
2 teaspoons cinnamon
1/4 teaspoon ground cloves
1 teaspoon nutmeg
1 teaspoon salt
2/3 cup water
3 eggs, beaten
1/2 cup applesauce
1/2 cup butter, melted
15 ounces pumpkin
Directions:
1. Sift all the dry ingredients together in large bowl.
2. In a separate bowl combine eggs, water, applesauce, butter and pumpkin and mix well.
3. Make a well in the center of the dry ingredients and add the liquids, then mix until moistened.
4. Pour into 2 greased and floured loaf pans. Bake at 350 degrees for 60 minutes.
Easy RecipesMain Page