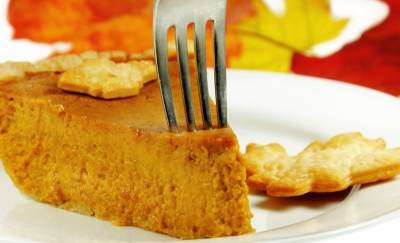 Healthy Pumpkin Pie Recipe
Let's Get Ready for Baby!
Sign up for our monthly pregnancy email series, and you'll get regular updates on your baby's development, helpful timelines to get ready for their arrival, must-have baby needs and so much more! PLUS, you'll get instant access to the MomsWhoThink "Ultimate Guide to Baby Naming in 2022."
CLICK HERE
to get started!
Ingredients:
For Crust:
1 cup quick cooking oats
1/4 cup whole wheat flour
1/4 cup ground almonds
1 Tablespoon Splenda Brown Sugar Blend (brown sugar substitute)
1/4 teaspoon salt
4 Tablespoons unsweetened applesauce
1 Tablespoon water
For Filling:
6 Tablespoons Splenda Brown Sugar Blend (brown sugar substitute)
1 teaspoon ground cinnamon
1/2 teaspoon ground nutmeg
1/2 teaspoon ground ginger
1/2 teaspoon salt
1/2 cup egg substitute (like Egg Beaters)
1 teaspoon vanilla extract
1 (15 ounce) can solid pack pumpkin
1 (14 ounce) can fat free evaporated milk
Directions:
1. Preheat oven to 425 degrees F.
To prepare crust:
2. Mix oats, flour, almonds, sugar, and salt in small mixing bowl.
3. Blend applesauce and water in measuring cup with fork or small wire whisk until well mixed.
4. Add applesauce mixture to dry ingredients and mix well. If needed, add small amount of water to hold mixture together.
5. Press into 9-inch pie pan, and bake for 7-9 minutes, or until light brown. Remove from oven.
6. Turn down oven to 350 degrees F.
To prepare filling:
7. Mix brown sugar substitute, cinnamon, nutmeg, ginger, and salt in bowl.
8. Add egg substitute and vanilla, and mix to blend ingredients.
9. Add pumpkin and fat free evaporated milk, and mix well to combine.
Putting it together:
10. Pour filling into prepared pie shell.
11. Bake for 40-50 minutes at 350 degrees F or until knife inserted near center comes out clean.
Yield: 9 servings
Serving size: 1/9 of 9-inch pie
Each serving provides:
Calories: 160
Total fat: 7 g
Saturated fat: 1 g
Cholesterol: 20 mg
Sodium: 207 mg
Total fiber: 3 g
Protein: 5 g
Carbohydrates: 19 g
Potassium: 223 mg