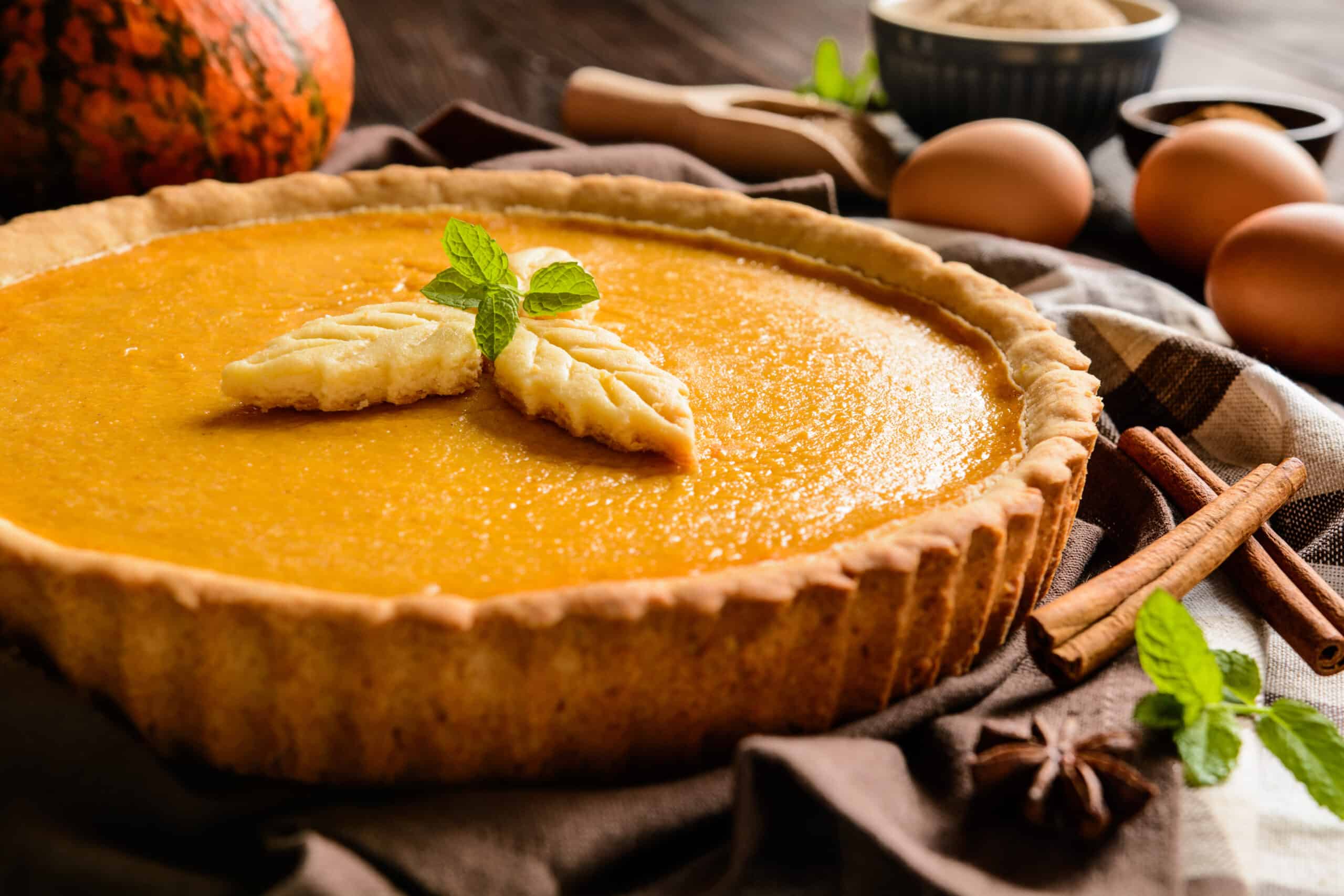 [addtoany]
Often associated with the holidays and fall weather, pumpkin pie is a treat that is almost synonymous with American culture. It is defined as a dessert pie with a spiced, pumpkin-based filling.
The pumpkin is native to North America but was a common export to France and later to England. The European countries soon found the fruit's center to work well as a pie filling. The pilgrims brought the pumpkin back to New England and began creating early American versions of the recipe which may have been a savory soup served inside a pumpkin shell.
By the 19th century, pumpkin pie started making an appearance in American cookbooks and was thought of as a popular dessert to be served on Thanksgiving Day. Early recipes involved stuffing the pumpkin with apple, spices and sugar and serving it whole.
Although pumpkin pie eventually went on to become a popular American dish, it was originally resisted by Southern culture where it was looked on as a Yankee offering. Therefore, cooks in the south added bourbon and pecans to their pies to give them a southern touch or serve sweet potato pie instead.
Today, not only are pumpkin pies a well known American dessert, but pumpkins are often used to add flavor to a variety of foods including ice cream, pastries, coffees, beer, cakes, candies, breakfast items and more.
Pumpkin Pie Spice
Some may argue that the spices used in pumpkin pie can be just as important as the pumpkin itself.
Spices that are commonly used include cinnamon, powdered ginger, nutmeg and cloves. Allspice can also be used instead of cloves and nutmeg as it has a flavor that is similar to the two spices combined.
Cardamom and vanilla are commonly used as batter spices for a mixture that is referred to as pumpkin pie spice.
The spices we use in our recipe include ginger, nutmeg, cinnamon and cloves. We feel this gives our pumpkin pie the perfect flavor.
Ginger is a hot, fragrant spice that can give any pumpkin pie a kick. It is also known for benefiting digestion and reducing inflammation.
Nutmeg gives foods a warm, nutty flavor. It can also work as an antioxidant and antibacterial that can be beneficial in reducing the risk of certain diseases.
Cinnamon has a woody taste that is both sweet and savory. It is high in antioxidants and can work as an anti-inflammatory and keep blood sugar levels low.
Cloves are strong and sweet with a slightly acidic taste that can bring warmth to any dish. They are high in vitamin C and eugenol which are both antioxidants that can reduce oxidative stress.
Healthy Pumpkin Pie
Even though you may not eat pumpkin pie for the health benefits it provides, it is one of the healthiest desserts in existence. Not only does it contain spices that are rich in antioxidants, but pumpkin can provide several health benefits as well.
Pumpkins are rich in carotenoids which provide the body with beta-carotene, Vitamin A, and lutein which are essential for eye health. It is rich in fiber and potassium and also contains calcium, iron, Vitamin C, B vitamins, and other nutrients. (Fun fact, canned pumpkin has even more carotenoids and nutrients than fresh pumpkins because it is concentrated).
And while these ingredients are healthy, other ingredients used in the pie can be unhealthy countering the health benefits the dessert can provide.
To be sure your pie is as healthy as possible, limit your use of sugar and shortening. Cream, cream cheese, and whipped topping can also add a lot of calories and should be limited as well. Also, be aware that there is a big difference between canned pumpkin and canned pumpkin mix. Canned pumpkin is close to 80 calories while the mix can be more like 280 due to added sugar.
If you are making the pie yourself, and want it to be healthy and low calorie, use plain canned pumpkin, limit the amount of sugar you use, use nonfat evaporated milk instead of cream, and skip other high-fat ingredients.
You can even serve the mix in a custard dish to avoid the crust. To increase the dish's health benefits, add ingredients like low-fat yogurt, applesauce, honey or spices to the mixture.
The recipe we provide is great for serving to family and friends during the holidays and other special occasions. We've even included an additional recipe for homemade whipped topping which is completely optional depending on how naughty you're feeling.
But no matter how or when you choose to serve pumpkin pie, it will always put a smile on the face of whoever is eating it. So, get to baking to ensure you will be making a crowd-pleaser for your family and friends. 
If you enjoyed this recipe, make sure to check out our Fortune Cookie Recipe and our Raisin Pie Recipe.
Print
Pumpkin Pie Recipe
---
Author:

Total Time:

70 Minutes
Description
This is the traditional pumpkin pie recipe served at holiday dinners. Filled with aromatic spices like nutmeg, cloves, cinnamon, and ginger; it is a decadently delicious pumpkin pie everyone will love!
---
2 cups

pumpkin (canned or puree)

3

eggs

1 1/4 cups

half and half

1 teaspoon

pure vanilla extract

3/4 cup

brown sugar

1/2 teaspoon

salt

1 teaspoon

cinnamon

3/4 teaspoon

ground ginger

1/2 teaspoon

ground nutmeg

1/4 teaspoon

ground cloves
Pastry for

1

pie crust (recipe here)
---
Instructions
Preheat oven to 350 degrees F.
Place pie crust dough round into a 9-inch pie plate. Trim edges to extend about a 1/2-inch over the rim of the pan. Fold edges under, and press to seal. Freeze until firm, about 15 minutes.
Cut a large circle of parchment; fit into the pie shell, extending above edges. Fill the shell with pie weights or dried beans.
Bake pie shell 15 minutes at 350 degrees F. Remove weights and parchment; bake 10 to 15 minutes more until golden brown. Cool completely on a wire rack.
Place pumpkin in a large bowl.
In a separate bowl, beat eggs well. Beat in half and half, vanilla extract, brown sugar, salt, and spices until thoroughly blended. Add in the pumpkin mixture, mix well.
Pour pumpkin mixture into pie shell and place in center oven rack . Bake for 30-40 minutes until the filling is firm.
Cool completely on wire racks and serve with whipped cream.
Notes
Homemade Whipped Cream Ingredients:
1 cup heavy cream
1/4 cup sugar
1 teaspoon vanilla
Homemade Whipped Cream Directions
Using an electic mixer, whip cream until almost stiff. Add sugar and vanilla; beat until cream holds peaks. Spread over top of cooled pie or serve in a chilled bowl for individual serving.
Prep Time:

30 Minutes

Cook Time:

40 Minutes

Category:

Dessert

Method:

Baking

Cuisine:

American
Keywords: pumpkin pie spice, healthy pumpkin pie