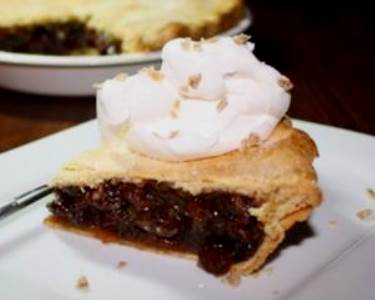 Raisin Pie Recipe
with Cinnamon Whipped Cream
Let's Get Ready for Baby!
Sign up for our monthly pregnancy email series, and you'll get regular updates on your baby's development, helpful timelines to get ready for their arrival, must-have baby needs and so much more! PLUS, you'll get instant access to the MomsWhoThink "Ultimate Guide to Baby Naming in 2022."
CLICK HERE
to get started!
Raisin pie might not be the most well known of fruit pies, but it is quite a delicious treat for raisin lovers everywhere. Raisins are a delicious ingredient when added to pies, and they are quite healthy as well. They are packed with fiber, iron, calcium boron, antioxidants and anti-microbial compounds.
Raisin pie is a bit of an old fashioned recipe and was often referred to as funeral pie way back when. Before refrigeration was invented, it was traditional to bring food to the wake for the families of the deceased. Fresh fruit pies were not an option since they would go bad if they were not refrigerated. Dried raisins were a handy substitute and were often used in their stead.
The pie became a hit among the Mennonites and Amish because the ingredients were always available, and the pie kept well. In fact, because the pies held up so well, they could be made a day or two before the funeral leaving cooks free to work on other tasks and create different dishes.
Raisin pie can be made with milk to give it a custard like texture or it can be a heartier dessert when made with water. But all recipes seem to use the double crusted pie with a lattice top to give it its signature look and taste.
Our recipe is made with water, but we have also included a recipe for cinnamon whipped cream which can bring a rich creamy taste when added to the top of the pie.
Despite its eerie connotations, raisin pie is a great pie for the living, in spite of the name. Baking plumps the raisins up and infuses them with the best pie spices known to man…cinnamon, nutmeg and allspice. It's a dark, moist pie with a lot of flavor and a favorite when served after meals at any table.
Raisin Pie
Ingredients:
1 3/4 cups water
2 cups raisins
3 Tablespoons flour
3/4 cup brown sugar
1/8 teaspoon salt
1 teaspoon lemon juice
2 Tablespoons butter
1/2 teaspoon each nutmeg, cinnamon, and allspice
Pastry for 2 crusts (recipe here)
Cinnamon Whipped Cream for Topping (recipe below)
Directions:
1. Simmer the raisins in the water about 5 minutes, or until they begin to plump.
2. Mix the salt, flour, and brown sugar. Carefully stir in some of the hot liquid in which the raisins have cooked.
3. When well combined, add the raisins and the rest of the liquid. Cook until thickened, stirring frequently.
4. Remove from the heat, let cool a few minutes then add the lemon juice, butter and spices.
5. Cool to room temperature. Pour into a pastry lined pie pan, and top with a second crust. Pinch the edges to flute, and cut slits into the top of the crust.
6. Bake at 450 degrees F for 15 minutes, then reduce the heat to 350F and bake an additional 20 minutes or until golden brown.
Cinnamon Whipped Cream Recipe
Ingredients:
1 cup heavy cream
1 Tablespoon sugar
1 Tablespoon powdered sugar
½ teaspoon pure vanilla extract
Directions:
1. In a medium chilled bowl, whip together the heavy cream, powdered sugar, vanilla, and cinnamon until soft peaks form.
2. Refrigerate until ready to serve on cooled pie. Sprinkle with finely chopped golden raisins if desired.