Let's Get Ready for Baby!
Sign up for our monthly pregnancy email series, and you'll get regular updates on your baby's development, helpful timelines to get ready for their arrival, must-have baby needs and so much more! PLUS, you'll get instant access to the MomsWhoThink "Ultimate Guide to Baby Naming in 2022."
CLICK HERE
to get started!
Hot Drink Recipes to Chase Winter's Chill Away
As the chill of winter hangs around, we all need a warm, soothing drink now and then. Whether you choose the classic hot toddy, Mexican hot chocolate, maple syrup infused coffee, or any of the other of these 8 chill-chasing drinks…they'll add delicious warmth to even the gloomiest winter day.
The Classic Hot Toddy
Makes 8 servings
It's origins are unclear, either the Scottish or the British folks invented the drink back in the 1700s, partially as a remedy for colds and flu type illness. You can enjoy it without being sick, it's a warm blend that'll chase away any chills you may have.

Ingredients:
12 ounces of your favorite brown liquor (brandy, whiskey or rum)
8 Tablespoons honey
4 ounces lemon juice
8 cup hot water
cinnamon sticks and star anise for garnish
Directions:
1. Heat water in a large saucepan.
2. Add the liquor, honey and lemon juice, stir to combine.
3. Divide evenly between 8 warmed mugs. 
4. Garnish with a cinnamon stick or star anise.
Mexican Hot Chocolate Recipe
Makes 8 servings 
Mexican hot chocolate adds flavorings and spices to plain hot chocolate to kick it up a notch, resulting in a creamy, smooth cocoa with hints of cinnamon, cloves, and vanilla.

Ingredients:
 
1 cup cold water
1/3 cup light brown sugar
2 Tablespoons and 2 teaspoons unsweetened cocoa powder
1 Tablespoon plus 1 teaspoon all-purpose flour
1 teaspoon ground cinnamon
1/8 teaspoon ground cloves
1/8 teaspoon salt
4 cups whole milk
2 teaspoons vanilla extract
whipped cream and cinnamon for topping
Directions:
1. Whisk the cold water, brown sugar, cocoa powder, flour, cinnamon, cloves, and salt in a large saucepan until smooth. 
2. Place over low heat; bring to a simmer (do not boil), whisking constantly, until mixture is thickened and hot, about 4-5 minutes. 
3. Stir in milk; heat until hot chocolate just forms bubbles around the edge. 
4. Mix vanilla extract into hot chocolate. Blend until smooth with an immersion blender to make the drink slightly frothy.
5. Divide evenly between 8 mugs, serve topped with whipped cream lightly dusted with cinnamon.
Easy Chai Tea
Makes 8 cups tea
This is easy to make and tastes much richer than pre-made chai tea bags.
Chai tea is a centuries old form of tea made in most parts of the world with various spices and milk. We love freshly made chai… hot, creamy, fragrant with black tea, fresh cardamom, cinnamon, ginger, peppercorns and enough sugar to bring out the spice flavor. The recipe below fits the bill perfectly.

Ingredients:
 
12 cardamom seeds
16 cloves
8 black peppercorns
4 teaspoons ground cinnamon (we prefer Ceylon cinnamon, it's sweeter)
2 teaspoons ground ginger
1 teaspoon ground allspice
4 cups whole milk
8 bags black tea (such as Darjeeling)
1/3 cup sugar or more, to taste
Star Anise as garnish (optional)
Directions:
1. Place the cardamom, cloves, and peppercorns in a resealable plastic bag and crush using a heavy kitchen mallet. 
2. Place the crushed spices in a medium saucepan. Add the cinnamon, ginger, allspice, milk, and 2 cups water. 
3. Bring to a boil.  
4. Remove from heat, add the tea bags, cover, and let steep for 10 minutes. 
5. Strain mixture evenly into 4 cups, being careful to leave any spices in the pan.  
6. To each cup, add 2 teaspoons sugar or more, to taste. Garnish with a star anise if desired.
Mulled Spiced Wine
Makes 8 servings
Wine is elevated to a warm, spice infused beverage when it's mulled. The various flavors and spices warmed to perfection is bliss, especially when enjoyed in a comfy chair in front of a crackling fire.

Ingredients:
1 bottle (750 milliliters) red wine
1 cup brandy
1/4 cup honey
1/4 teaspoon ground nutmeg 
2 cinnamon sticks
1 orange, zested and juiced
4 whole cloves
3 star anise
2 oranges, sliced, for garnish
Directions:
1. Combine the red wine, brandy, honey, nutmeg, cinnamon sticks, orange zest 2nd juice, cloves and star anise in a large saucepan. 
2. Bring to a boil, stirring occasionally. Reduce heat; simmer gently, covered, for 20-30 minutes.
3. Ladle into mugs, add a couple orange slices to each and serve.
Hot Buttered Rum
Makes 8 servings
Hot buttered rum is a drink that brings visions of snowy nights and blazing fires. It has an American history with strong roots in Colonial New England, when it was home to many rum distilleries (and creative ways to use it). This is the traditional recipe; creamy, sweet, spicy, with a kick. It's a favorite all winter long.

Hot Buttered Rum Base Ingredients:
1/3 cup butter, softened (not melted)
6 Tablespoons packed brown sugar
1/3 cup whipping (heavy) cream
2/3 cups powdered sugar
1/16 teaspoon ground cloves (a pinch)
1/8 teaspoon ground cinnamon
1/8 teaspoon ground nutmeg
Serving Ingredients:
1 cup rum
4 cups boiling water
Ground nutmeg for garnish
Directions:
1. Beat the butter and brown sugar in medium bowl with electric mixer on medium speed until light and fluffy.  
2. On low speed, slowly beat in the whipping cream and powdered sugar, alternating to incorporate evenly into the mixture. Beat until smooth.  
3. Stir in cloves, cinnamon and nutmeg. 
4. Divide this base mixture evenly between 8 mugs.  
5. Into each mug, pour 1/8 cup rum and 1/2 cup boiling water. Stir well. 
6. Sprinkle with nutmeg and serve.
Homemade Mulled Cider 
Makes 8 servings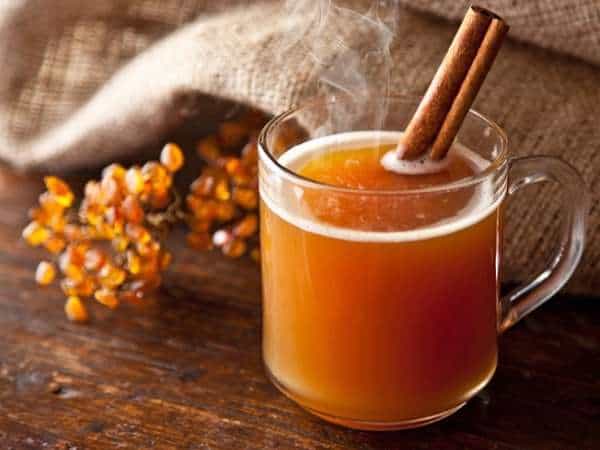 Mulled Cider traditionally debuts in the fall, when apple cider making is at it's peak during apple harvest time. Combining the tart sweetness of freshly pressed apples with spices, then warmed to perfection it's deliciously comforting from the first frost through winter snowstorms.

Ingredients:
1/2 gallon apple cider (not apple juice)
1/8 cup orange juice
peel from one orange, cut into thin strips with vegetable peeler
1/2 teaspoon packed brown sugar
2 fresh cinnamon sticks
2 whole cloves
2 whole allspice berries
1/8 teaspoon ground nutmeg
Directions:
1. Mix all ingredients in large pot. Bring to a simmer (do not boil). 
2. Simmer mixture, uncovered, for 30 minutes.  
3. Strain mulled cider into mugs and serve with a cinnamon stick in each mug.
Vermont Maple Cinnamon Latte
Makes 8 servings
Thi is a very simple recipe that takes plain coffee and sends it up to New England to have thick, sweet maple syrup and cinnamon added, turning coffee into a incredible taste experience.

Ingredients:
2 cups milk
1/2 cup Vermont maple syrup, plus additional for garnish
1 teaspoon ground cinnamon
2 cups strong brewed coffee
Whipped cream for topping
Directions:
 
1. In a small saucepan, warm milk until hot. Do not boil. Whisk until foamy. 
2. In a 1 quart microwave safe bowl, heat the maple syrup and cinnamon on HIGH for 30 seconds.  
3. Divide the coffee evenly into 8 cups. Add warmed maple syrup mixture to the hot coffee. 
4. Add the milk to the coffee, dividing evenly between 8 cups. 
5. Top each cup of coffee with whipped cream. Drizzle with maple syrup.
Easiest Hot Cocoa Ever
Makes 8 servings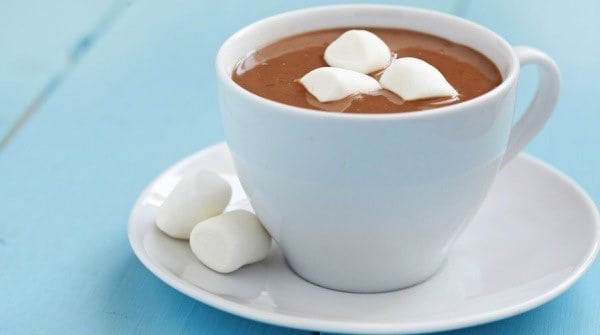 Sometimes you just don't want your hot cocoa to come from a packet, but don't want to get too involved in making one of the many homemade versions calling for quite a few ingredients. You can't get any easier than two ingredients and 3 steps to create delicious, chocolatey goodness in a mug.

Ingredients:
1/2 gallon whole milk
1 12 ounce bag Premium semisweet chocolate chips
marshmallows for topping 
Directions:
 
1. Pour the milk into a large saucepan and heat the milk over medium-low heat; do not boil.  
2. Slowly add the semisweet chocolate chips while whisking to combine the chocolate and the milk smoothly. 
3. Divide mixture into 8 mugs and top each mug with two large marshmallows.