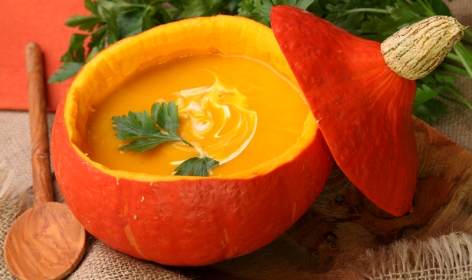 Pumpkin Soup Recipe
Let's Get Ready for Baby!
Sign up for our monthly pregnancy email series, and you'll get regular updates on your baby's development, helpful timelines to get ready for their arrival, must-have baby needs and so much more! PLUS, you'll get instant access to the MomsWhoThink "Ultimate Guide to Baby Naming in 2022."
CLICK HERE
to get started!
This pumpkin soup recipe is one of many delicious pumpkin recipes that have been served throughout the world. In Haiti every January 1st it is served as a symbol of independence and unity. While enslaved the French colonists were the only ones allowed to consume the soup. It was a forbidden food for any Haitian. Once freed, a huge pot of pumpkin soup was made and shared amongst all.
Though the Haitian version of pumpkin soup calls for slightly different ingredients, here's a simple recipe that you can make anytime of the year and reflect on its symbolism especially if served as a compliment to our own traditional Thanksgiving Day meal. You can replace the canned with fresh pumpkin using the directions here.
Pumpkin Soup
Ingredients:
6 cups chicken broth
1 to 2 (16 oz.) cans solid-pack pumpkin
1 cup onion, thinly sliced
1 clove garlic, minced
1 1/2 teaspoon salt
1/2 teaspoon thyme
1/2 teaspoon pepper
1/2 cup whipping cream, warmed
Fresh parsley (optional)
Directions:
1. In a covered saucepan, heat all ingredients except cream to boiling.
2. Reduce heat; simmer, uncovered 20 minutes. Stir warm cream into soup.
3. Garnish with parsley and serve from a hollowed-out pumpkin which as been warmed for 20 minutes in 350 degree F oven.