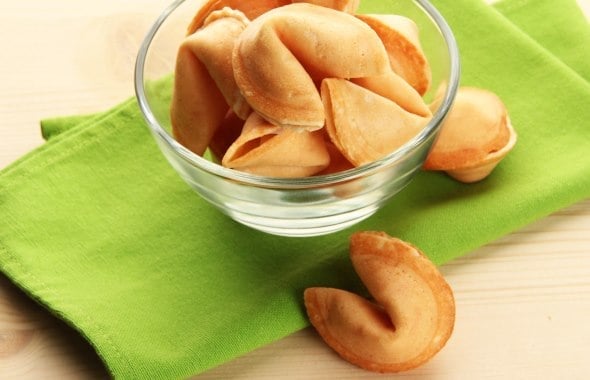 Fortune Cookie Recipe
Let's Get Ready for Baby!
Sign up for our monthly pregnancy email series, and you'll get regular updates on your baby's development, helpful timelines to get ready for their arrival, must-have baby needs and so much more! PLUS, you'll get instant access to the MomsWhoThink "Ultimate Guide to Baby Naming in 2022."
CLICK HERE
to get started!
Fortune cookies are a lot of fun. Light and sweet, you never know what message they are going to contain and its always a lot of fun to find out.
Although fortune cookies are often served after a meal of Chinese food, the consensus is that they originated in America. However, no one is quite sure how they originated. There are several theories including the following:
A Chinese immigrant opened a restaurant called the Hong Kong Noodle Company in Los Angeles. He would see many poor people wandering around in front of his restaurant and created these cookies and passed them out for free to lift their spirits. The fortunes he gave out were quotes with inspirational Bible scripture.
A Japanese immigrant worked at the famous Japanese Tea Garden in Golden State Park in San Francisco. He was fired from his job by an anti-Japanese mayor but later reinstated by a new mayor. He made fortune cookies with little thank you notes inside to thank everyone who helped him out in getting his job back.
In the early 1900's, in San Francisco's China town, efforts were made to boost tourism and provide visitors with an authentic Oriental experience. The fortune cookie was made to provide tourists with the fortune cookie dessert to enhance the feelings of authenticity.
During the 13th and 14the century, China was occupied by Mongols. Because the Mongols had no taste for the lotus nut paste found in moon cakes, the Chinese would put messages inscribed with the date of their revolution inside the desserts. These were handed out allowing the Chinese to form the uprising that was the Ming Dynasty.
The handing out of moon cakes with messages in them became a tradition that was honored during Moon Festival. However, during one of these festivals, moon cakes were not available so hard cookies were used instead.
And the rest, as they say, is history.
Today, fortune cookies are often served at the end of meals at many restaurants that serve Oriental food. But you can make your own right in your kitchen. Inserts can be found online. Then just fold them into the cookie as soon as they come out of the oven.
Cool and serve to your guests so they can have fun finding out what awaits them while enjoying these nuggets of goodness.  
Fortune Cookies
Ingredients:
8 oz . flour
2 tablespoons cornstarch
4 ounces sugar
1/2 teaspoons salt
2 egg whites
4 ounces vegetable oil
1 teaspoon water
2 teaspoons vanilla extract
Directions:
1. Preheat oven to 300 degrees F
2. In a large bowl sift together the cornstarch, flour, salt and sugar. Stir in the oil, water, egg whites,  and vanilla.
3.  On a well-greased baking sheet, roll a very thin four inch circle of the dough.
4. Bake for 15 minutes or until golden brown.
Remove one cookie at a time from the oven with a wide spatula; working quickly follow these four steps:
1. Place cookie onto cotton gloved hand.
2. Hold fortune in center of pliable cookie while folding cookie in half.
3. Grasp ends of cookie and draw gently down over edge of muffin pan to crease at center of cookie.
4. Fit cookie in muffin pan (points down) to hold shape as it cools. If cookie hardens too quickly, put it back in the oven for about 1 minute.