[addtoany]
These delicious and savory crispy pork cutlets remind me of a dish my Grandma used to make. She was a Southern woman who grew up during the Great Depression, so she knew how to make inexpensive meals taste great.
Even though we're not in the Great Depression anymore, many of us are still looking for ways to stretch our food budgets further. After all, with housing costs being on the rise and all the things kids need, it's important to cut costs where we can. Food costs are one of the few things we can control.
Pork is one of the cheapest kinds of meat that you can buy. (At least, pork is inexpensive of meat you'd actually want to eat; liver and other organ meats are cheaper but are a much harder sell.)
Another big reason that my Grandma made this recipe so much is that it's quick and easy to cook. You can get dinner on the table for your whole family in far less than 30 minutes. Sometimes, cooking inexpensive meals from scratch can be prohibitively time consuming for today's busy moms.
This meal not only requires minimal cooking time, but it also doesn't require much cleanup, either. When you have a meal that's easy to make and easy to clean up, you can spend even more time doing what really matters: spending more time with your family.
Crispy Pork Cutlets
These crispy pork cutlets are a perfect main dish. They provide a source of protein which is pretty lean. Picky eaters in your household are sure to happily chow down on a delicious dish like this.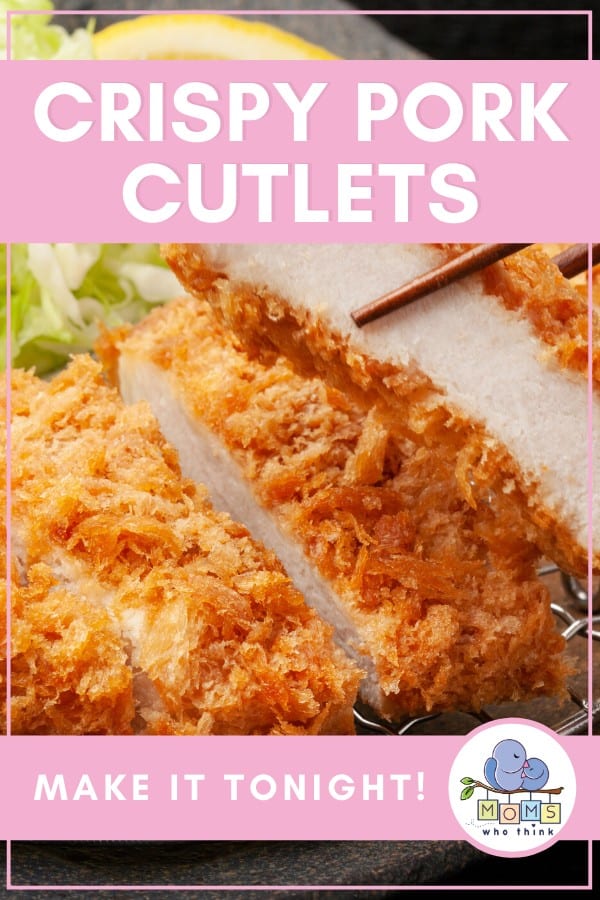 The question that arises is what to serve with your crispy pork. Fortunately, lots of things are good choices for side dishes. From cheesy broccoli rice to potato wedges, it doesn't take much to really wow your dinner plate. Starchy dishes (in moderation) make a great accompaniment for savory pork.
As a busy mom, you also want to make sure that your kids get a well-rounded and nutritious meal. Try serving these crispy pork cutlets with a vegetable and some type of fruit. To make it easy, you can always use a bagged salad or a handful of baby carrots on the side, and serve applesauce or sliced strawberries for dessert.
Baked Pork Cutlets
The original recipe for these crispy pork cutlets is delicious, for sure. But one argument that can be made is that it's not necessarily the most health-conscious. Because the pork cutlets are batter-dipped and fried, it's the kind of Southern dish that's an indulgence you may not want to eat every day.
Fortunately, it's easy to give these cutlets a healthy makeover. One way you can do that is by baking them in the oven instead of frying them in oil. Baked pork cutlets still have all of the great taste without the artery-clogging fat. (I wouldn't blame you if you decided to cut down on the fat here but still go out for French fries from the "golden arches" on another day, though. We all have to make healthy choices where we can, but it's tough to be perfect all the time.)
Another great thing about this recipe is that it's naturally gluten-free and dairy-free. Many families have to take food allergies into consideration when planning meals. Back in Grandma's day, food allergies were pretty uncommon, or at least people didn't know that they had them. As a result, many of Grandma's recipes are full of ingredients that aren't appropriate for people with food allergies.
But by some luck, this recipe is naturally free of most of the major allergens. It does have eggs for ease in dredging the pork through the mixture. But as long as you don't have anyone in your family with an egg allergy, this recipe can be a winner. Since it's both dairy-free and gluten-free, it can fit within many diets. (Just check to make sure the potato flakes are free of both ingredients as well since sometimes they might contain some sneaky hidden allergens.)
This budget-friendly recipe will likely quickly make it into your regular rotation of meals. After all, the most important thing is to have a family dinner together as often as possible. Memories are made around the family dinner table. It's a great time to connect with your family. And it's even better when the food is something everyone will like to eat.
If you enjoyed this recipe, make sure to check out our Sausage and Orzo Recipe and our Pork and Potatoes with Tomato Relish Recipe.
Print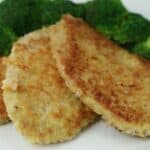 Crispy Pork Cutlets Recipe
---
Author:

Total Time:

25 minutes
Description
These crispy pork cutlets are a perfect main dish. They provide a source of protein which is pretty lean. Picky eaters in your household are sure to happily chow down on a delicious dish like this.
---
2

eggs

2 Tablespoons

mustard

2

pounds pork cutlets

1 cup

instant mashed potato flakes

3 Tablespoons

oil
---
Instructions
Blend eggs and mustard together in a shallow pie pan (set aside).
Dip pork cutlets in egg mixture.
Coat with potato flakes.
Heat oil in a skillet.
Add pork, heating on both sides until done.
Prep Time:

10 Minutes

Cook Time:

15 Minutes

Category:

Main Course

Method:

Pan-Frying

Cuisine:

American
Keywords: crispy pork cutlets, crispy pork cutlets