Grab your FREE copy of one of our most popular and engaging activity packets!
Whether you're in the classroom or keeping your little ones busy at home these days, we have fun, engaging, and FREE printable activity for your kiddos to enjoy. To snag and instantly download you copy,
just CLICK HERE
!
Sweet potatoes are a versatile food that can be made into many different recipes all year round. But at holiday time, sweet potatoes are often the star of the show in recipes like sweet potato pie, Sweet Potato Casserole and baked sweet potatoes with brown sugar.
Sweet Potato Casserole Recipe
Our Sweet Potato Casserole recipe uses mashed sweet potatoes mixed with butter, brown sugar and cinnamon that can be used as a rich dessert or as a side at your Thanksgiving table. Sweet potatoes pair perfectly with savory ingredients like rosemary, cranberries or even feta cheese for a Middle Eastern twist.
Sweet Potato Pairings
Pair sweet potatoes with cinnamon and brown sugar or maple syrup, or slice them and bake with rosemary, salt and pepper. They can also be sliced and turned into golden fries dipped in molasses or smoked maple syrup for something different.
Health Benefits of Sweet Potatoes
Sweet potatoes have tons of fiber and plenty of vitamin B and C, as well as the anti-oxidant beta-carotene. They're a healthy addition to any dinner table. This Sweet Potato Casserole recipe is something that both adults and children alike will love.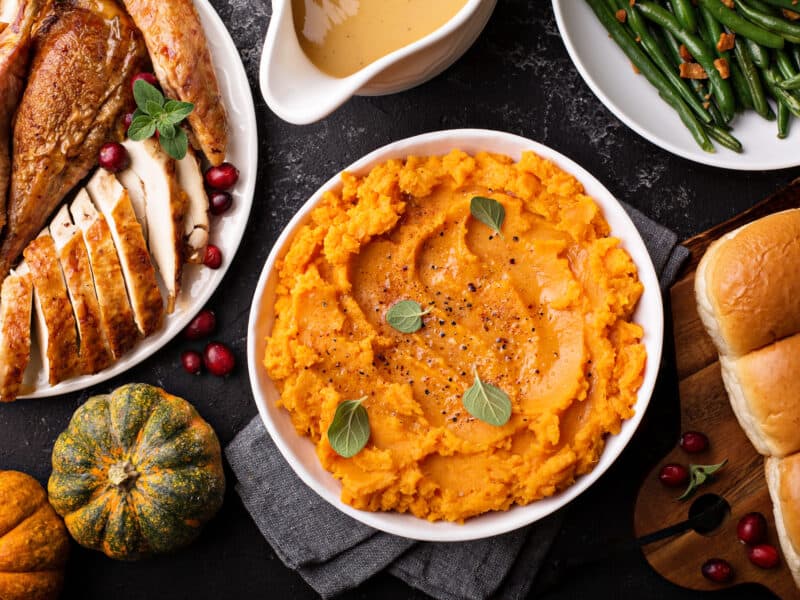 Just one cup of baked sweet potato, with skin (leaving the skin on provides extra nutrients), contains 180 calories and virtually no fat, as well as vitamin A. Sweet potatoes and yams can be found in your local grocery store and in some specialty stores, you can find different varieties and colors, like purple or garnet sweet potatoes.
Japanese sweet potatoes offer a purple skin and a rich, creamy white interior that's great for mashing. They can be combined with regular potato or even cauliflower as a spinoff of mashed potatoes.
Ideas for Sweet Potatoes Beyond the Casserole
Sweet potatoes can be peeled or left with the skin on depending on taste and recipe. They can be steamed, fried, baked, roasted or sauteed with other vegetables.
Try sweet potatoes as thinly sliced fries or wedges, or even top sliced sweet potato with another healthy addition, peanut or almond butter. Sweet potatoes can also take the place of regular potatoes in hash browns or home fries.
As a fat-soluble nutrient, sweet potatoes combined with some healthy fats like olive or coconut oil can help with the absorption of beta-carotene.
Sweet Potato Casserole for Thanksgiving
This casserole recipe is perfect for bringing to the Thanksgiving table and for filling your family's bellies with a warm, nutritious meal or dessert. Try it today and make it, along with the turkey, one of your tried and true holiday recipes!
Print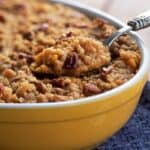 Sweet Potato Casserole
---
2

pounds sweet potatoes, boiled, peeled and mashed

2

eggs, beaten

2 ounces

butter, melted

½ cup

brown sugar

1 cup

buttermilk

¼ teaspoon

baking soda

½ teaspoon

nutmeg and cinnamon
---
Instructions
Preheat oven to 350°F.
Combine all ingredients and mix well. Will be very soupy.
Bake at 350°F for 1 hour.