Looking for the perfect sweet potato side dish that's easy, flavorful and pretty hard to mess up? This recipe is easy to whip up and will make the perfect side dish for your holiday gathering or dinner table all year round!
Sweet potatoes in all forms are always a special treat, especially in the fall. With this tasty mixture of cinnamon, brown sugar and Mashed Sweet Potatoes, chances are you have everything you need to make this delicious side dish right at home.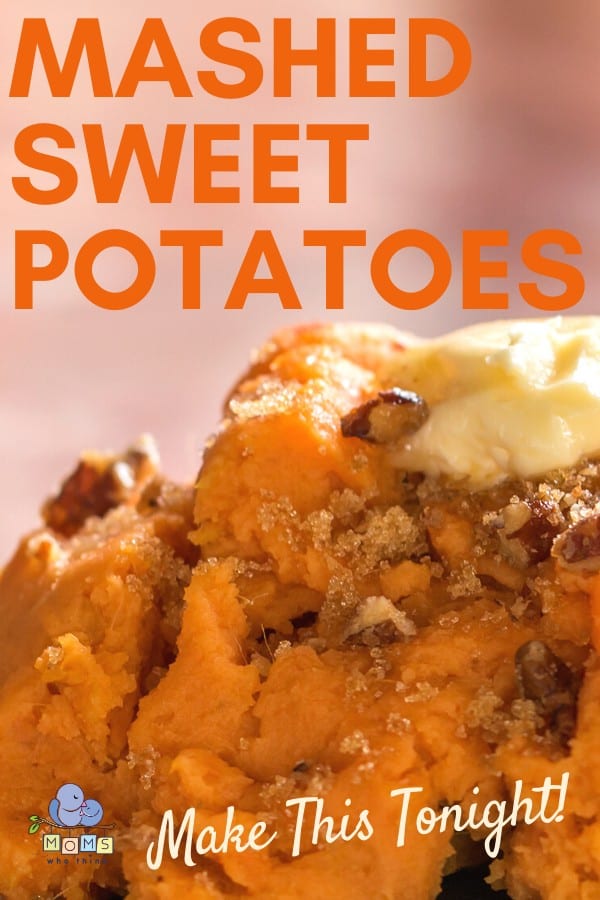 This classic, homemade Mashed Sweet Potatoes recipe is made with simple ingredients and can be combined all in one pot for easy cooking and cleaning. It's a 30 minute side dish that's sweet, rich, smooth and creamy.
Sweet potatoes take about 15-20 minutes to boil and mash. You'll know they are ready to mash when they can be easily pierced with a fork.
What's the best way to mash sweet potatoes? You can use an electric hand-mixer or you can use a traditional potato masher.
Should I peel the sweet potatoes before mashing? Yes, the sweet potatoes should be peeled. If not, you'll get a gritty texture as a result.
What's the main difference between sweet potatoes and yams? This is a common question since in the United States they are considered to be the same thing. In reality, they are both different root vegetables even though they look similar in appearance. Just like a sweet potato, yams have a brown, bark-like skin, but the flesh is white, purple or can even be red in color.
Looking for a healthy option than sweet potatoes? When it comes to white potatoes and sweet potatoes, neither one is healthier than the other. Sweet potatoes are high in fiber and Vitamin A while white potatoes have more iron, potassium and magnesium.
With this Mashed Sweet Potatoes recipe, you can replace butter with coconut oil or vegan butter and replace whole milk with half-and-half or low-fat milk for a healthier option while still enjoying all the sweet flavors.
Delicious Sweet Potato Variations
For a more unique flavor, replace the milk with apple or orange juice.
Short on sweet potatoes? Use Yukon Gold potatoes to make up the difference.
Toast 2 cups of chopped pecans in a skillet and sprinkle for a tasty topping.
Add a little nutmeg and maple syrup in with the butter and brown sugar for additional flavor.
Stir in 2/3 to 1 cup of marshmallow fluff for even more sweetness.
Instead of boiling the sweet potatoes, you can bake or roast them in the oven for 20 minutes at 400 degrees. Then, mash them together with the spices.
Want to use a crockpot? Add all ingredients into your slow cooker and cook on high for 2-3 hours or on low for 5-6 hours until the potatoes are tender. Whip everything together afterwards until smooth.
For a more savory flavor, add in some finely chopped Italian herbs like basil, parsley, sage, oregano, garlic powder, chives or fresh roasted garlic.
Whether it's Thanksgiving, Christmas or any other day of the year, you are definitely going to want these yummy mashed sweet potatoes on your table
Print
Mashed Sweet Potatoes
---
4

medium sweet potatoes, peeled

1 Tablespoon

butter

¼ cup

milk

½ cup

brown sugar

1 teaspoon

cinnamon
---
Instructions
Boil water.
Peel potatoes and cut into small cubes.
Boil potato cubes. Let cook until potatoes are soft.
Remove potatoes, place in bowl.
Mash potatoes with potato masher or mixer.
Add butter and milk; stir.
Add brown sugar and cinnamon, stir.
Dish onto bowl or plate. Sprinkle cinnamon lightly over top.