In this health-conscious world, sweet potatoes are becoming a food that is being incorporated in more nutrient-rich meals. They are high in fiber, potassium, and vitamin A, low in calories, help maintain healthy blood pressure, and protect against cancer. They are also quite delicious.
There are many ways you can use sweet potatoes in your meals. You can mash them, make them into fries, or eat them on their own. Another alternative is to make a sweet potato puff.
Let's find out more about sweet potato puffs and how you can be eating more sweet potatoes in your meals.
Sweet Potato Puff
Sweet potato puffs are mounds of flavorful mashed sweet potatoes. They go well with meat dishes and can make the perfect side when served with holiday meals.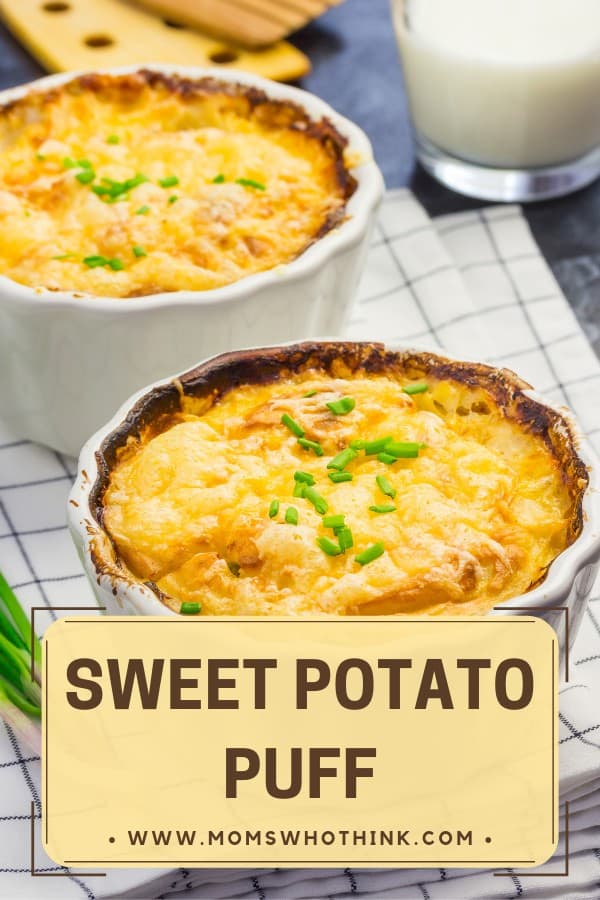 The recipe we have here requires eggs, butter, brown sugar, cream, sherry, dried ginger, ginger ham, grated ginger, lemon zest, ricotta cheese, and, of course, sweet potatoes. Salt and pepper are added to taste.
It is important to follow the recipe to be clear about how each ingredient is prepared and the order in which it is added. Essentially, all ingredients are combined, baked, and served.
To add an extra flair, you can use a piping bag to make them into rosettes!
There are several variations on the potato puff recipe. The eggs, butter, and brown sugar are pretty standard, but the ingredients that give the recipe its seasoning can vary. Ginger is commonly used, but some may use an orange peel instead of lemon zest.
Cardamom is also often added in lieu of salt and pepper.
Some refer to sweet potato puffs as twice-baked. This is because the sweet potatoes have to be boiled so they are soft enough to mash. They are then baked in the oven to give them the right consistency.
Leftover Sweet Potatoes
Raw sweet potatoes can last 1-2 weeks when stored at room temperature. Cooked sweet potatoes can last in your refrigerator for 3-5 days, making them the perfect leftover food. They are also quite versatile, so they can be used to create any number of recipes. Here are some we recommend:

Mashed Chipotle Sweet Potatoes: This is a side dish that offers the perfect blend of sweet and savory. The secret ingredients: the chipotle pepper and a hint of maple syrup.
Add Them to Oatmeal: We often use brown sugar or maple syrup to flavor oatmeal, but sweet potatoes? When you think about it, they offer the perfect flavoring to your morning meal. Just cut into small cubes and add a small amount to your oatmeal for a surprisingly delicious breakfast.
Add Them to Salad: Sweet potato may also seem like an unusual item to add to salads, but you may be surprised to find out how well they work with a vinaigrette. Just add some cubed sweet potatoes to your salad and enjoy the elevated flavor.
Sweet Potato Pancakes: To make sweet potato pancakes, start by removing the skin. Add two eggs, a pinch of nutmeg and sweetener. Mash them into an even consistency and cook them on a skillet or griddle. Alternately, you can just mash up sweet potatoes and add them to your pancake mix.
Sweet Potato Casserole: A classic holiday side dish is sweet potato casserole. This is often a favorite with kids. There are tons of sweet potato casserole recipes out there. A big decision you'll have to make is whether or not to include marshmallow!
Sweet Potato Fries: Sweet potato fries are a much healthier alternative to regular French fries. While the advent of the air fryer has made French fries healthier, they still don't compare to their sweet potato cousins. Simply cut sweet potatoes up into fries, and then bake or air fry.
Sweet Potato Soup: It often seems like you can make soup out of pretty much anything. Sweet potatoes are certainly no exception to that rule. Sweet potato soup can be a warm, delicious way to end a cold day!
Sweet potatoes are nutritious and delicious. They can be used to make sweet potato puffs, or they can be incorporated into several other recipes. How will you be using them to give a unique twist to your meals?
If you enjoyed this recipe, make sure to check out our Tater Tot Casserole Recipe and our Ham and Potato Casserole Recipe.
Print
Sweet Potato Puff
---
Author:

Total Time:

55 Minutes
Description
There are several variations on the potato puff recipe. The eggs, butter, and brown sugar are pretty standard, but the ingredients that give the recipe its seasoning can vary.
---
3

eggs, separated

1/4

lb

. butter, softened to room temperature

1/2

cup

firmly packed brown sugar

1/2

cup

heavy cream

2 Tablespoons

sherry

1/2 teaspoon

salt

1/2 teaspoon

coarsely ground black pepper

1/2 teaspoon

dried ginger

1 teaspoon

grated lemon zest

2 Tablespoons

ginger jam

1 Tablespoon

grated fresh ginger

1/3

cup

ricotta

1

cup

cooked riced sweet potatoes (from about 3 medium sweet potatoes)
---
Instructions
Set the oven rack to the middle position. Preheat the oven to 350°F. Coat a 1 ½ quart ovenproof glass or china baking dish with vegetable spray or butter.
Place egg whites in the bowl of a standing mixer fitted with whisk attachment. Beat until soft speaks form. Set aside.
Cream butter and sugar in the bowl of standing mixer fitted with the paddle attachment. Add egg yolks and mix thoroughly.
Add cream, sherry, salt, pepper, ginger, lemon zest, ginger jam, and grated ginger. Mix until well combined. Add ricotta and sweet potatoes. Fold in reserved egg whites.
Pour into prepared pan and bake 45 minutes, or until a tester inserted into puff comes out clean.
Serve immediately. Puff will deflate a little on standing. Cover any leftover puff with plastic wrap and store in the refrigerator. Warm in low oven before serving.
Prep Time:

10 Minutes

Cook Time:

45 Minutes

Category:

Main Course

Method:

Baking

Cuisine:

American
Keywords: sweet potato puffs, leftover sweet potato