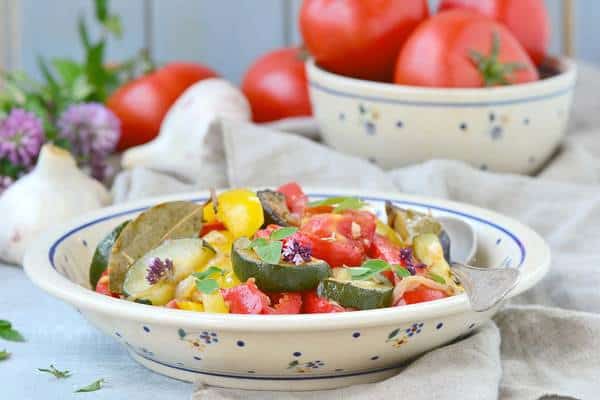 Healthy Italian Vegetable Bake Recipe
Let's Get Ready for Baby!
Sign up for our monthly pregnancy email series, and you'll get regular updates on your baby's development, helpful timelines to get ready for their arrival, must-have baby needs and so much more! PLUS, you'll get instant access to the MomsWhoThink "Ultimate Guide to Baby Naming in 2022."
CLICK HERE
to get started!
Ingredients:
1 can (28 oz) tomatoes, whole
1 medium onion, sliced
1/2 lb. fresh green beans, sliced
1/2 lb. fresh okra, cut into 1/2-inch pieces (or 1/2 of 10-oz package frozen, cut)
3/4 cup green pepper, finely chopped
2 Tablespoons lemon juice
1 Tablespoon fresh basil, chopped, or 1 tsp dried basil, crushed
1 1/2 teaspoons fresh oregano leaves, chopped (or 1/2 tsp dried oregano, crushed)
3 medium (7-inch-long) zucchini, cut into 1-inch cubes
1 medium eggplant, pared, cut into 1-inch cubes
2 Tablespoons Parmesan cheese, grated
Directions:
1. Drain and coarsely chop tomatoes. Save liquid. Mix together tomatoes, reserved liquid, onion, green beans, okra, green pepper, lemon juice, and herbs. Cover and bake at 325 degrees F for 15 minutes.
2. Mix in zucchini and eggplant. Continue baking, covered, 60–70 minutes more or until vegetables are tender. Stir occasionally.
3. Just before serving, sprinkle top with Parmesan cheese.
Yield: 18 servings
Serving Size: 1/2 cup
Each serving provides:
Calories: 27
Total fat: less than 1 g
Saturated fat: less than 1 g
Cholesterol: 1 mg
Sodium: 86 mg
Total fiber: 2 g
Protein: 2 g
Carbohydrates: 5 g
Potassium: 244 mg