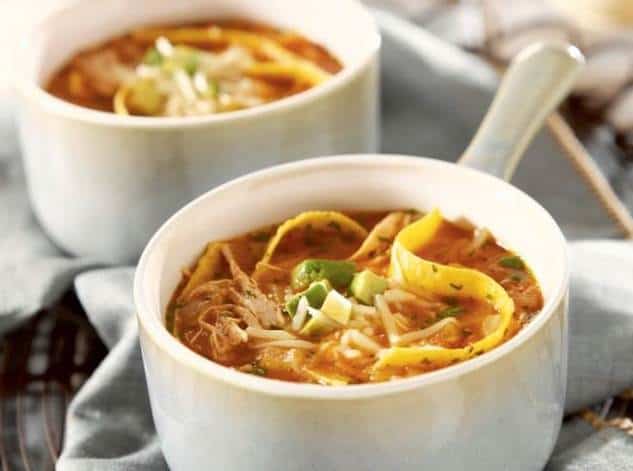 Tortilla Soup Recipe
This fabulous tortilla soup recipe can be served as a side dish or easily as the main entrée.
Topped with fried tortilla, containing chilies, chicken and lime juice it is a soup that departs from the ordinary and is a virtual fiesta for your taste buds. This characteristic Tex Mex soup has many variations that include avocado pulp, various cheeses, and rice added.
Likewise, if you'd like the vegetarian version of tortilla soup use vegetable broth instead and add black beans for more substance.
Tortilla Soup
Ingredients:
3 corn tortillas
Oil for frying
2 teaspoons vegetable oil
1/3 cup chopped onion
1 (4 ounce) can chopped green chiles
4 cups chicken broth
1 cup shredded, cooked chicken
Salt
1 (10 ounce) can tomatoes and green chiles
1 Tablespoon lime juice
4 large lime slices
Directions:
1. Cut tortillas in 2 x 1/2-inch strips. Fry tortillas in small amount of hot oil until brown and crisp. Drain
on paper towels.
2. Heat 2 teaspoons of vegetable oil in a large saucepan. Add onion and sauté until translucent.
3. Add green chiles, broth, chicken, salt to taste, and tomatoes and green chiles. Cover and simmer 20 minutes.
4. Stir in lime juice.
5. To serve, pour into soup bowls and add tortilla strips. Float a lime slice in the center of each bowl.