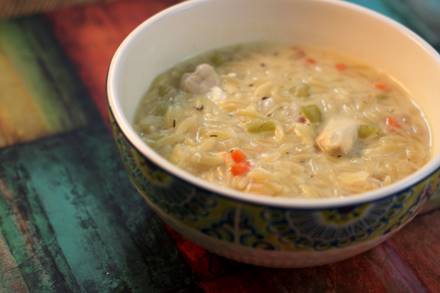 Lemon Chicken Orzo Soup
Let's Get Ready for Baby!
Sign up for our monthly pregnancy email series, and you'll get regular updates on your baby's development, helpful timelines to get ready for their arrival, must-have baby needs and so much more! PLUS, you'll get instant access to the MomsWhoThink "Ultimate Guide to Baby Naming in 2022."
CLICK HERE
to get started!
Ingredients:
4 teaspoons olive oil
8 ounces skinless, boneless chicken breast halves, cut into small chunks
Pinch of salt, plus more taste
1 medium onion, diced (about 1 ½ cups)
2 stalks celery, diced (about ½ cup)
2 teaspoons chopped fresh thyme or ½ teaspoon dried
6 cups low-sodium chicken broth
1 cup orzo, preferably whole-wheat
2 large eggs
3 tablespoons fresh lemon juice
Freshly ground black pepper to taste
Directions:
1. Heat 2 teaspoons oil in a soup pot over medium-high heat. Season the chicken with salt, add it to the pot, and cook, stirring, a few times, until just cooked through, about 5 minutes. Transfer to a dish and set aside.
2. Add the remaining 2 teaspoons olive oil to the pot, add the onion, celery, carrot, and thyme and cook, stirring, over medium-high heat until the vegetables are tender, about 5 minutes.
3. Add 5 cups of the broth and bring to a boil.
4. Add the orzo and let simmer until tender, about 8 minutes. Turn the heat down to low to keep the soup hot but not boiling.
5. Warm the remaining 1 cup broth in a small saucepan until it is hot but not boiling.
6. In a medium bowl, beat the eggs.
7. Gradually whisk the lemon juice into the eggs.
8. Then gradually add the hot broth to the egg-lemon mixture, whisking all the while.
9. Add the egg-lemon-broth mixture to the soup, stirring well until the soup is thickened. Do not let the soup come to a boil.
10. Add the cooked chicken to the soup. Season with salt and pepper and serve.
Serves 4
Per serving
Calories 280
Total Fat 10g
Sat 2g
Protein 26g
Carb 22g
Fiber 2g
Cholesterol 139mg
Sodium 291mg