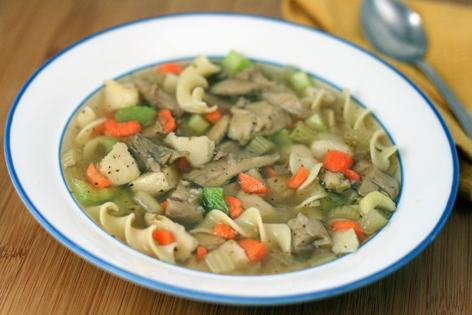 Healthy Chicken Soup Recipe
Let's Get Ready for Baby!
Sign up for our monthly pregnancy email series, and you'll get regular updates on your baby's development, helpful timelines to get ready for their arrival, must-have baby needs and so much more! PLUS, you'll get instant access to the MomsWhoThink "Ultimate Guide to Baby Naming in 2022."
CLICK HERE
to get started!
Your grandmother was right, chicken soup and bedrest really can cure almost anything. The next time someone you love is feeling under the weather, try our healthy recipe for this long time favorite.
It has all the things you'd expect to find in traditional chicken noodle soup, but we've lightened it up so you can have that second bowl without feeling guilty. We packed this healthy recipe with lots of fresh vegetables, so it's not heavy or greasy. If you want to make the soup even more figure friendly, use all white meat chicken.
Ingredients:
1 teaspoon vegetable oil
1/2 cup onion, minced
1/2 cup carrots, diced
1/2 cup celery, sliced
1/2 teaspoon garlic powder
1/8 cup flour
1/4 teaspoon dried oregano flakes
3 cups chicken broth, reduced sodium
2 cups potatoes, peeled, diced
1 1/4 cup chicken, cooked, chopped
1/2 cup whole milk
1 cup noodles, yolk-free, enriched, uncooked
Directions:
1. Heat oil over medium heat in large sauce pan. Add minced onions, carrots, celery, and garlic powder. Cook until onions are tender, about 3 to 5 minutes.
2. Sprinkle flour and oregano over vegetables; cook about 1 minute.
3. Stir in chicken broth and potatoes. Cover and cook until tender, about 20 minutes.
4. Add chicken, milk, and noodles. Cover and simmer until noodles are tender, about 10 minutes.
Makes 4 Servings, about 1 1/2 cups each, plus 4 servings for another meal
PER SERVING:
Calories 205
Total fat 4 grams
Saturated fat 1 grams
Cholesterol 8 milligrams
Sodium 107 milligrams