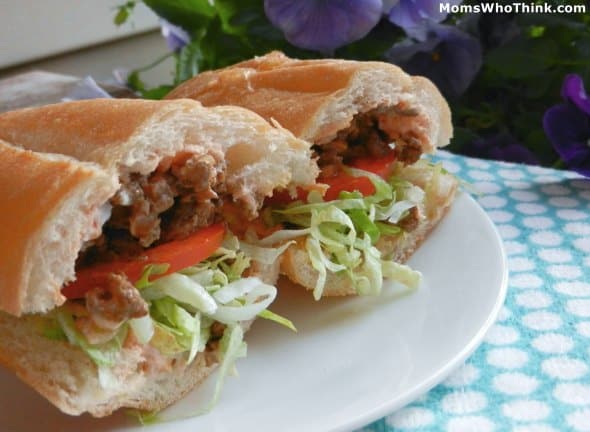 Taco Sandwiches
Ingredients:
1 pound ground beef
1 loaf (1 pound) unsliced Italian bread
4 ounces cream cheese, softened
½ cup salsa
2 Tablespoons taco seasoning
1 cup shredded lettuce
1 large tomato, sliced
6 slices cheddar cheese
Directions:
1. In a large skillet, cook beef over medium heat until no longer pink.
2. Meanwhile, cut bread in half lengthwise; hollow out top and bottom of loaf, leaving a ½-inch shell.
3. In a small mixing bowl, beat cream cheese and salsa until blended. Spread inside bread shell, set aside.
4. Drain beef. Stir in taco seasoning.
5. Layer lettuce and tomato in bottom of bread shell, top with beef mixture in cheese. Replace bread top.
6. Serve with corn chips or tortilla chips on the side. Makes 6 servings.
Try these similar recipes: