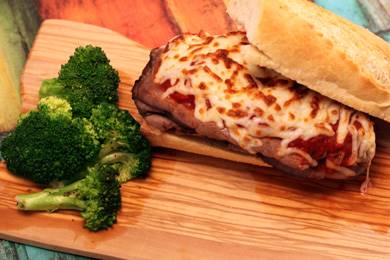 Mozzarella Beef Sandwiches and Seasoned Broccoli
Let's Get Ready for Baby!
Sign up for our monthly pregnancy email series, and you'll get regular updates on your baby's development, helpful timelines to get ready for their arrival, must-have baby needs and so much more! PLUS, you'll get instant access to the MomsWhoThink "Ultimate Guide to Baby Naming in 2022."
CLICK HERE
to get started!
Ingredients:
1 loaf (1 pound) on sliced French bread
1¼ pounds thinly sliced deli roast beef
1 cup meatless spaghetti sauce
1¼ cups (5 ounces) shredded mozzarella cheese
Directions:
1. Cut bread in half lengthwise, cut width-wise into 5 portions.
2. On each bread bottom, layer the beef, spaghetti sauce and cheese.
3. Place on an ungreased baking sheet.
4. Broil 4 inches from the heat for 1 to 2 minutes or until cheese is melted, replaced tops. Makes 5 servings.
Seasoned Broccoli
Ingredients:
1½ pounds fresh broccoli, cut into spears
¼ cup water
2 Tablespoons butter
1 teaspoon lemon pepper seasoning
½ teaspoon garlic salt
½ teaspoon dried thyme
Directions:
1. Place the broccoli in a microwave safe bowl, add water.
2. Cover and microwave on high for 4 to 5 minutes or until tender, drain.
3. Stir in the remaining ingredients. Makes 6 servings.
Try one of our favorite 30 Minute Meals: