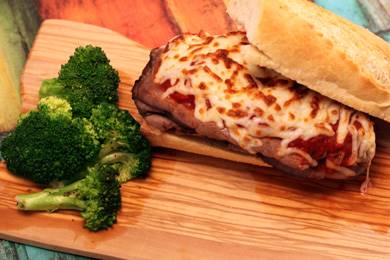 Mozzarella Beef Sandwiches and Seasoned Broccoli
Ingredients:
1 loaf (1 pound) on sliced French bread
1¼ pounds thinly sliced deli roast beef
1 cup meatless spaghetti sauce
1¼ cups (5 ounces) shredded mozzarella cheese
Directions:
1. Cut bread in half lengthwise, cut width-wise into 5 portions.
2. On each bread bottom, layer the beef, spaghetti sauce and cheese.
3. Place on an ungreased baking sheet.
4. Broil 4 inches from the heat for 1 to 2 minutes or until cheese is melted, replaced tops. Makes 5 servings.
Seasoned Broccoli
Ingredients:
1½ pounds fresh broccoli, cut into spears
¼ cup water
2 Tablespoons butter
1 teaspoon lemon pepper seasoning
½ teaspoon garlic salt
½ teaspoon dried thyme
Directions:
1. Place the broccoli in a microwave safe bowl, add water.
2. Cover and microwave on high for 4 to 5 minutes or until tender, drain.
3. Stir in the remaining ingredients. Makes 6 servings.
Try one of our favorite 30 Minute Meals: