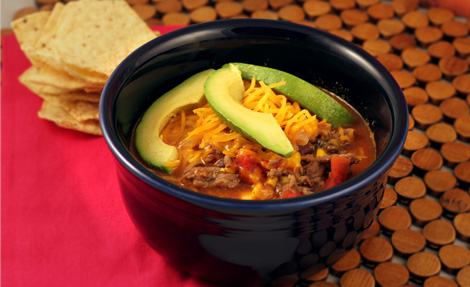 Taco Soup Recipe
Tacos are a traditional Mexican dish that is popularly known as a corn or wheat tortilla folded around a filling. These can include beef, pork, chicken, vegetables, cheese and more. Tacos are then typically topped with your choice of garnishments like salsa, chili pepper, avocado, guacamole, onions, tomatoes or any other veggies as well as your preferred seasonings.
Tacos can be made in a variety of ways. It is not only their fillings that differentiate them but the way they are prepared. They can be served in hard shells or soft shells or made into a breakfast meal.
In Indian cultures, they use frybread instead of tortillas. There is also a puffy taco where uncooked corn tortillas are fried in hot oil to give them a puffy texture.
When thinking of the various ways to prepare tacos, taco soup is one that comes to mind. The funny thing about taco soup is that it does not actually contain any tacos. And really, why would it? Tacos would surely become a soggy mess in soup.
Rather, this recreates the taco experience in a nice hot soup that is perfect for the winter weather…although you can eat it in the summer as well.
Taco ingredients can vary and so can the ones you choose to add to your taco soup. This recipe contains common ingredients like ground beef, beans, a great assortment of veggies and hot peppers and some spicy seasonings. This is added to a broth that has a real kick. (To make a vegetarian version, just leave the beef out.)
Top with avocado and cheese and serve with chips to make it a great meal!
This Taco Soup Recipe creates the perfect soup for anyone who likes it spicy. With all the flavor of tacos and belly filling beans, it's a meal in itself. It is perfect for a cold night.  Serve piping hot to chase away any chill!
Taco Soup
Ingredients:
2 pounds ground beef
1 medium, chopped yellow onion
2 cans whole kernel corn
2 cans diced tomatoes
1 can black beans
1 can pinto beans
1 can RoTel diced tomatoes and green chiles
1 package ranch dressing mix
1 package taco seasoning
1 cup grated cheddar cheese
1 medium avocado, peeled and sliced
1 package tortilla chips
Directions:
1. Brown the ground beef and chopped onion together and drain.
2. Add the corn, tomatoes, black beans, pinto beans, tomatoes and chiles, (including the juices from each) taco seasoning and ranch dressing . Stir well.
3. Simmer for 30 minutes. Top with the avocado slices and grated cheese, serve with tortilla chips.
Easy Recipes Main Page