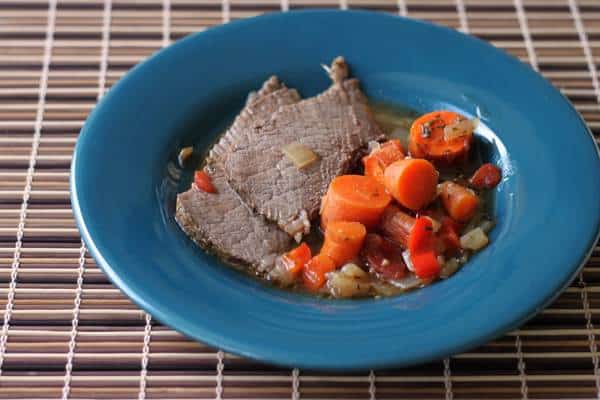 Beef Brisket with Herbed Tomato Sauce
Let's Get Ready for Baby!
Sign up for our monthly pregnancy email series, and you'll get regular updates on your baby's development, helpful timelines to get ready for their arrival, must-have baby needs and so much more! PLUS, you'll get instant access to the MomsWhoThink "Ultimate Guide to Baby Naming in 2022."
CLICK HERE
to get started!
Ingredients:
1 beef brisket (4½ pounds)
2 teaspoons salt
½ teaspoon pepper
1 Tablespoon olive oil
3 large onions, chopped
3 garlic cloves, minced
1 cup beef broth
1 can (14½ ounces) diced tomatoes, undrained
1 large red pepper, chopped
1 Tablespoon dried thyme
1 Tablespoon dried rosemary, crushed
1 bay leaf
1 pound carrots, cut into ½ inch slices
Directions:
1. Season brisket with salt and pepper.
2. In a large saucepan, brown brisket in oil over medium high heat (this seals in the juices). Remove from pan and place into a 3 quart glass or ceramic baking dish.
3. In the same saucepan, sauté onions and garlic until tender.
4. Add the beef broth, tomatoes, red pepper, thyme, rosemary and bay leaf. Stir well to combine ingredients, heat through.
5. Pour mixture over brisket in baking dish.
6. Cover tightly and bake at 325° for 2 hours, basting occasionally.
7. Add carrots; bake 1 hour longer or until meat is tender. Discard bay leaf.
8. Let stand for 10 minutes, then slice beef across the grain. Serve with sauce over brisket slices.
Makes 12 servings
Nutrition Information:
One serving equals:
281 calories
9 grams fat (3 grams saturated fat)
72 mg cholesterol
331 mg sodium
10 grams carbohydrate
2 grams fiber
36 grams protein