Flour is one of the most important building blocks of a tasty meal, which is why you have options for your particular dish, with most people choosing between bread flour and all-purpose flour. Both products are very similar, with the main difference being that bread flour has more protein than all-purpose flour when you compare both side by side. It's not a huge difference, but it does make an impact. Let's look further into the debate of bread flour vs. all-purpose flour.
Bread Flour vs. All-Purpose Flour: What are the Differences?
There are more similarities than differences when it comes to the battle of bread flour vs. all-purpose flour, so the best thing to do is describe both so you can paint a picture.
What is Bread Flour?
One of the reasons why bread flour has more content is that it's also rich in gluten, and the protein makes up most of the weight. All in all, it contains between 12-14% protein, and it works best on yeasted bread. The combination of the protein and the gluten means that bread flour is more malleable, elastic, and light, so it provides an airy and chewy texture when it's baked.
One of the ways that bread flour separates itself from other types of flour is that it also requires a good amount of kneading to create the right consistency. As you can imagine, bread flour is typically used to make bread and bread-associated products. You can use bread flour to bake bagels, white bread, sourdough bread, cinnamon buns, and more.
When bread flour is mixed with water, the protein sticks together to form long strands of gluten in the dough. Bread dough can often have more height when it's baked because the gluten helps to hold onto the bubbles that form as the dough rises.
You may have also heard of "strong flour" or "strong bread flour" and that's what's commonly used in the UK. Most of the time, it's just the name they use. However, sometimes it has that name because it's made from hard wheat varieties.
What is All-Purpose Flour?
As the name suggests, all-purpose flour can be used in a large variety of applications, more than bread flour. All-purpose flour is made from hard red wheat or a combination of hard and soft wheat.
You can use this flour to make your bagels, cinnamon rolls, and white bread as you can with bread flour. However, it's also easy to make pizza, cookies, muffins, and more. Most all-purpose flour is rich in flavor and provides a smooth consistency.
In the United Kingdom, instead of calling it all all-purpose flour, they call it plain flour. So if you see these two words, they're one and the same. When it comes to protein, all-purpose flour is basically in the middle of the spectrum. It's right between bread flour and cake or pastry flour. It typically has about 9-12% protein.
Bread Flour vs. All-Purpose Flour: Nutritional Value
As you'll see in the chart below, the battle of bread flour vs. all-purpose flour is basically an even battle as far as calories, carbs, fat, and vitamins. The only real factor is that slight difference in protein content.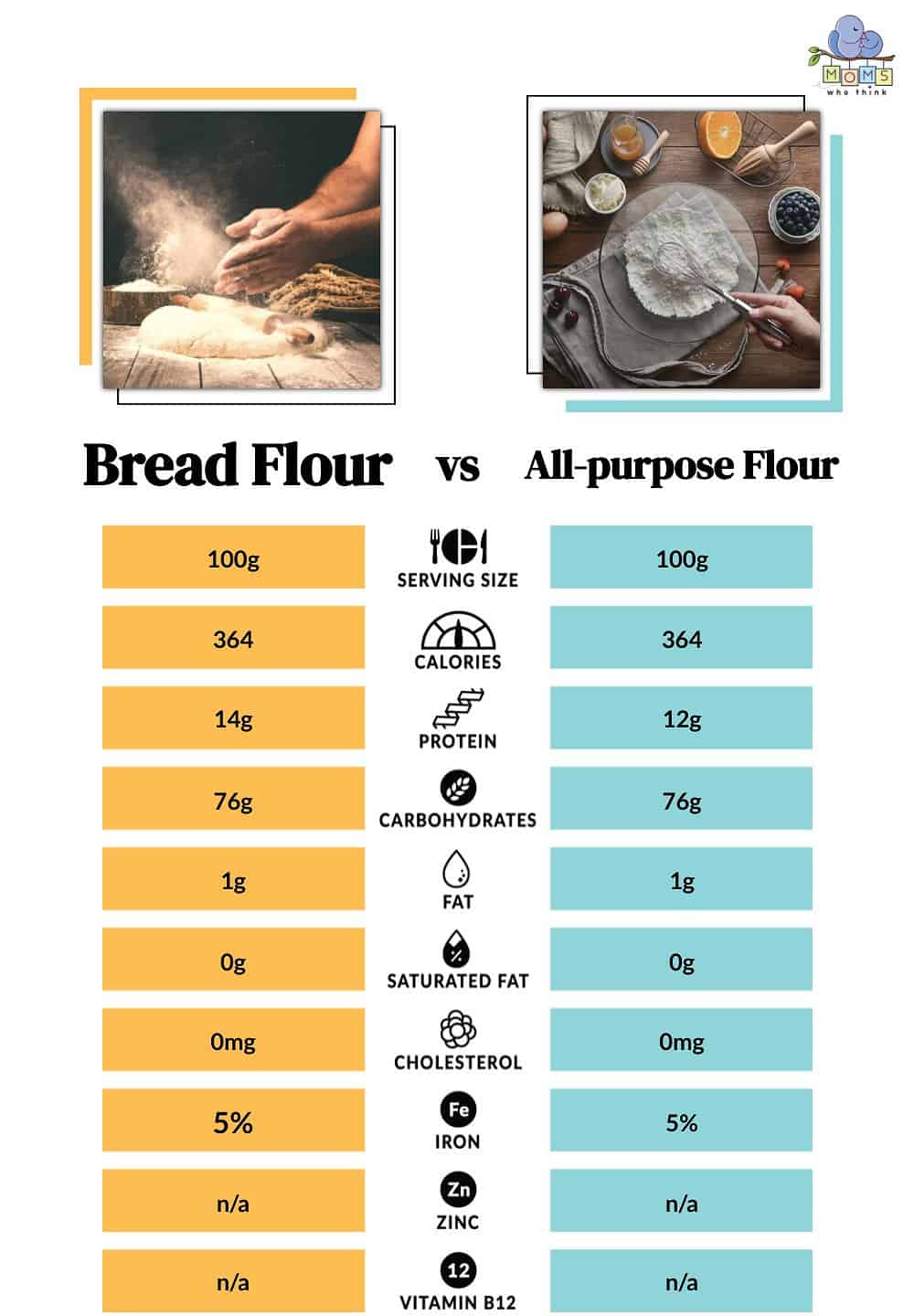 As far as healthy elements are concerned, there's not a lot that makes either flour what you would call a "diet food." Each has 5% iron, which is a necessary element that we all need to grow and thrive. Iron is responsible for the production of red blood cells that carry oxygen to our lungs, and it also helps to make our hormones.
Of course, the protein is mostly there to make the flour more malleable, but it's also an essential part of our growth and development. Protein is made from amino acids that are necessary to build and repair muscle and bones. Protein is also often a source of energy. It also helps us to build up our immunity. It also helps with the production of antibodies that keep bacteria and viruses under control.
Substitutes for Bread and All-Purpose Flour
Depending on the type of dish or treat you're preparing, you may choose either one of these flour varieties, or you may go for something else. There are numerous other flour varieties to consider.
Semolina Flour
This is a flour made out of hard durum wheat and it's very coarse in texture. It has a unique yellow color, and it's very high in protein. You'd typically use this flour to make pasta. However, because of its high protein, it's also suitable for making pizza dough and bread. You can find semolina flour in fine, medium, and coarse textures. It has a sweet and nutty flavor, so you'll definitely add a new level of your baking.
Gluten-Free Flour
If you want a different consistency or you're gluten intolerant or have celiac disease, then go for the gluten-free flour. It's made from a mixture of brown rice flour, rice flour, and potato starch. This can be a perfect substitute for bread flour. It will give you that same high rise and chewy texture.
Self-Rising Flour
This is a unique type of flour that's similar to all-purpose flour, but it contains salt and baking powder. It's typically used to make pancakes, biscuits, and bread when you're in a time crunch. This really is a flour that's for when you're in a pinch. It will not have the same quality as the other products. Many bakers say that the baking powder causes this flour to be dry and dense. It can also be quite salty.
Whole-Wheat Flour
Whatever side of the bread flour vs. all-purpose flour argument you're on, you also can't go wrong with whole-wheat flour. This brand is produced by using the entire wheat kernel, including the germ. So you get a flour that's rich in fiber, minerals, and vitamins. This combination gives the flour a darker color and a coarse texture. You'll also get a slightly nutty flavor.
Sorghum Flour
This is a gluten-free alternative flour that is taken from the sorghum grain, which is a crop that is very rich in antioxidants and nutrients. It's a unique flour that has a mild and sweet flavor. It also has a very fine texture, which is perfect for gluten-free baking.
Einkorn Flour
Technically, einkorn flour is considered to be one of the first cultivated forms of wheat. It's low in calories with about 100 calories per ¼ cup. Both all-purpose flour and bread flour have triple the calories. When baking, you can combine this flour with other types of flour to add more texture to the recipe.
Red Whole-Wheat Flour
This is just a slight variation in the whole-wheat flour equation. It contains a bit more protein, but it's not majorly noticeable.
Almond Flour
Almond flour has a different consistency than traditional flour. Still, it's great for people who are trying to lose weight as it has fewer carbs. Be cautious when baking using almond butter. It's very different, but you can make it work, and you can even use it to bake bread. This flour lacks gluten, so it won't have the same elasticity, but it's a fine alternative.
Conclusion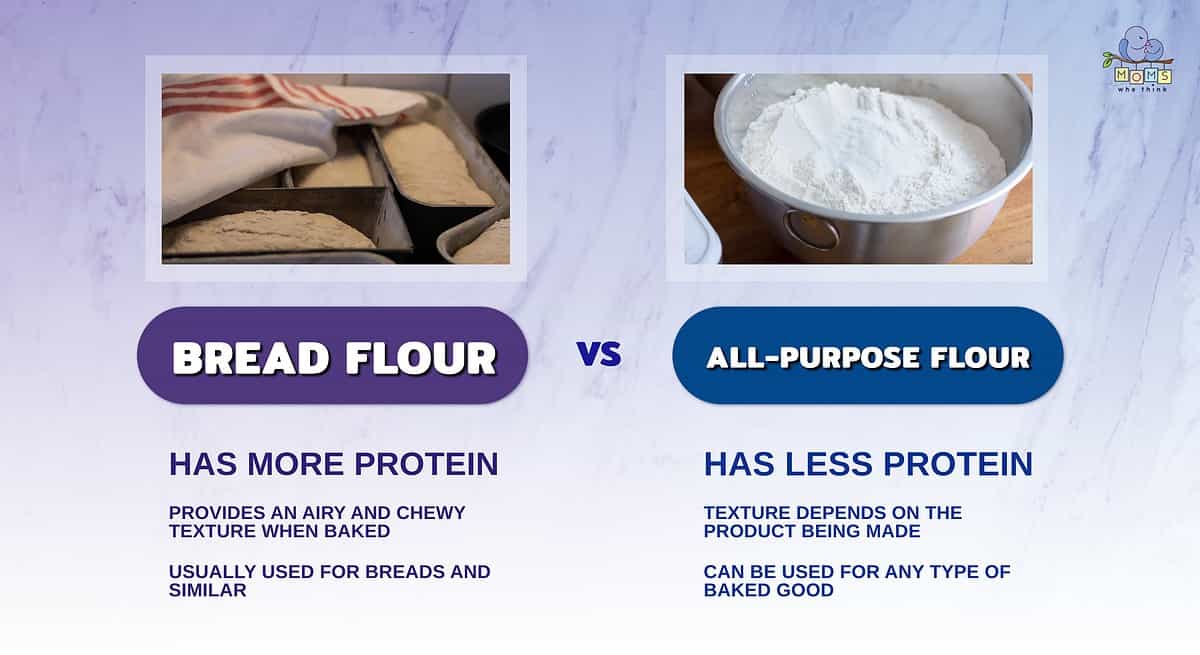 Bread flour has more protein than all-purpose flour.
Since all-purpose flour can be used in all kinds of different baked goods, the texture of the end product can vary. Bread flour gives whatever it's used in an airy and chewy texture.
As the name might suggest, bread flour is primarily used for breads and similar. All-purpose flour can be used in basically any baked good, which is why it's such a popular staple in kitchens.
As you can see, there's not a ton to debate about the differences between bread flour vs. all-purpose flour. The protein content is what sets it apart. Choose either product based on what you're making, and you can make the best baked treat for you and your family.
You can use all-purpose flour in this recipe:
Print
Banana Cupcakes with Nutella Ganache
---
Author:

Total Time:

40 minutes

Yield:

12

to

1

8

1

x
2/3

cup

butter, softened

1 1/4

cup

sugar

2

large eggs

1/4

cup

buttermilk

1 teaspoon

vanilla

1 1/2

cup

flour

1 teaspoon

baking soda

1 teaspoon

salt

1/4 teaspoon

nutmeg

1/4 teaspoon

ground cloves

1 teaspoon

ground cinnamon

1

cup

very ripe bananas, mashed

1

cup

pecans, diced (optional)
cupcake papers

1/2

cup

heavy cream

1

cup

Nutella

1 tablespoon

butter
Chopped hazelnuts or almonds for garnish (optional)
---
Instructions
Preheat oven to 350 degrees.
Beat the butter and sugar together in a large mixing bowl on medium speed until light and fluffy. Beat in the eggs one at a time. Stir in the buttermilk and vanilla.
Sift together the flour, baking soda, salt, nutmeg, cloves and cinnamon. Slowly mix the dry ingredients into the wet ingredients in three batches.
Fold in the bananas and pecans.
Place cupcake papers in a muffin tin and spoon the banana batter into the papers.
Bake until the cupcakes spring back when touched, about 15 to 20 minutes. Remove from oven a cool.
For the frosting, heat the cream in the microwave until little bubbles appear.
Pour the cream over the Nutella and stir well to mix.
Stir the butter into the Nutella and cream just until melted and glossy.
Remove the paper from the cupcakes. Pour the ganache into a shallow dish and dip the top of the cupcakes unto the ganache. Hold the cupcake upside down for a few seconds to allow the excess to drip off. Or, leave the papers on and spoon the ganache over the top of the cupcakes.
Sprinkle with chopped hazelnuts or almonds, if desired.
Prep Time:

20 minutes

Cook Time:

20 minutes