Both chia seeds and flax seeds are high in nutritional value; however, flax seeds contain slightly more protein than chai seeds. Both chia and flax seeds have become more popular in culinary dishes such as smoothies, salads, stews, and pasta. In this article, we will discuss chia seeds vs. flax seeds: which one is healthier and the differences between the two.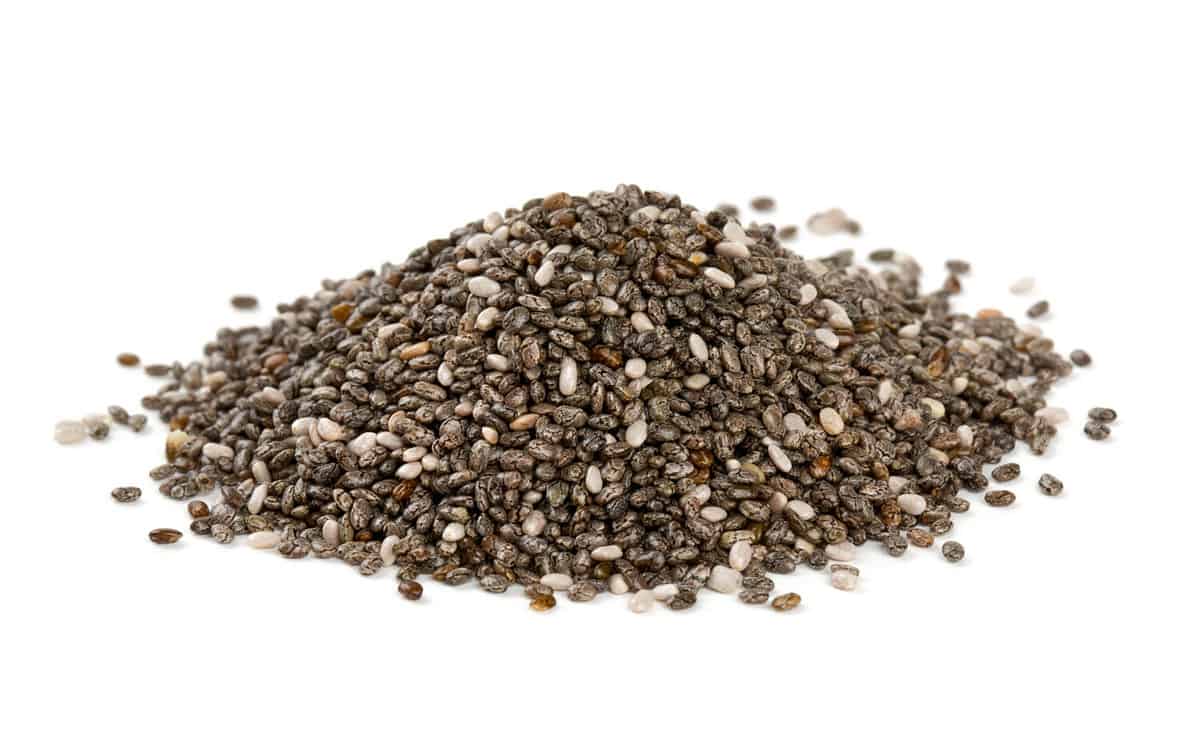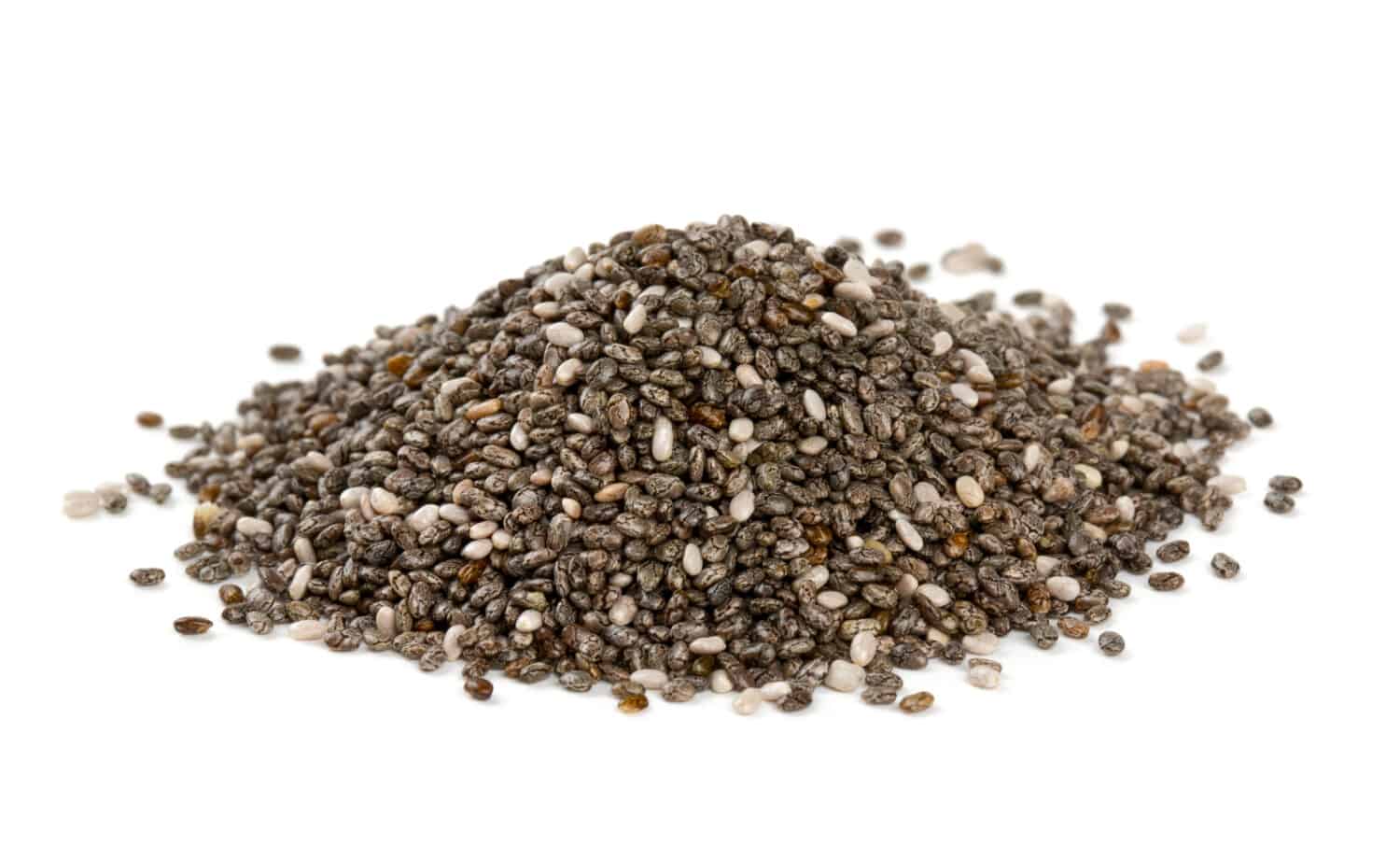 What Are Chia Seeds?
Chia seeds are native to central and southern Mexico. They are edible seeds from the flowering plant Salvia hispanica. These seeds are oval and about 2 millimeters long, weighing about 1.3mg with white, black, and gray spots. These seeds can absorb up to 12 times their weight when soaked; this is called hygroscopic. They develop a coating called mucilaginous that gives drinks and food an individual jelly-like texture.
In the Aztec cultures, chia seed is a staple food as important as maize. Chia seeds were often used as payment to the Aztec priesthood during contributions.
Chia as a Food
The seeds are quite versatile; you can add them to salads, cereal, smoothies, bread, and tortillas. This makes chia seed a great ingredient to use as a thickening agent in stews and sauces. Furthermore, the jelly-like substance can be used as an egg replacement in cakes, and muffins and is also allergen-free and suitable for vegans.
Nutrition in chia seed per 1 ounce serving:
137 calories
4.2g of protein
12.3g of carbohydrates
8.6g of fat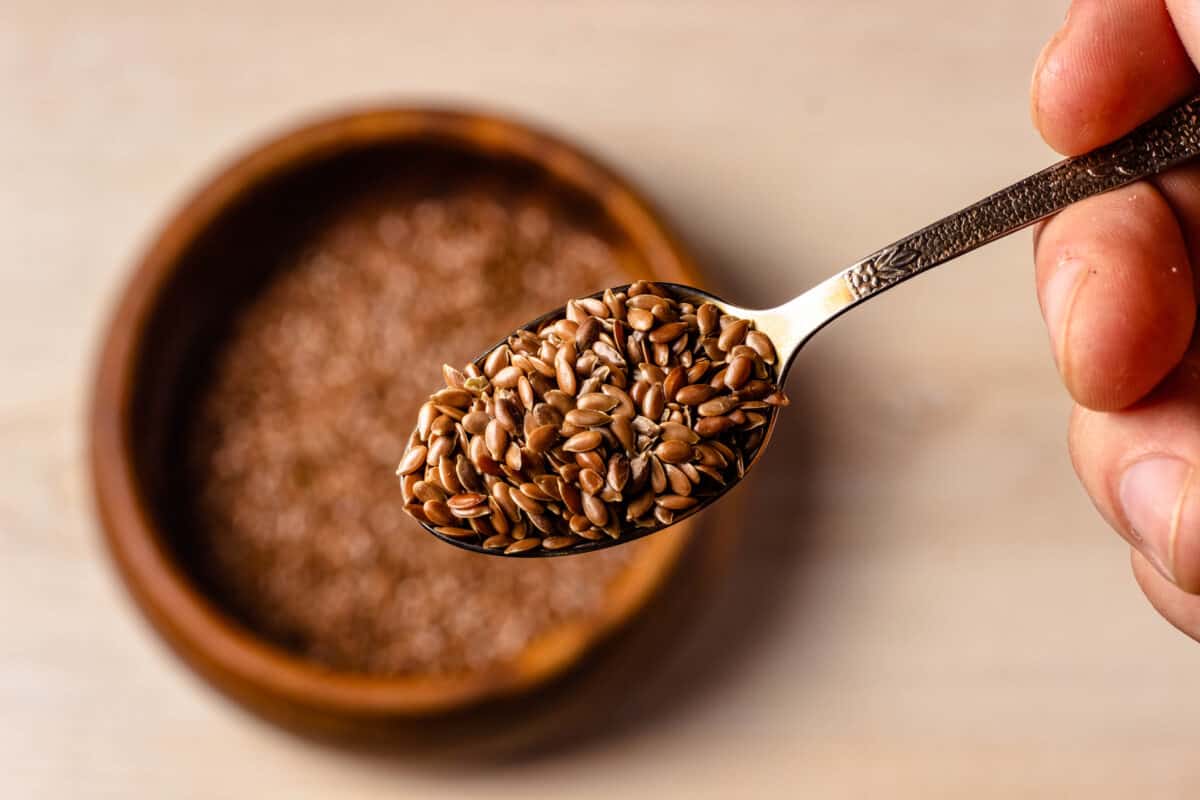 What Are Flax Seeds?
Flax is a flowering plant known as the Linum usitatissimum and like chia is cultivated as a fiber crop and food. Linseed oil comes from flax which is considered edible. Flax is also high in omega-3 to further add flax is also widely used in the textile industry and is typically used to create table clothes and linen. It can also be ground up as a nutritional supplement and used as an ingredient when wood-finishing.
It can grow up to 1.2 meters tall, with a slim stem and green leaves about 3 millimeters wide and around 20-40 millimeters long. Depending on the species the colors of the flowers can be red, blue, yellow, or white with 5 petals. The fruit is round and contains seven silky brown seeds about 4-7 millimeters long.
Flax Seeds as a Food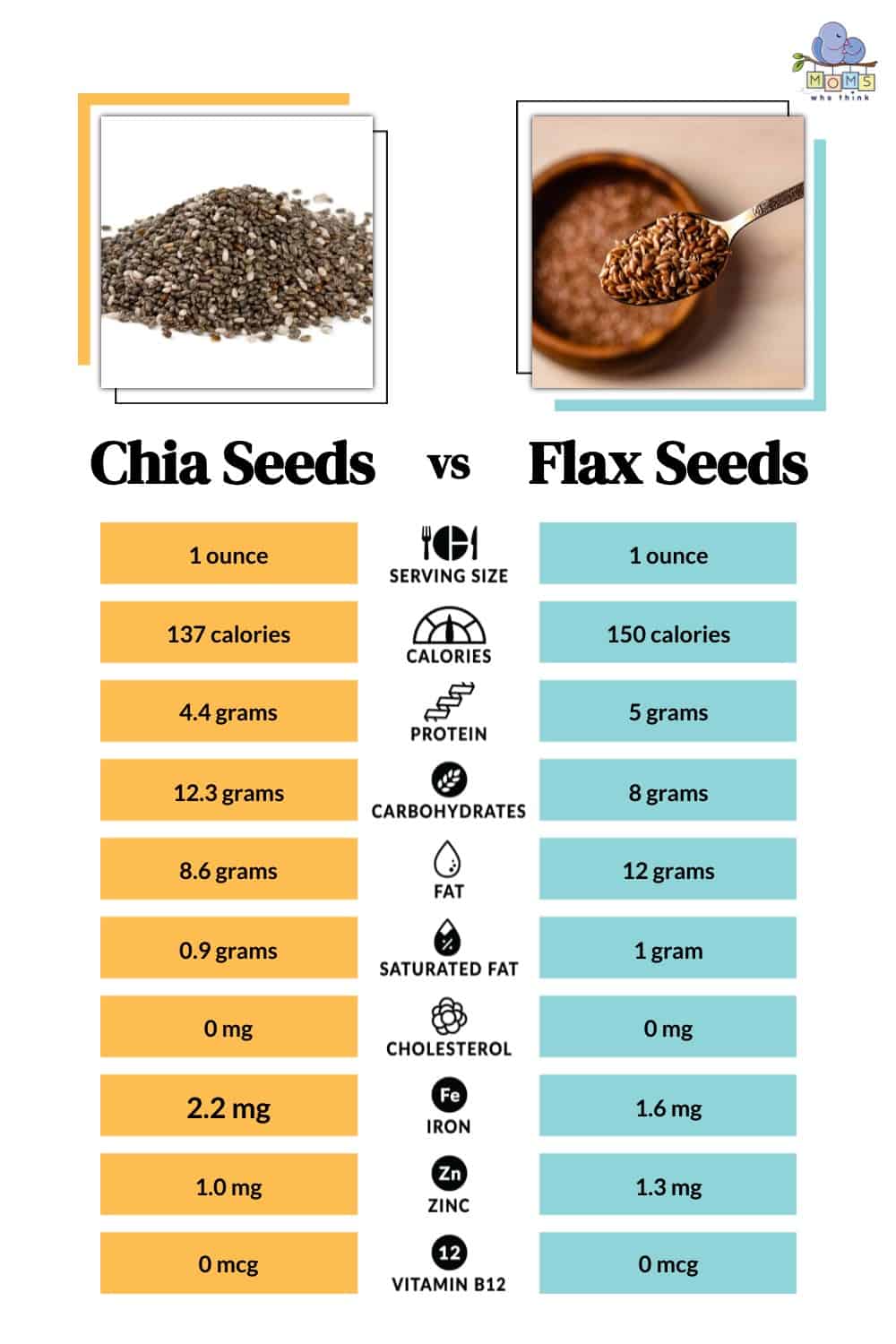 Ground flax meal can go rank quickly when exposed to air so it is best to store it in an airtight container in the refrigerator for up to a week. Milled flax seed when packed immediately without air exposure can be stored for nine months.
Once the seed has been crushed and the oil has been extracted the remainder meal is often added to dog, rabbit, pig, and horse food because of its high protein-rich content.
Nutrition in ground flax seed per 1 ounce serving:
150 calories
5g of protein
8g carbohydrates
12g of fat
Chia Seeds or Flax Seeds- Which One is Healthier?
A key difference between chia seeds and flax seeds is that chia seeds come apart easily when exposed to moisture and do not need to be milled to increase their nutritional profile. Additionally, both chia and flax seeds are full of protein, fiber, calcium, phosphorus, and omega-3 fatty acids. Flax seeds, however, have slightly fewer vitamins.
What Do Chia and Flax Seeds Taste Like?
Both seeds have a nutty, earthy flavor that pairs well with savory and sweet dishes. They can be added to many snacks and different meals, such as:
Protein peanut butter balls
Lemon poppy seed chia waffles
Vegan spaghetti and meatballs
Chocolate chia pudding
Savory coconut granola with nuts and chia
Low-carb quick bread
Super-seeded granola bars
Tomato chia jam
Chia-crusted salmon with soy bok choy
Masala chia oats
Conclusion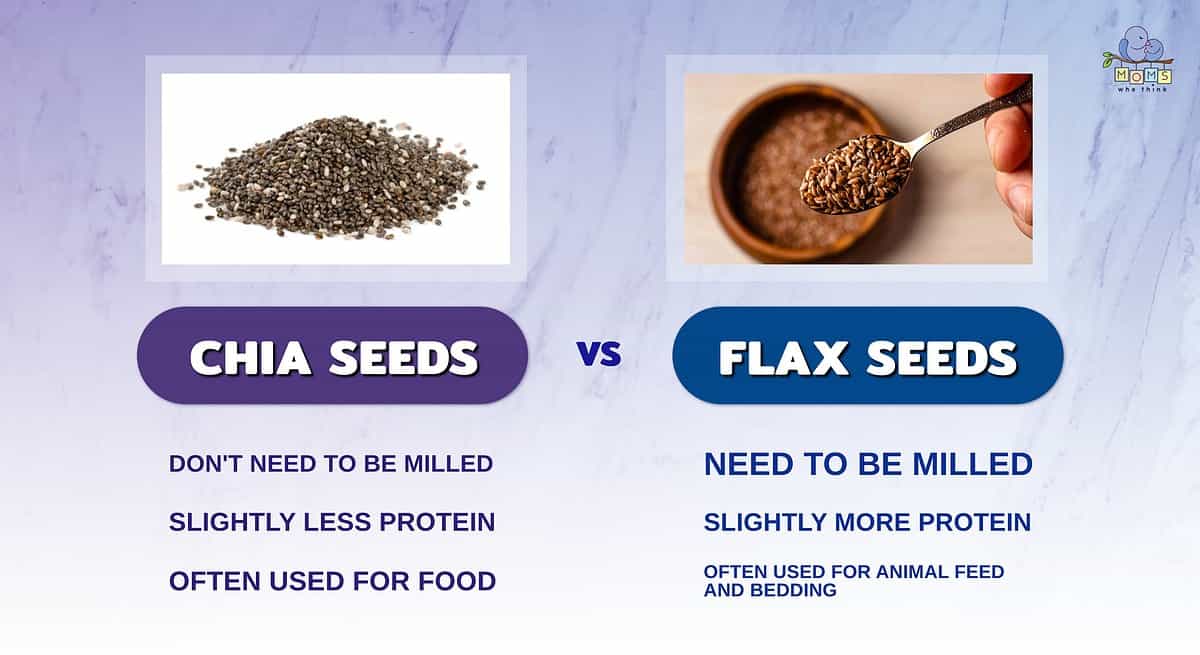 In conclusion, flax seeds have a slightly higher protein amount and need to be milled. Once the seeds have been extracted, it is then processed for making bedding and tablecloths. It is also added to animal feed for extra protein. Chia seeds, on the other hand, don't need to be milled and can absorb up to 12 times their weight.
Both seeds have a similar flavor and are versatile in different recipes. Both have great health benefits, and it depends on your personal preference as to which seed to add to your next dish. Finally, keep in mind that when you add seeds to your diet, you are providing your body with many necessary nutrients and improving your well-being.
Print
2

cups

Oats

2

cups

coconut flakes

1

cup

Peanut Butter

1

cup

ground flaxseed (found on the baking supplies isle)

1

cup

chocolate chips (I use milk chocolate)

2/3

cup

honey

2 teaspoons

vanilla

1 teaspoon

cinnamon (not a deal-breaker if you don't have some on hand)
---
Instructions
Mix the dry ingredients together and then combine with the wet ingredients.
Roll into bite-sized heavenly morsels, and store in the fridge.
Related Articles