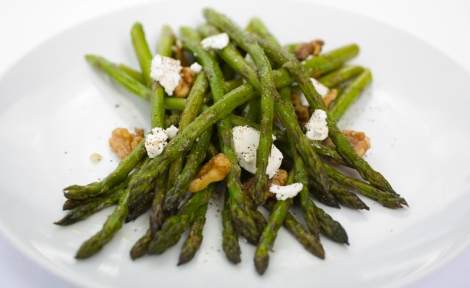 Roasted Asparagus with Feta Cheese
Let's Get Ready for Baby!
Sign up for our monthly pregnancy email series, and you'll get regular updates on your baby's development, helpful timelines to get ready for their arrival, must-have baby needs and so much more! PLUS, you'll get instant access to the MomsWhoThink "Ultimate Guide to Baby Naming in 2022."
CLICK HERE
to get started!
Roasted asparagus with Feta cheese is a great side dish for beef or pork. The feta blends so well with the olive oil and asparagus to create a delicious side dish, it may become the star of the meal.
Ingredients:
2 lbs. fresh crisp asparagus
1/4 cup olive oil
4 cloves garlic, minced
1 teaspoon lemon, zest of
1/2 teaspoon dried oregano
1/4 teaspoon red pepper flakes
kosher salt (to taste)
fresh ground black pepper (to taste)
2 Tablespoon chopped fresh parsley
4 ounces crumbled feta cheese
juice of 1 lemon
Directions:
1. Preheat oven to 400 degrees F.
2. Heat olive oil, minced garlic, lemon zest, oregano, and red pepper flakes in a small pan over low heat until garlic becomes golden.
3. Remove from heat and allow to cool.
4. Bend asparagus gently until it breaks at a natural point and discard ends.
5. Toss asparagus pieces with olive oil mixture and place in a single layer on a baking sheet.
6. Season asparagus with salt and pepper then with crumbled feta cheese.
7. Roast at 400F for 12 minutes or until tender.
8. Sprinkle with chopped parsley and drizzle with lemon juice. Serves 4.