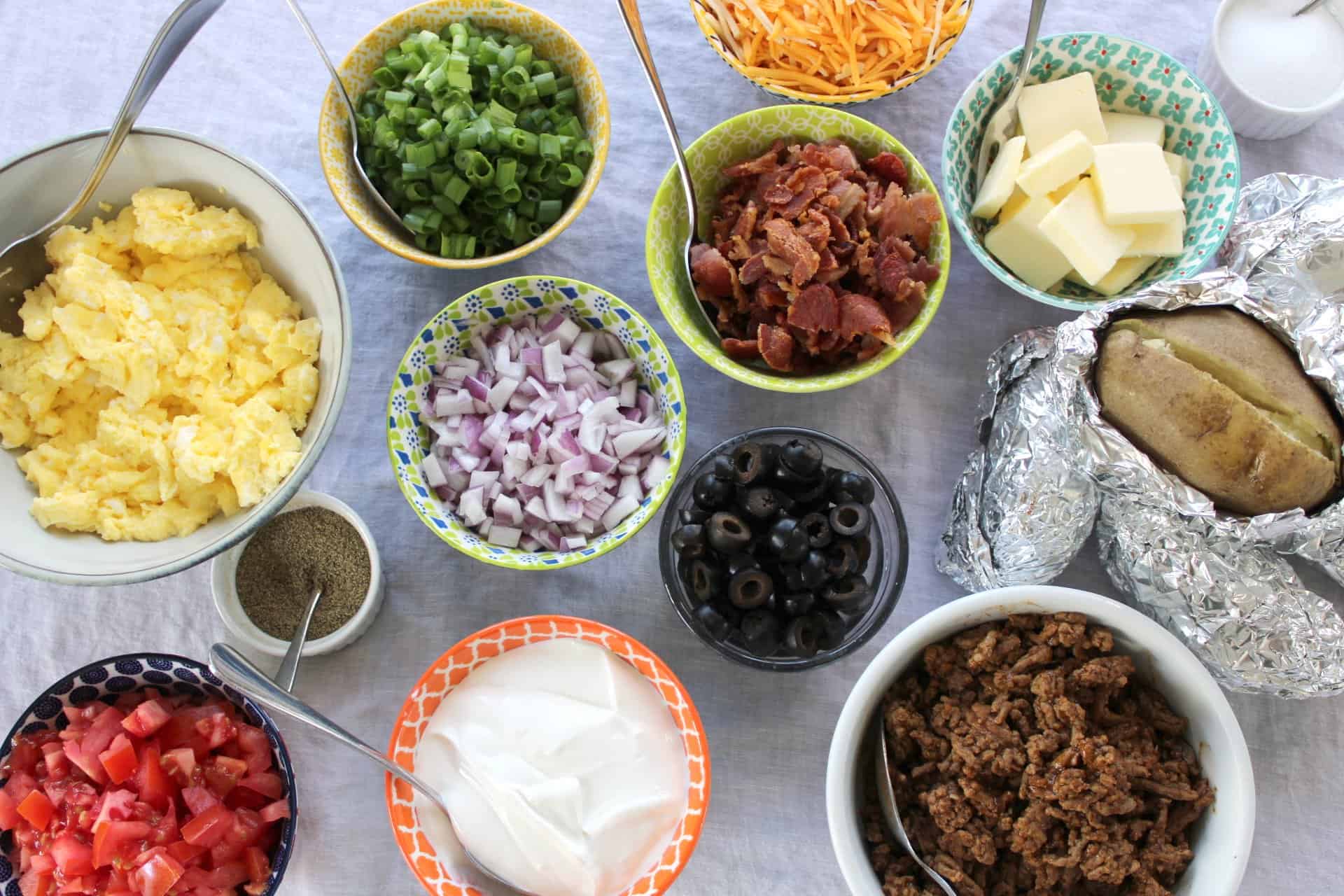 Whether you have a crowd to feed or you simply want a fun alternative to the same old, same old, a baked potato bar is a perennial favorite. Seriously, who doesn't love potatoes? And when you offer tons of fun toppings, everyone can create and enjoy a custom meal they'll enjoy to the last bite. Before we get to some great potato topping ideas, let's establish a solid starting point: how to bake the perfect potato.
How to Bake a Potato
Baking a potato isn't hard at all. It's just a bit of a waiting game — unless, of course, you use the microwave — as they can take anywhere from 50-60 minutes to bake.
To create the perfect baked potato, start by preheating the oven to 400 degrees F. While the oven is warming, give your potatoes a good scrubbing under the kitchen faucet, shake off the excess water, sprinkle with some coarse sea salt and wrap each potato individually in aluminum foil. When the oven is preheated, put your foil-wrapped potatoes on the rack and set a timer for 50 minutes.
When the timer goes off, with an oven mitt, gently squeeze the potatoes. If they give a little, they are likely done. If they're still hard, give them another 10 minutes. Once you get the perfect amount of give, you have secured the perfect potato.
Also, it's worth noting that you don't have to use foil. You can also bake a potato without foil. You simply follow the same steps and just leave out the foil.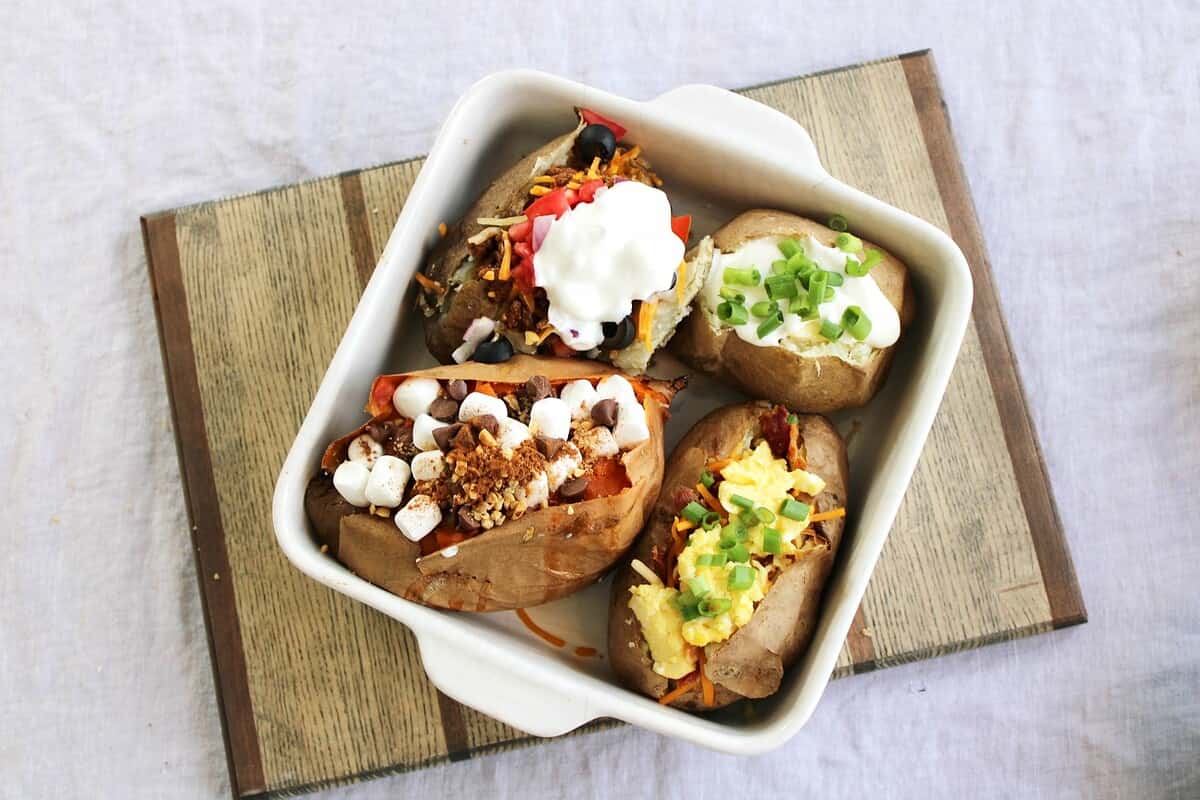 Baked Potato Bar Toppings
While you can totally stick with a theme for your baked potato bar, you can also create a literal buffet of toppings and let everyone have fun building their tater. Here are 50 potato toppings to get your creative juices flowing:
Butter and salt
Sour cream
Green onions
Bacon bits
Cheddar cheese
Broccoli
Chili
Salsa
Ranch dressing
Garlic butter
Ham and pineapple
Grilled chicken and BBQ sauce
Avocado
Tuna salad
Feta cheese
Olives
Cream cheese and smoked salmon
Caprese (tomato, mozzarella, and basil)
Spinach and feta cheese
Shrimp
Cottage cheese
Baked beans
Buffalo chicken & blue cheese
Guacamole and black beans
Hummus and roasted red peppers
Meatballs and tomato sauce
Mushroom and onion sauté
Pesto and sun-dried tomatoes
Pizza toppings (pepperoni, sausage, mushrooms, etc.)
Roasted garlic and parmesan cheese
Roasted red peppers and goat cheese
Scrambled eggs and sausage
Shredded beef
Sloppy Joe meat
Smoked sausage and sauerkraut
Spicy chicken and ranch dressing
Steak and cheese
Taco meat and toppings
Teriyaki chicken and pineapple
Thai peanut sauce and chicken
Tomato, mozzarella, and pesto
Turkey and gravy
Turkey chili and cheese
Vegetable stir-fry
Veggies and cheese sauce
White beans and garlic
Wild mushrooms and balsamic glaze
Yellow squash and zucchini
Zesty Italian sausage and peppers
Zucchini and tomato
Baked Potato Bar Ideas
Now that you see how endless the options are, let's get down to business. Here are some baked potato bar ideas that are easy to pull together and incredibly tasty!
Sometimes you shouldn't mess with a classic. A few simple key ingredients make this one a breeze to pull together, and you just can't go wrong. See the complete instructions for the classic baked potato bar here.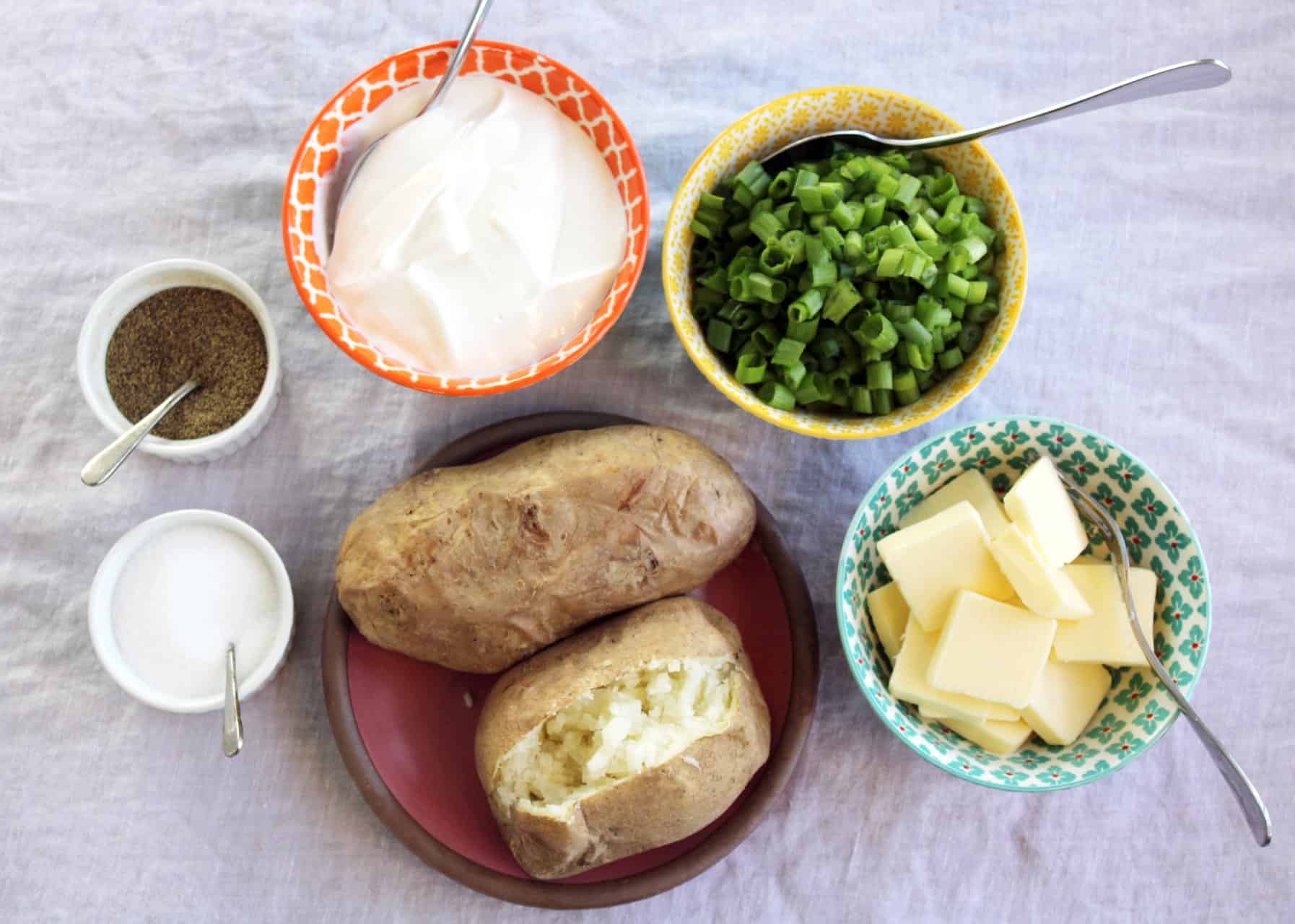 Bring a bit of Taco Tuesday flair to your baked potato with this zesty meal idea. Taco meat and traditional taco toppings make this a favorite for all ages. Find the complete instructions for a taco stuffed baked potato bar here.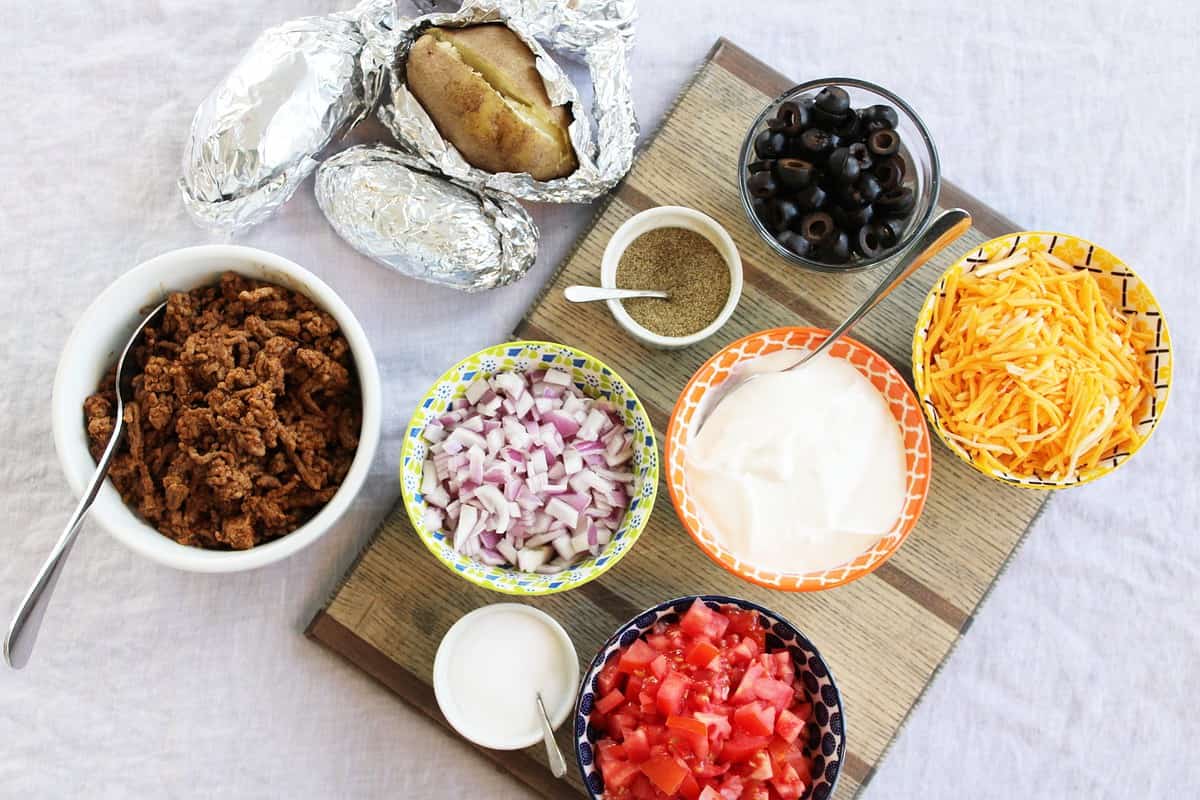 Who says baked potato bars are just for dinner? Bring on customized creativity for the most important meal of the day. Eggs, bacon, cheese? Yes, please! Find the complete set of instructions for a breakfast baked potato bar here.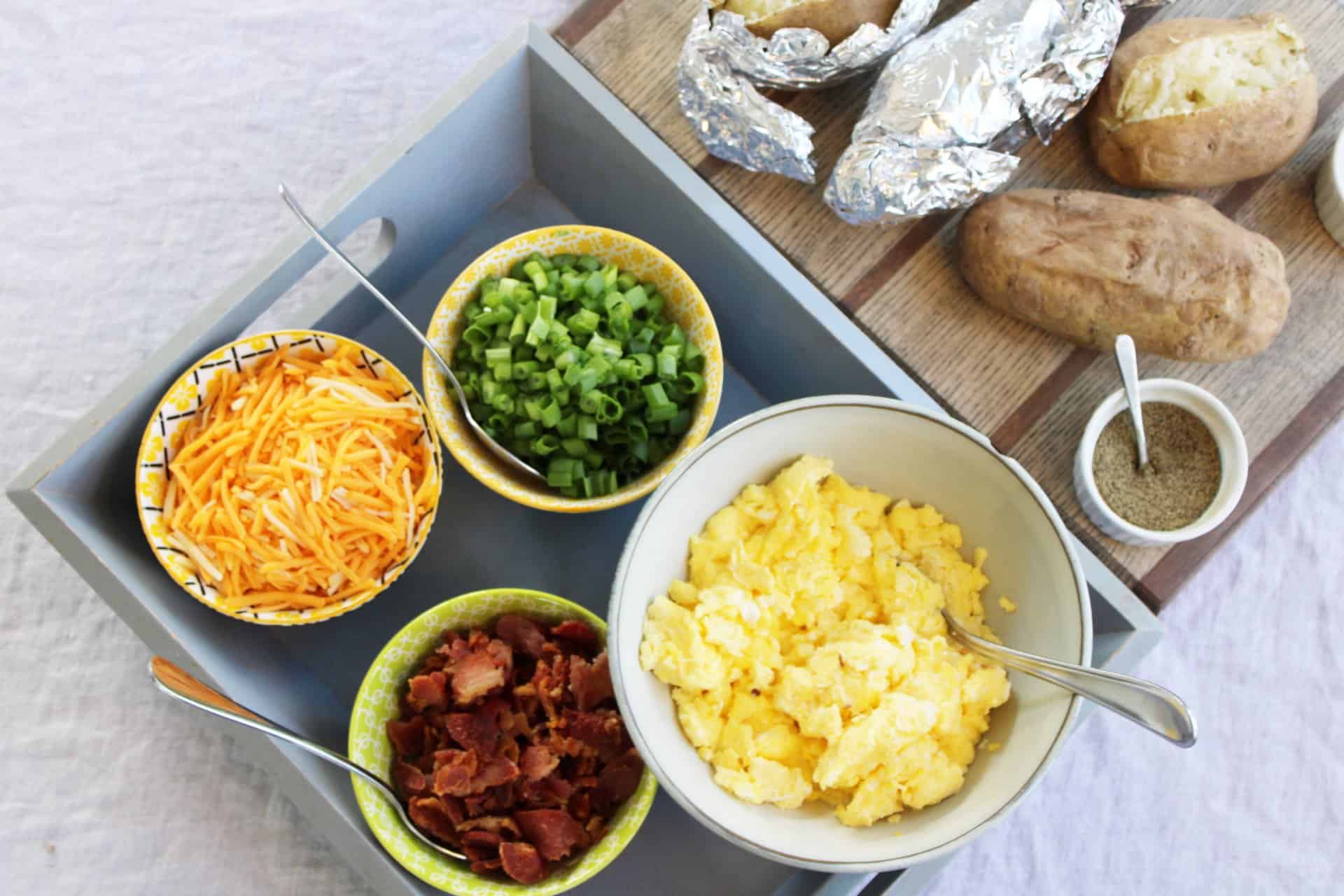 Baked Sweet Potato Dessert Bar
Another creative idea for a baked potato bar is a dessert bar using baked sweet potatoes. Pull out all the stops with toppings like marshmallows, chocolate chips, crushed nuts, and other sweet options. Find the complete baked sweet potato dessert bar plan here.
Get the perfect blend of savory and sweet with this delicious recipe from savorandsavvy.com. The southwestern flavors go so perfectly with the sweet potato that this will be a fan favorite in no time.
Steam or bake up some fresh broccoli to top your tater, and then douse it all in some ooey, gooey, melty goodness. Keep the cheese warm in a small crock for long-lasting goodness.
When you want something super unique and uber tasty, this loaded shrimp baked potato idea delivers. Shrimp, veggies and a delectable cajun cream sauce has us sold!
Sticking with the seafood theme, this creamy crawfish baked potato recipe looks AMAZING! A cacophony of veggies, crawfish and cajun flavors will have your mouth watering!
Nacho fans, listen up! This one's for you! Enjoy all the goodness you love about a plate of nachos all stuffed perfectly in a baked potato. It's great for game day — or any day!
Bring on the flavors of Italy with this delectable Italian zucchini-topped potato bar idea. Zucchini, tomatoes, cheese and Italian seasoning are all you need. And, of course, the potatoes!
Get all the flavors of a solid summer BBQ in your baked potato with this flavorful recipe. Pulled pork, BBQ sauce, cheese sauce … need we say more?