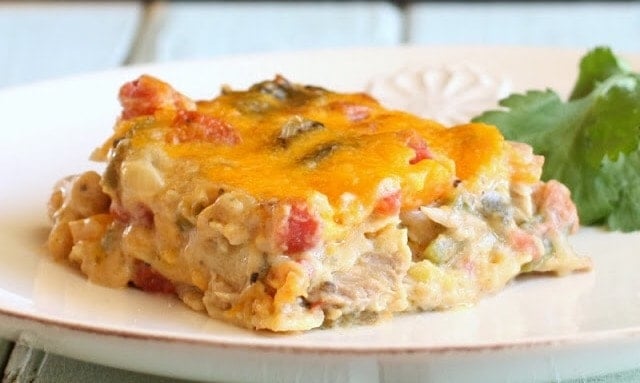 King Ranch Chicken Recipe
King Ranch is known as world's largest ranches and it is located in South Texas. They don't claim to have come up with this recipe, and because, they are a cattle ranch, that is likely to be the case. However, even cowboys get tired of beef!
Recipes for Kings Ranch Chicken vary but most include a sauce made of canned diced tomatoes, green chilis, cream of chicken soup, cream of mushroom soup, diced bell pepper, onion and shredded chicken. This bottom of the casserole is made of corn tortillas or tortilla chips and layers of the sauce and cheese are added.
Some stories say that one of the early ranch hands came up with the dish and fed hundreds of hungry ranch workers this hearty meal.
However, because the King Ranch was established in 1853, if this ranch hand did in fact create the recipe…he couldn't have used canned cream soups from a factory. He would have used fresh ingredients that gave the chicken a lot of flavor (sucking up ranch dust does a number on a cowboy's taste buds).
Another theory that may be more accurate attributes the dish's popularity to post World War II cooking when housewives wanted to incorporate more canned soups into their cooking to spend less time in the kitchen.
Others say it may have been created by a woman in Texas as a cookbook entry for housewives looking for more convenient dinner options.
Or perhaps it was a cooking contest entry and the name King's Ranch was just used to make the title catchy.
In any case, most concur that this recipe's creation was coincidal with the increased use of canned soup which is a bit ironic considering our recipe requires home made sauce. However, it is absolutely worth the extra effort to create the sauce without the use of canned soup.
And one time saving step is that this recipe doesn't go so far as requiring you to make your own ground cornmeal for the tortillas or lard from the hog house to fry them in!
But however you choose to make your King Ranch recipe, and whatever story you believe concerning its origin, one thing most can agree on it's that it's delicious. Fix this tasty casserole for your family for a meal that they are sure to love.
King Ranch Chicken
Ingredients:
Sauce:
3 Tablespoons butter
2 large cloves garlic, minced
1 teaspoon ground cumin
1 teaspoon fresh chili powder
3 Tablespoons all-purpose flour
3/4 cup chicken stock or broth
3/4 cup buttermilk
salt and freshly ground black pepper to taste
Filling:
2 Tablespoons olive oil
1 medium onion, chopped
1 large green bell pepper, chopped
1 medium poblano pepper, chopped
2 plum tomatoes, peeled, seeded and chopped (or 1/2 cup canned tomatoes, drained)
1/4 cup diced green chiles
3 to 4 cups cooked, coarsely shredded chicken (white and dark meat)
1/3 cup green onions, including tops, chopped
canola oil for softening tortillas
8 corn tortillas
2 cup grated Longhorn or Monterey Jack cheese
Directions:
1. Preheat oven to 350 degrees F. Grease a 9×13-inch baking dish or 3-quart casserole.
2. Make the sauce by melting the butter in a heavy skillet over medium-low heat. Add the garlic, cumin and chili powder, and sauté for a minute or two.
3. Raise the heat to medium. Quickly sprinkle in the flour and stir to mix. Pour in a small amount of the chicken broth, stirring constantly to remove lumps.
4. Gradually add the remaining chicken broth and the buttermilk and continue stirring until sauce has thickened, 3 or 4 minutes. Add salt and pepper to taste.
5. Make the filling by warming a heavy skillet over medium heat, then adding the olive oil. Sauté the chopped onion, green pepper, poblano, chiles and tomatoes until onion is transparent, about 4 or 5 minutes. Fold into the mixture the shredded chicken and green onions, combining well. Remove from heat.
6. In a small skillet, heat about half an inch of canola oil. Using tongs, dip the tortillas in the hot oil one at a time, for just a few seconds, so that they are softened.
7. Cover the bottom of the baking dish with 4 of the softened tortillas. Layer the remaining ingredients in the following order:
Half of the chicken/vegetable mixture
Half of the grated cheese
Half of the sauce
The remaining 4 softened tortillas
The remaining chicken/vegetable mixture
The remaining grated cheese
The remaining sauce
8. Bake for 30 minutes at 350 degrees F until casserole is heated through and bubbly. Makes 6 to 8 servings.
Try one of our fan-favorite chicken recipes:
Click for more Chicken recipes