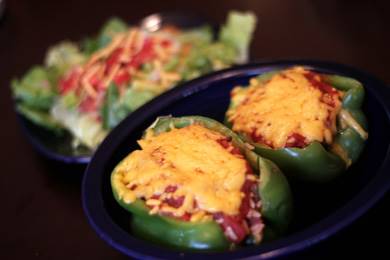 Latin Stuffed Peppers
Ingredients:
4 large green peppers, halved lengthwise and seeded
1 pound ground beef
½ cup chopped onion
1 garlic clove, minced
1 teaspoon ground cumin
½ teaspoon ground cinnamon
1 (14 ½ ounce) can diced tomatoes, with juice
2 cups quick cooking rice
1 cup water
1 cup raisins
8 pimento stuffed green olives, chopped
3 tablespoons pine nuts
4 cups marinara sauce
½ cup shredded cheddar cheese
Directions:
1. Preheat the oven to 400 degrees F.
2. Cook the peppers in a large pot of boiling water until just tender, about 3 minutes. Rinse under cold running water and drain.
3. Spray a large nonstick skillet with nonstick spray; heat over medium heat.
4. Add the ground beef, onion, garlic, cumin, and cinnamon. Cook, breaking up the ground beef until no longer pink, about 5 minutes.
5. Stir in the tomatoes, rice, water, raisins, olives, and nuts. Cover and simmer until rice is tender, about 5 minutes
6. Spoon the meat mixture into each pepper.
7. Arrange the peppers in a small baking dish, spoon marinara sauce over them, and top with the cheese.
8. Bake uncovered, until the filling is hot and cheese has melted, about 15 minutes. Serve with a side salad. Makes 4 servings.
Try one of our favorite 30 Minute Meals: