There are oodles of different types of noodles in Asian cuisine, and two of the most popular are egg noodles and rice noodles. Both noodles are popular in everything from stir fries to soups to salads. But have you ever thought about the difference in noodles? Noodles are more than just the delivery system for veggies and sauces. They are the backbone of many dishes, and in China, noodles are often a part of significant celebrations and milestones. These starchy strands have a long history, and there is evidence that people have been eating noodles for the last four thousand years. That's a long time and a lot of noodles. 
Egg noodles and rice noodles come in many shapes and are available at supermarkets everywhere. But when it comes to egg noodles vs. rice noodles, it is important to understand some of the key differences so you can choose the right noodles for your dish.
Egg Noodles vs. Rice Noodles: Nutritional Differences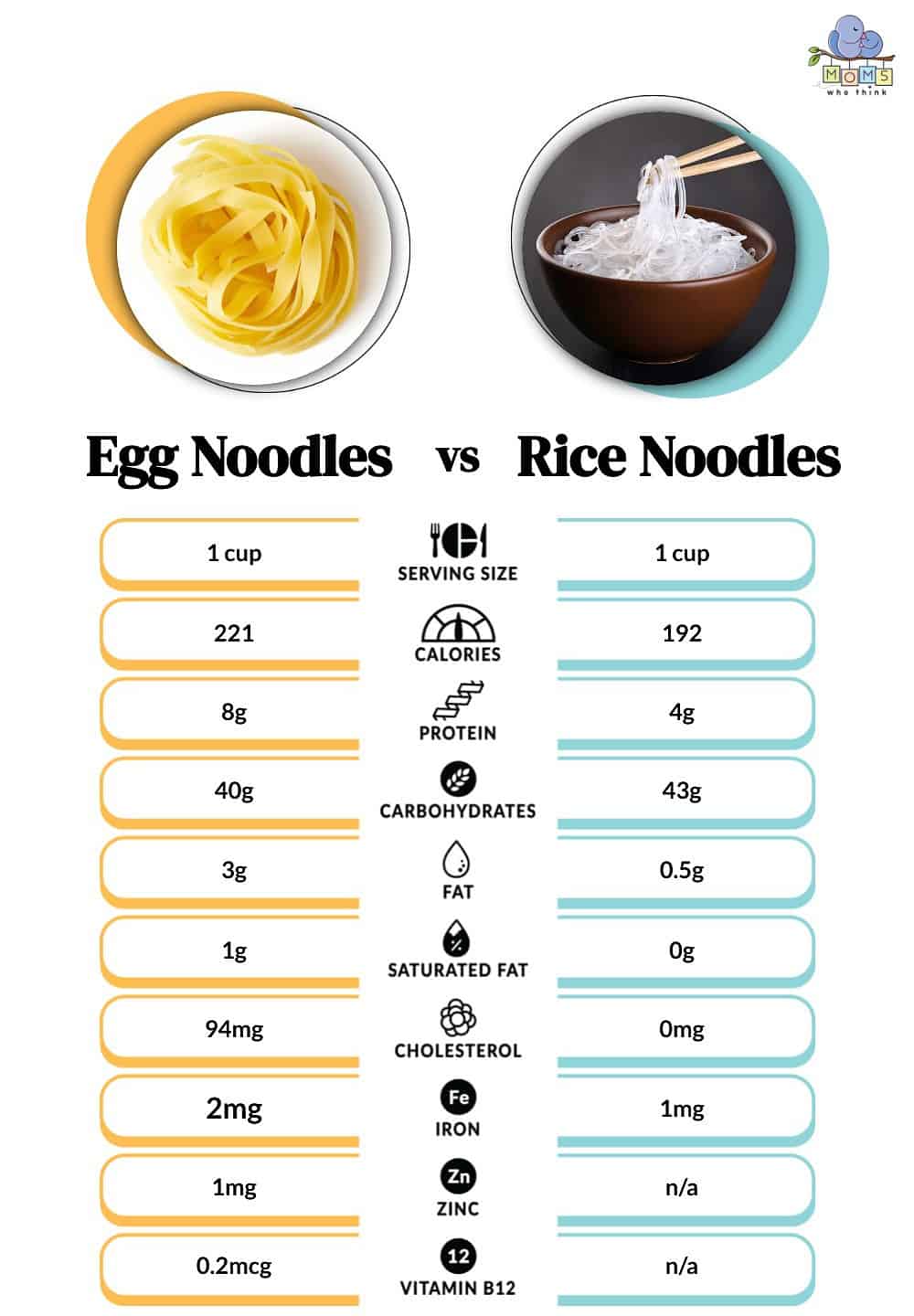 The biggest and most obvious difference between the two noodles is the ingredients that are right there in their names: egg noodles have eggs, and rice noodles have rice flour. The key nutritional differences between the two come down to eggs. The inclusion of eggs makes egg noodles higher in protein, calories, fat, and cholesterol. While rice noodles have fewer calories, with only 192 calories per cup, to egg noodles, 241 calories per cup. And rice noodles only have half the protein. Both noodles are almost equal in carbohydrates, but rice noodles have zero cholesterol.
Rice noodles are naturally gluten-free, while egg noodles have wheat, making them off-limits to those who follow a gluten-free diet. Vegans will want to skip the egg noodles and opt for rice noodles, but keto and low-carb dieters may want to skip both as they are both high in carbohydrates. Rice noodles are medium on the glycemic index, and egg noodles are low on the scale. But if cholesterol is a concern, rice noodles are the better choice.
Egg Noodles vs. Rice Noodles Taste Differences
You may not be aware of the taste of noodles, but they do have a taste. It's just that they are usually covered in sauces and other goodies and blend into the whole dish. But pasta does have a taste, and egg noodles have a salty, savory taste. The eggs give egg noodles a richer flavor and yellowish color, while rice noodles are white or transparent. Rice noodles have a neutral taste that doesn't really stand out on its own.
What are Egg Noodles?
Egg noodles are noodles made from flour, eggs, and water. The difference between egg noodles and Italian pasta, which is also made with the same ingredients, is that egg noodles have more eggs and yolks. Homemade Italian pasta is roughly one egg per cup of flour, while egg noodles can have two eggs plus two yolks per cup of flour. Of course, there are variations in the recipes, but that is the general rule. The other difference is that Italian pasta uses semolina flour or 00 flour, while egg noodles use all-purpose flour or other specialty flour. Egg noodles are generally long and either thin or wide or super wide, while Italian pasta has all kinds of fun shapes. Dried egg noodles are widely available. And making them fresh at home is fairly easy. You don't need any special equipment, just some counter space to roll the dough out.
What are Rice Noodles?
Rice noodles are noodles made from rice flour and water. Some companies that manufacture rice noodles add in tapioca or corn starch to improve the toothy texture. These noodles are available in most supermarkets as dry noodles, and some specialty or international shops may have them fresh. Rice noodles are long and can come in vermicelli or wider versions. Many of the boxed versions are wound around each other and look like a dry tangle of white or transparent strings.
Don't make the mistake of confusing rice noodles with cellophane or glass noodles. Cellophane noodles are thin, clear noodles made with either mung beans, sweet potatoes, or tapioca starch. When they are cooked, they are clear, hence the name cellophane or glass noodles. It is easy to confuse rice noodles with glass noodles. They look similar, and both are gluten-free but have different ingredients.
How to Cook and Serve Egg Noodles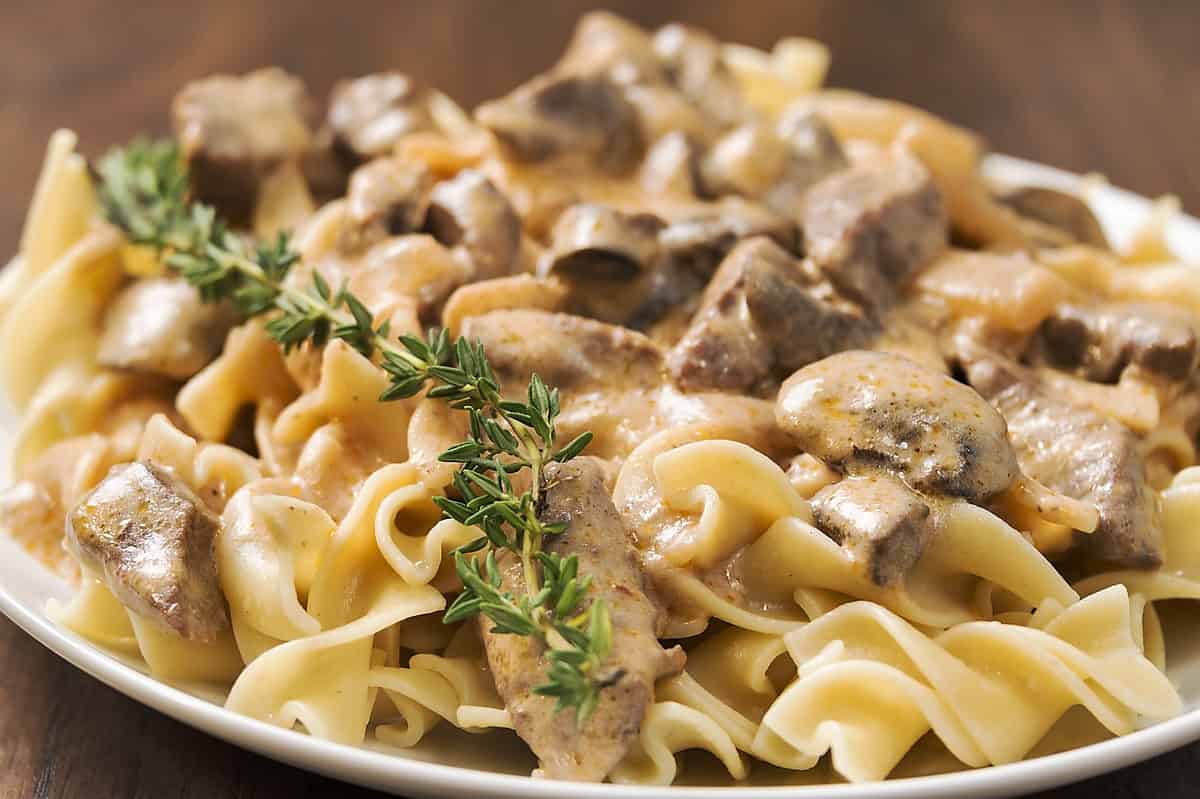 The best way to cook egg noodles is to follow the instructions on the package. Most egg noodles should be cooked in boiling water for anywhere from 15-20 minutes, but always follow the instructions. If you make homemade egg noodles or buy them fresh, the cooking time is less because fresh noodles cook faster than dried ones.
Now is the real question: what to make with those tasty egg noodles? Egg noodles are common in Chinese dishes like Dan Dan noodles and other traditional dishes. But these yellow noodles aren't just for Chinese food. In the U.S., egg noodles are common in homemade chicken noodle soup. They add a velvety feel to this classic soup. Beef stroganoff is another way to use them, and a popular dish for young picky eaters is egg noodles with butter and Parmesan cheese. On some menus, you might find them paired with Swedish meatballs or in a Hungarian goulash. Or you can use them in traditional Italian recipes for more flavor in dishes like cacio e pepe or carbonara. If you like your meals with a bit of nostalgia, egg noodles are excellent in tuna noodle casserole or other homemade hamburger helper style casseroles. The possibilities are endless.
How to Cook and Serve Rice Noodles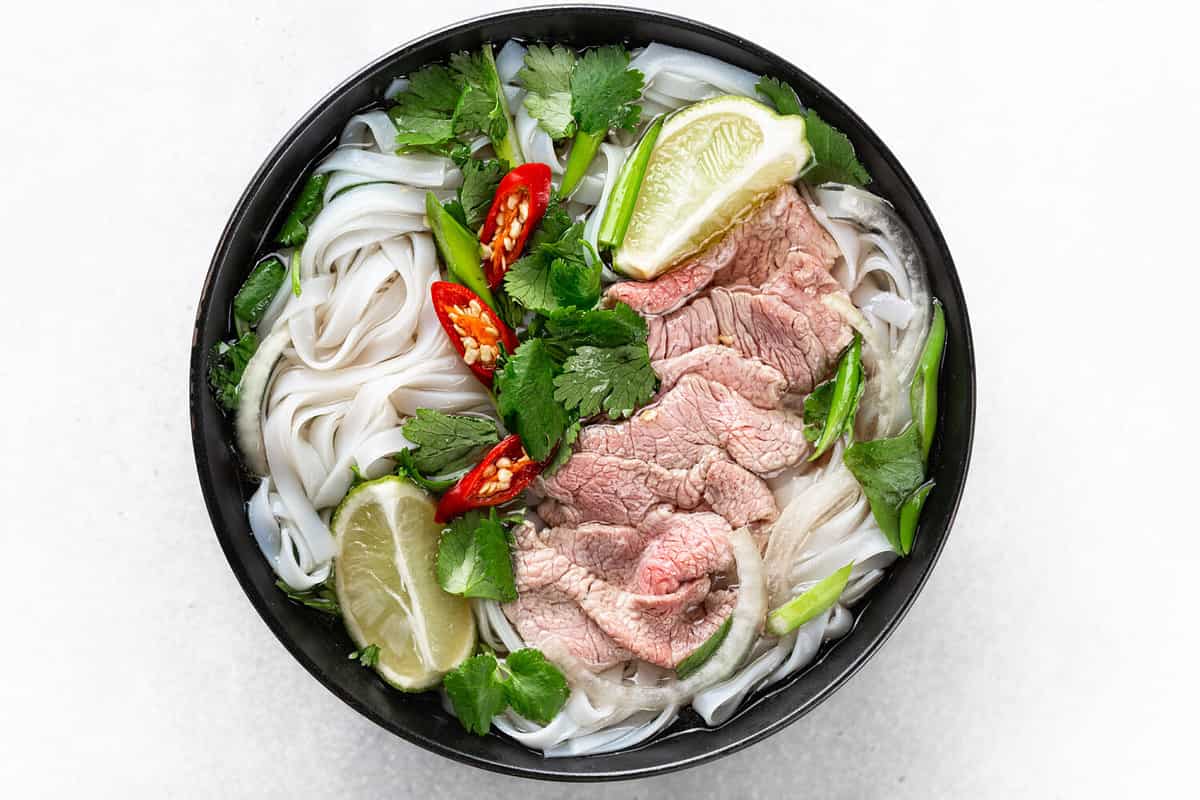 Cooking rice noodles is easy; the only difficult part is ensuring they don't overcook. Rice noodles come in different thicknesses: vermicelli noodles are the small, thin strands often used in spring rolls and Vietnamese Pho. The wider rice noodles are flat and resemble fettucini, common in pad Thai and noodle-based stir-fries. The larger, wider, flat rice noodles are used in the well-known Thai dish Pad See Ew and Sichuan noodle dishes in southern China.  
Soaking Rice Noodles is Key
The thin strands of vermicelli rice noodles just need a quick soak in room temperature water for five minutes before using them. While they are soaking, you can start to separate them as they soften up. If you are using them in a salad or spring rolls, strain them and toss them to keep them from sticking together, then use them within a few hours. These noodles do not keep well in the refrigerator, so using them the same day is best. And if you are adding them to soups, don't make the mistake of adding them too early because the heat will destroy them, leaving you with a mushy mess. Instead, add the rehydrated noodles to the already-cooked broth right before serving.
The medium-sized wide noodles need a longer soak in room temperature water before using them. Place them in a bowl of water for twenty to thirty minutes. Then strain and use. Since these noodles have more structure than the vermicelli, you can rehydrate them and store them in the refrigerator for a day or two if needed. Just drizzle some oil on them to keep them from sticking together.
The larger rice noodles are available dried or fresh. For dried noodles, soak in boiled water, not boiling water for thirty to forty minutes. What that means is to place them in a bowl, pour boiled water over them, and let them soak. Never add them to a boiling pot of water. Fresh rice noodles are available in international markets and are often sold stuck together in blocks. Before you can add them to your dish, you need to separate the noodles on a plate. If they are really stuck together, you can microwave for a minute to soften them and pull them apart. Then, add them to your dish towards the end of cooking. If you add them too early, these noodles only need to heat up; they will fall apart from being overcooked.
In Conclusion
When it comes to egg noodles vs. rice noodles, the difference is in taste, texture, and nutrition. Now that you know the difference between egg noodles and rice noodles, it's time to dig out your favorite noodle recipes and start cooking.
Delicious Noodle Recipe
You can make many delicious recipes with either egg noodles or rice noodles. Here's one of our favorites:
Print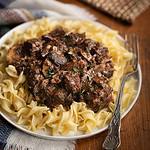 Beef Burgundy with Egg Noodles
---
Author:

Yield:

9

servings

1

x
1/3 cup

all-purpose flour

2 teaspoons

salt, divided

3/4 teaspoon

black pepper, divided

2 1/4

pounds beef stew meat

3

bacon slices, chopped and divided

1 cup

chopped onion

1 cup

sliced carrot

4

garlic cloves, minced

1 1/2 cups

dry red wine

1

(14 ounce) can less-sodium beef broth

8 cups

halved mushrooms (about 1 1/2 pounds)

2 tablespoons

tomato paste

2 teaspoons

chopped fresh thyme

2

bay leaves

1

(16 ounce) package frozen pearl onions

7 cups

hot cooked medium egg noodles (about

6 cups

uncooked)

3 tablespoons

chopped fresh parsley
---
Instructions
Lightly spoon flour into a dry measuring cup; level with a knife.

Combine flour, one teaspoon salt, and ¼ teaspoon pepper in a large zip-top plastic bag. Add beef; seal and shake to coat.

Cook half of the bacon in a large Dutch oven over medium-high heat until crisp. Remove bacon from the pan with a slotted spoon; set aside.

Add half of the beef mixture to the drippings in the pan; cook for 5 minutes, browning on all sides. Remove beef from pan; cover and keep warm.

Repeat the mixture with the remaining bacon and beef mixture. Remove beef from pan and keep warm.

Add chopped onion, carrot, and garlic to pan; sauté 5 minutes. Stir in wine and beef broth, scraping the pan to loosen the browned bits.

Add bacon, beef, one teaspoon salt, remaining ½ teaspoon black pepper, mushrooms, tomato paste, thyme, bay leaves, and pearl onions; bring to a boil. Cover, reduce heat, and simmer 45 minutes.

Uncover and cook for 1 hour or until beef is tender. Discard bay leaves.

Serve beef mixture over noodles and sprinkle with parsley.
Nutrition
Calories:

447

Sodium:

677 mg

Fat:

15 g

Saturated Fat:

5 g

Carbohydrates:

46 g

Fiber:

4 g

Protein:

33 g

Cholesterol:

117 mg