If you browse the dairy aisle at the supermarket, you find many kinds of cream. What is cream? Before the homogenization process, the fatty layer is skimmed from milk and eventually used to create cream. The amount of butterfat in each kind of cream is different. That is why there are so many options at the grocery store.
So, what is the difference between double cream vs. heavy cream? Double cream is a term more common in the United Kingdom whereas in America people tend to say heavy cream. However, these creams are not the same because double cream has different butterfat content than heavy cream. So, using heavy cream instead of double cream requires making slight adjustments to your recipe.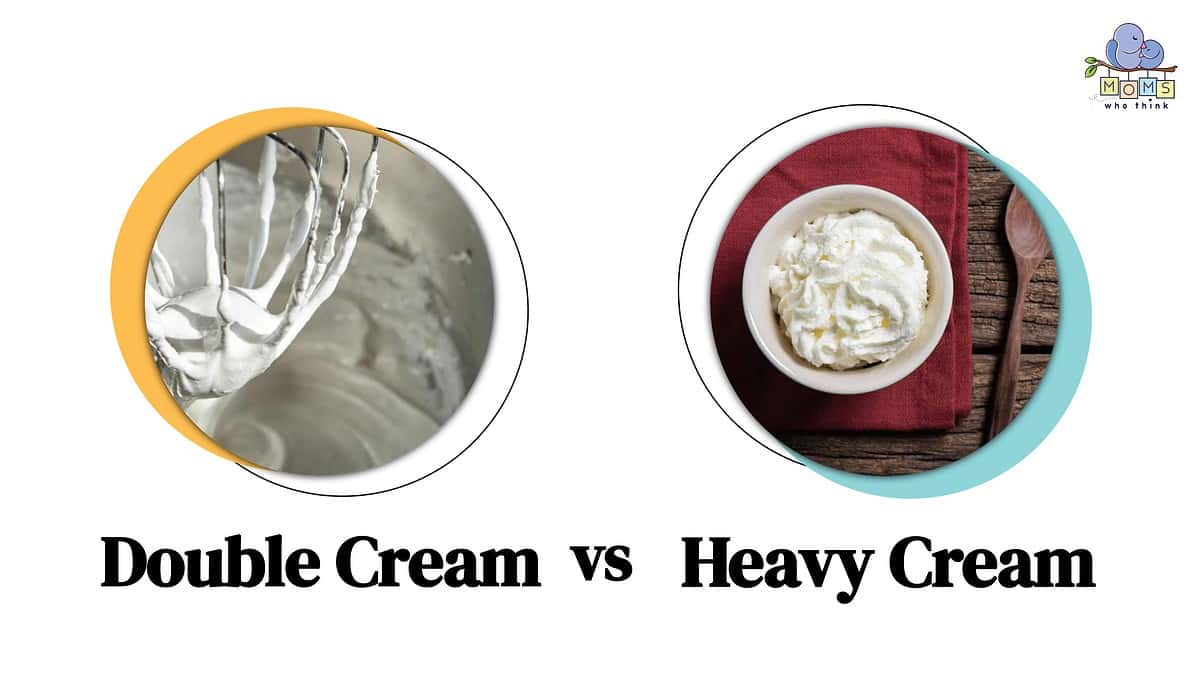 Double Cream vs. Heavy Cream: What is Double Cream?
Of all the varieties of cream, double cream has the highest butterfat content, averaging forty-eight percent. This is roughly ten percent more butterfat than heavy cream. Popular in sweet and savory dishes, double cream is favored because of its ability to form soft or stiff peaks. Additionally, this thick cream has a rich, velvety texture with a sweet, buttery taste.
How do people use double cream?
Double cream makes excellent custard and whipped cream. Additionally, this cream is extremely rich and works well in sauces like tomato cream for pasta. In fact, the butter is less likely to separate when using it in hot foods. Moreover, it adds richness and flavor to many dishes.
Typically, double cream appears in the following foods.
Whipped Cream – Its thickness peaks easily. Cakes, pies, tarts, fruit salads, and hot beverages, like hot chocolate and coffee, frequently feature whip cream.
Sauce and Gravy – Pasta, gravy, and pan sauces use double cream to make creamy and velvety sauce.
Dessert – This cream also appears in desserts like mousses, ice creams, and custards.
Soup – Creamy soups like chowders and bisque benefit from double cream.
Curry and Stew – Double cream is popular in curries and stews because it thickens the sauce and adds a sumptuous creaminess.
Baking – Cakes, scones, and biscuits use this cream to add moisture and richness to baked goods.
Coffee and Tea – Tea and coffee lovers frequently mix this in their drinks.
Trifle and Parfait: Layered desserts such as parfaits use double cream between fruits and cake.
As mentioned previously, it is more common in Europe and can be difficult to find in the United States. So, in America, many people opt to use heavy cream instead of double cream for cooking, requiring them to make slight adjustments due to the lower butterfat content.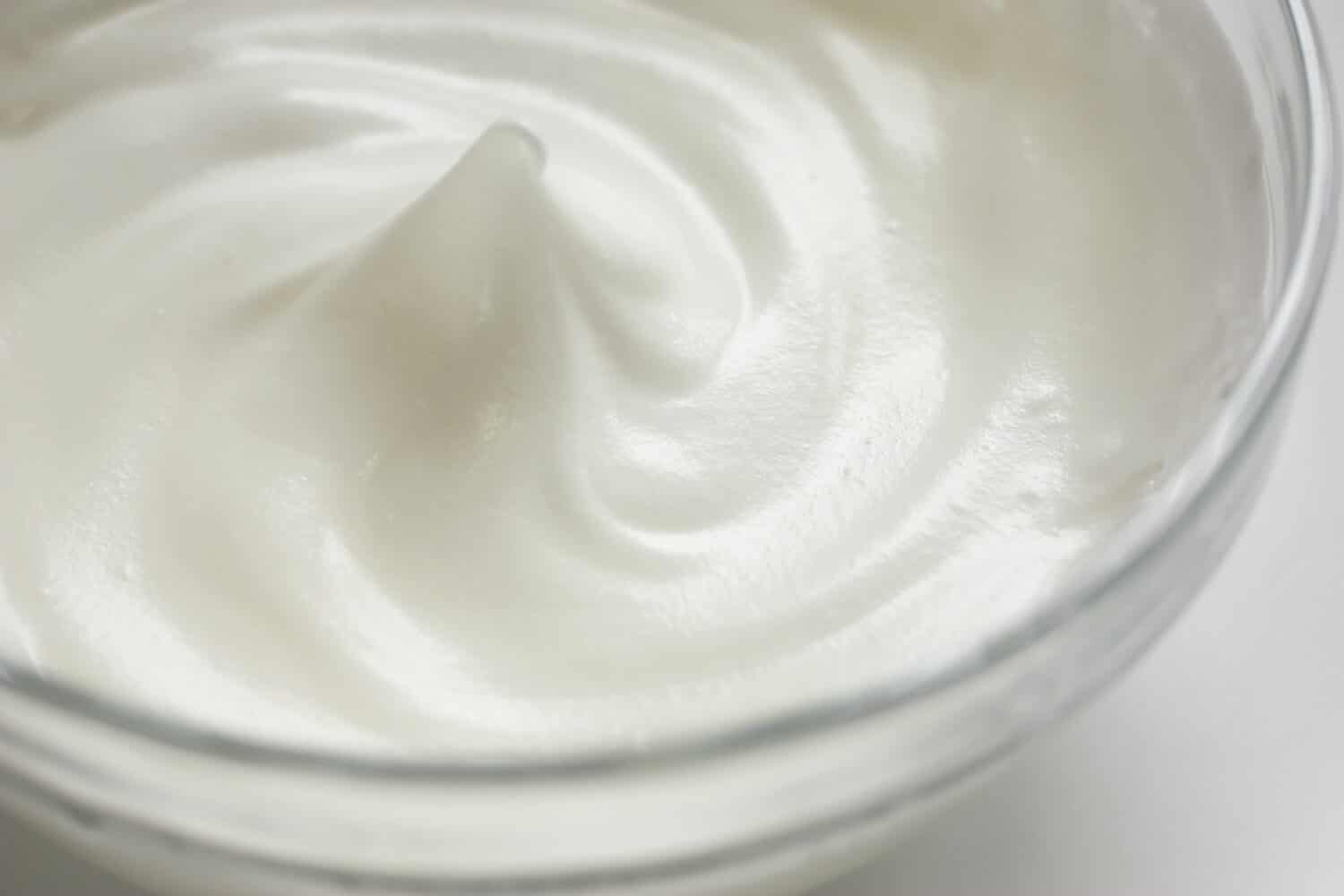 Double Cream vs. Heavy Cream: What is Heavy Cream?
Sometimes called heavy whipping cream, heavy cream has between thirty-six to thirty-eight percent butterfat. Heavy cream holds shape well and nearly doubles in amount when whipped. Additionally, heavy cream has a rich, fatty flavor, so sugar is often added to it. Like double cream, it forms nice peaks. Moreover, it does not curdle when added to hot dishes, unlike lighter creams.
How do people use heavy cream?
The uses of heavy cream are similar to those of double cream. It frequently appears in baked goods, ice creams, soups, and pasta sauces. It also appears in the following foods.
Quiche – Using heavy cream in quiche creates a rich and custard-like filling.
Casserole – This cream adds creaminess and moisture to casseroles, such as scalloped potatoes and creamy chicken with rice recipes.
Frosting and Filling – Heavy cream is a key ingredient in cake frostings and fillings for pastries and tartes.
Sauce and Soup – A creamy carbonara sauce or a cream of wild rice soup both use heavy cream. Heavy cream is also a key ingredient in alfredo sauce.
Cream Pie – The name is in the title of pies like pineapple cream pie or strawberry cream pie.
Heavy cream is incredibly versatile in the kitchen. As the list above shows, it is a staple in many recipes.
Double Cream vs. Heavy Cream: Calories and Nutrition
How do double cream and heavy cream compare when it comes to calories and nutrition? Let us look at one cup (eight ounces) of each and see how they compare.
| | Double Cream (8 oz.) | Heavy Cream (8 oz.) |
| --- | --- | --- |
| Calories | 1200-1300 calories | 800-900 calories |
| Fat | 115-130 grams of fat | 72-80 grams of fat |
| Saturated Fat | 76-88 grams of saturated fat | 45-50 grams of saturated fat |
| Carbohydrates | 4-6 grams of carbohydrates | 7-9 grams of carbohydrates |
| Protein | 5-6 grams of protein | 6-8 grams of protein |
| Sodium | 10 or less grams of sodium | 10 or less grams of sodium |
| Sugar | 4-5 grams of sugar | 7-9 grams of sugar |
Table comparing the nutritional values of double cream vs. heavy cream
The calories in both kinds of cream come from their high fat contents. Typically, fat contains nine calories per gram, so the higher the fat content, the higher the calories. Since double cream has more fat than heavy cream, it also has a higher caloric content.
Because double cream has a higher fat content, this means more saturated fat, which is linked to health issues like heart disease. However, double cream is much richer and creamier than heavy cream, so it may be preferable in some recipes.
When compared to other foods, cream does not provide many nutrients. However, cream does have lesser amounts of vitamin A and calcium. Ultimately, choosing which one to use will depend on your recipe, food preferences, and dietary goals. They can both be enjoyed as part of a well-rounded diet.
Double Cream vs. Heavy Cream: Cooking
If you choose to use double cream and live outside of Britain and the rest of Europe, you might have to make your own. There are many ways to make double cream.
If heavy cream is what you want, it is incredibly easy to make. Like double cream, there are many ways to make it. Some ways include making it with milk and butter, milk and cornstarch, and evaporated milk and flour. Additionally, people sometimes make heavy cream in the microwave.
If you have dairy allergies or need vegan alternatives to heavy cream, make it with either soy milk and oil or coconut cream. Additionally, heavy cream substitutes include half-and-half, Greek yogurt, sour cream, and cottage cheese. Half-and-half works well in recipes that don't require whipping, whereas sour cream is good for those recipes that need more of a tangy flavor. Both Greek yogurt and cottage cheese are low-fat alternatives to consider.
Once your cream is ready, use it immediately. Typically, cream is fresh for twenty-four hours. However, the texture may change. Store leftover cream inside an airtight container. Additionally, store it in the back or the coldest part of the refrigerator. It may separate or pool but rewhip to restore its texture. However, if there is ever any question about its freshness, it is better to throw it out.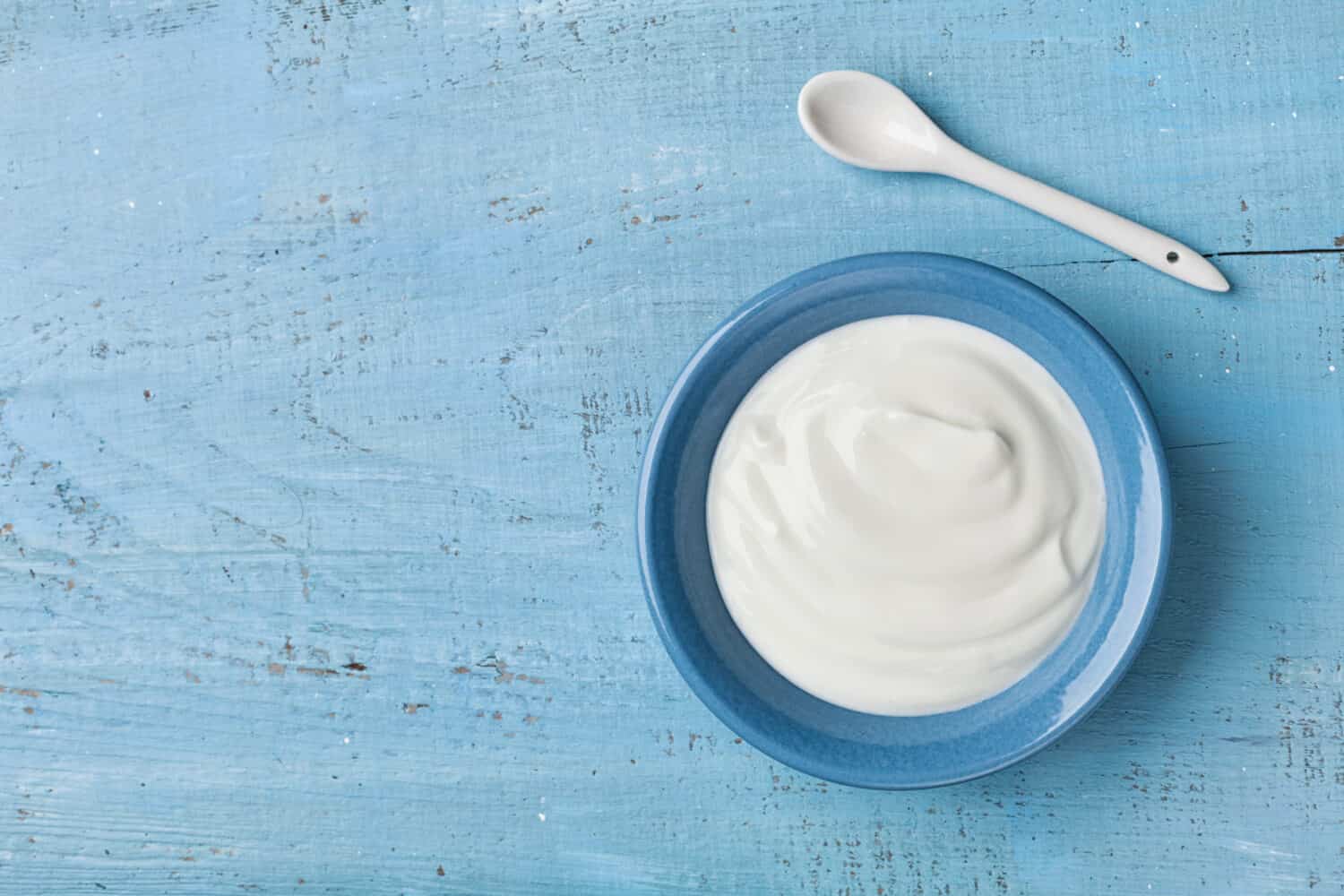 One Final Note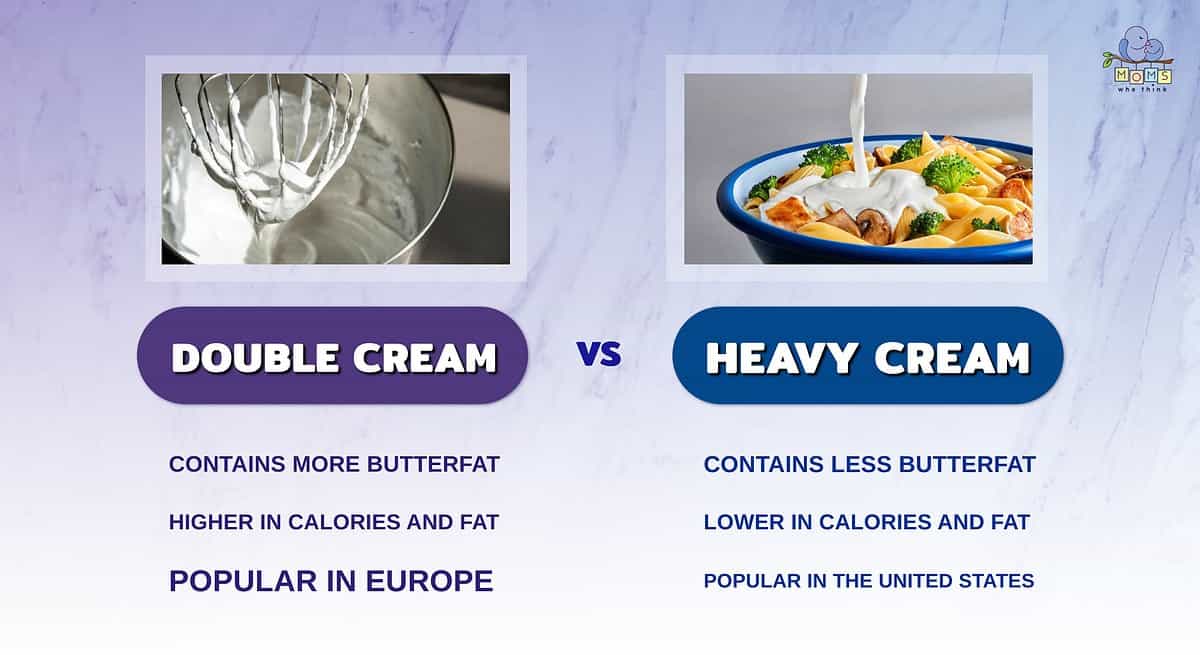 Double cream has more butterfat than heavy cream. In fact, it has the highest butterfat content of all the creams.
Due to its higher butterfat content, double cream has more calories and fat than heavy cream.
Heavy cream is popular in the United States. If you live outside of Europe and want to use double cream, you'll likely have to make your own.
Double and heavy cream are delicious additions to many recipes, especially desserts, sauces, and hot drinks. Double cream, more prevalent in Great Britain and Europe, has a higher butterfat content than heavy cream, which is more prevalent in the United States. People commonly use both creams in desserts, hot drinks, soups, sauces, and gravies. Furthermore, you can use them interchangeably, but you might have to make cooking modifications. Heavy cream contains fewer calories and less fat than double cream, but you can still enjoy both in moderation. Whichever cream you choose depends on its availability, recipe, and dietary considerations.
Take a look at this delicious recipe:
Print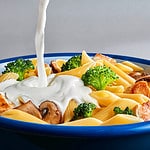 Creamy White Wine Chicken with Tarragon and Heavy Cream
---
6 (12-ounce) bone-in, skin-on split chicken breasts, trimmed
Salt and pepper
1/4 cup vegetable oil
1 1/4 pounds cremini mushrooms, trimmed and halved if small or quartered if large
2 onions, minced
2 teaspoons minced fresh thyme or 1/2 teaspoon dried
4 garlic cloves, minced
1/4 cup all-purpose flour
3/4 cup dry white wine
1 cup low-sodium chicken broth
1 pound carrots, peeled, halved lengthwise and sliced 1/2 inch thick
2 tablespoons soy sauce
2 bay leaves
1/2 cup heavy cream
1/4 cup minced fresh tarragon
---
Instructions
1. Dry chicken with paper towels and season with salt and pepper. Heat 1 tablespoon oil in 12-inch skillet over medium-high heat until just smoking. Add half of chicken, skin side down, and brown lightly, about 5 minutes; transfer to plate. Repeat with 1 tablespoon more oil and remaining chicken; transfer to plate. Let chicken cool slightly and discard skin.
2. Add remaining 2 tablespoons oil, mushrooms, onions, thyme, and ¼ teaspoon salt to pan. Cover and cook over medium heat until mushrooms are softened, 5 to 10 minutes. Uncover and continue to cook until mushrooms are dry and browned, 5 to 10 minutes.
3. Stir in garlic and cook until fragrant, about 30 seconds. Stir in flour and cook for 1 minute. Slowly whisk in wine, scraping up any browned bits and smoothing out any lumps; transfer to slow cooker.
4. Stir broth, carrots, soy sauce, and bay leaves into slow cooker. Nestle browned chicken with any accumulated juice into slow cooker. Cover and cook until chicken is tender, 4 to 6 hours on low.
5. Transfer chicken and vegetables to serving platter and tent loosely with aluminum foil. Let braising liquid settle for 5 minutes, then remove fat from surface using large spoon. Discard bay leaves. Stir in cream and tarragon and season with salt and pepper to taste. Spoon 1 cup sauce over chicken and serve with remaining sauce.
The image featured at the top of this post is ©Natali Nekrasova/Shutterstock.com.