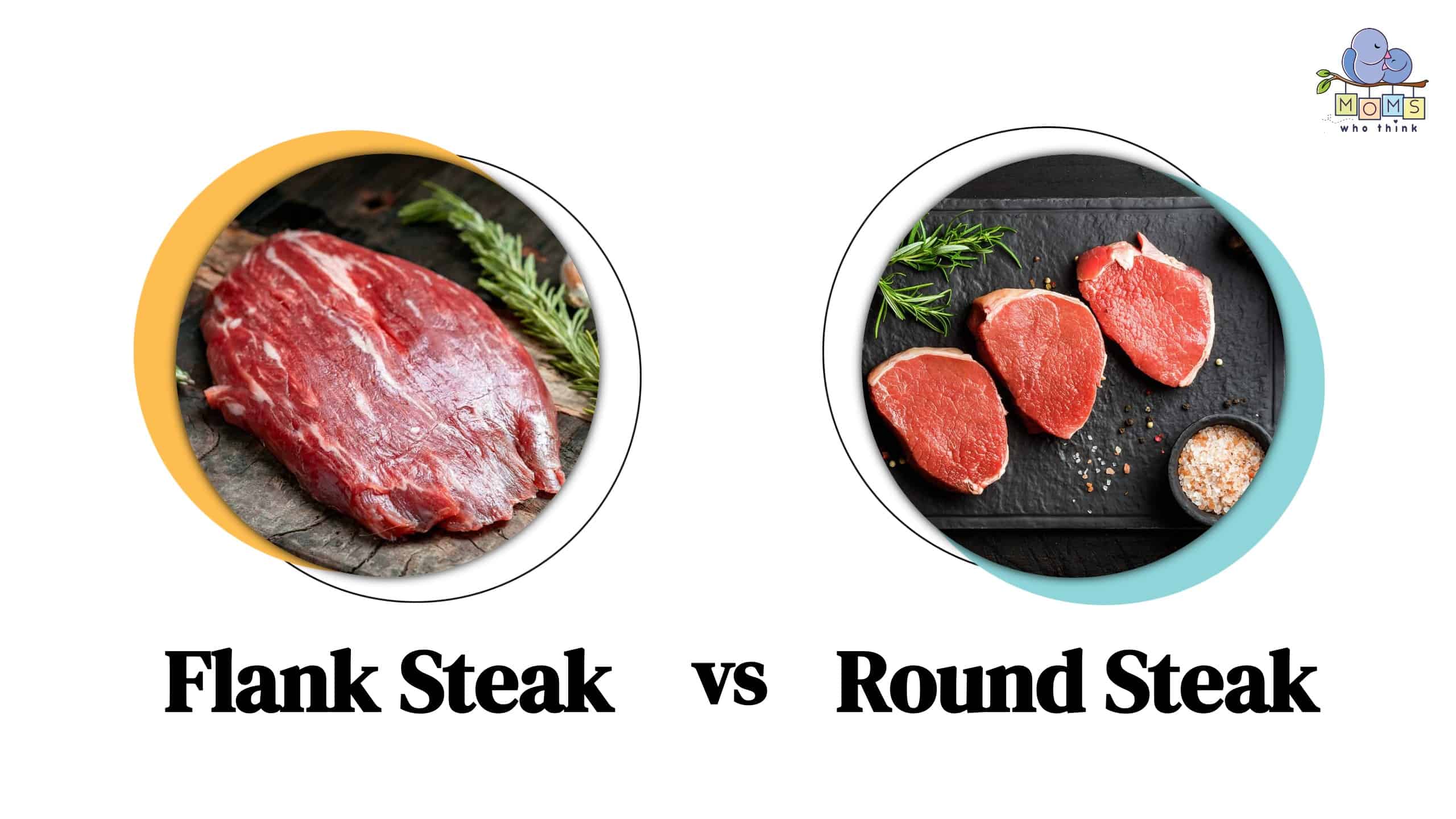 Are you looking for an affordable way to feed your family for dinner? Then, you may wonder which meat would suit your next dish if you love a good steak. Flank and round steak always seem like great family options, especially for large families. They are affordable and easy to learn to cook. But what is the difference? Although they may seem similar, flank steak and round steak are, in fact, different for several reasons.
Flank Steak vs. Round Steak: What Is the Difference?
The primary difference between flank steak and round steak is their location on a cow and taste differences. Flank steak is cut from the abdominal muscles or lower chest of the cow while round steak comes from the rear muscle of the cow. Both cuts of steak can be quite tough but have unique cooking methods. Flank steak is often marinated and sliced against the grain whereas round steak is often cooked with slow cooking methods like braising or stewing to increase its tenderness.
Let's explore each cut of steak in more detail.
Nutritional Comparison of Flank Steak vs. Round Steak: Calories, Fat, Cholesterol, and More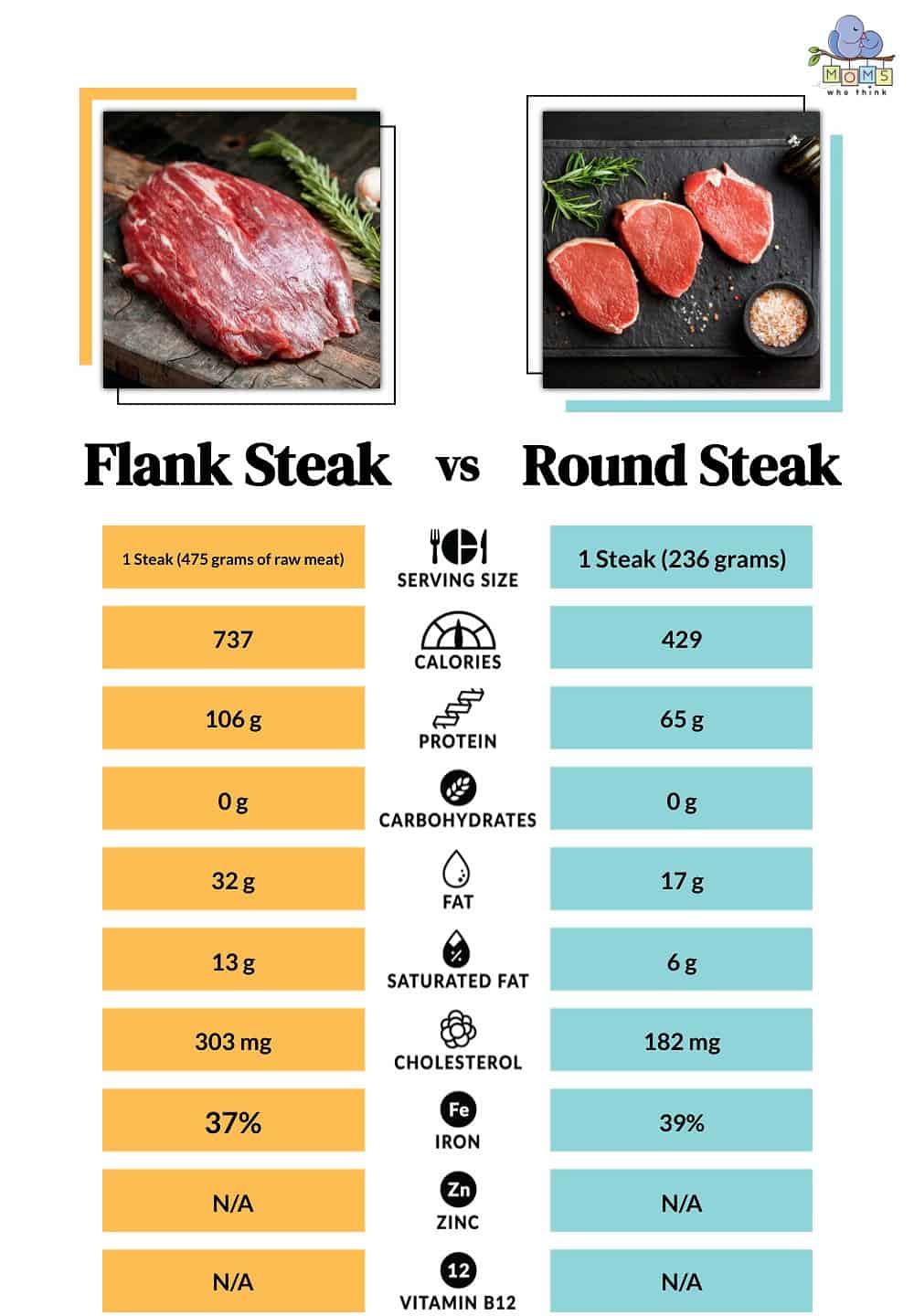 Like all cuts of steak, both round steak and flanks steak are extremely low in carbohydrates (0 grams) and get their calories from a high amount of protein and fats. In the case of flank steak, a 475-gram steak (a little less than 17 ounces) possesses about 737 calories. If you're marinating the flank steak, be aware that some marinades can add sugar.
A 236-gram round steak (a bit more than 8 ounces) contains 429 calories, by comparison. On a per-ounce basis, that means round steak is slightly more calorie dense, which largely comes from higher amounts of protein.
What Is Flank Steak?
Walking into the grocery store, you are met with various steak options. It can become overwhelming, especially when searching for the perfect steak for your family. Flank steak is appealing because of its affordability. However, did you know that flank steak is technically not even a steak? That is because it is meat cut from a cow's lower chest and belly. Cows use the muscles in these areas quite a bit. Meaning there is not very much fat content inside these muscles. So, because there is less fat content, there is less marbling, which is the characteristic trait of fat content.
The lack of fat means this meat is lean and can be overcooked quickly. Overcooking can lead to a harsh leathery taste that is not enjoyable. However, if you do you cook a flank steak properly, it can also give you a burst of a beefy, tender taste that is full of a beefy flavor. Flank steak is also very versatile. Meaning it can go in several different dishes, including fajitas.
What Is Round Steak?
Flank steak comes from the cow's chest and belly; round steak comes from a cow's rear leg. These muscles are also used often in animals. Therefore, the cuts of beef can also be lean with very little marbling and fat content. Although round steak can be versatile, flank steak is more versatile. However, it is still flavorful when cooked correctly, typically at a high heat very quickly. So, because of the low-fat content, the juicy, tender taste you get with typical steaks can be missing, but replacing that delicate flavor is a succulent beefy flavor. Round steaks are great when marinated in your favorite liquid marinade or seasoned generously. Often round steaks are great in chili and beef stew.
What Is Marbling?
Marbling is a characteristic trait that steak lovers often look out for. The white flecks you see dispersed among the meat are intramuscular fat. This fat is healthy and can give you tips about the juiciness that your steak will provide. The more marbling in a cut of meat, the more tender it will be. The fat provides juiciness, making cooking your steak easier and less likely to overcook. It also provides the tender flavor many steak lovers enjoy. Both flank steak and round steaks can be lacking in marbling. However, that does not mean they lack flavor.
Other Differences Between Flank Steak and Round Steak?
There are also differences in the appearance between these two steaks. A flank steak is rectangular and thin, whereas a round steak is, you guessed it, round or oval-shaped. Flank steak rarely has fat content within it. Round steak can have some fat content. Sometimes it is seen around the end of the cut. Another difference between these two steaks is the texture. Flank steaks are chewier because they have a coarse grain. Round steaks can be tender and smooth unless overcooked. When it is overcooked, it becomes tough, like leather.
Both of these steaks have a robust beefy flavor that is versatile and great in many beef dishes.
How to Cook a Flank Steak
When cooking a flank steak, it is essential to cook it correctly. Otherwise, it can become tough and unenjoyable. You will want to trim the fat off of it and season it generously with your favorite seasoning. It is also helpful to tenderize the meat with a tenderizing mallet because this meat tends to be tough. Finally, when cooking flank steak, you want to cook it quickly on high heat, watching it carefully to prevent overcooking.
How to Cook a Round Steak
You can also trim and marinade a round steak. Because this particular steak lacks juicy tenderness, using a marinade is ideal for a round steak because it will give it some of that juicy flavor back. Although lacking in juiciness, round steak has a delicious beefy flavor, which is excellent when cooked correctly. Therefore, cook the round steak on the grill or broiler briefly. This is because if these steaks are overcooked, they can dry out quickly and become tough to chew. However, round steaks can become an enjoyable dish for your entire family once the cooking method is perfect.
Are There Any Tenderness Differences Between the Two?
Both of these cuts of meat are not tender cuts. So, because of the cut on the animal, the leg, and the chest, a lack of fat content makes it less juicy and tender. However, that doesn't mean that these two types of meat are still not delicious.
You have to take care to cook these meats properly. When you do, the cuts of beef do not lose their juiciness inside.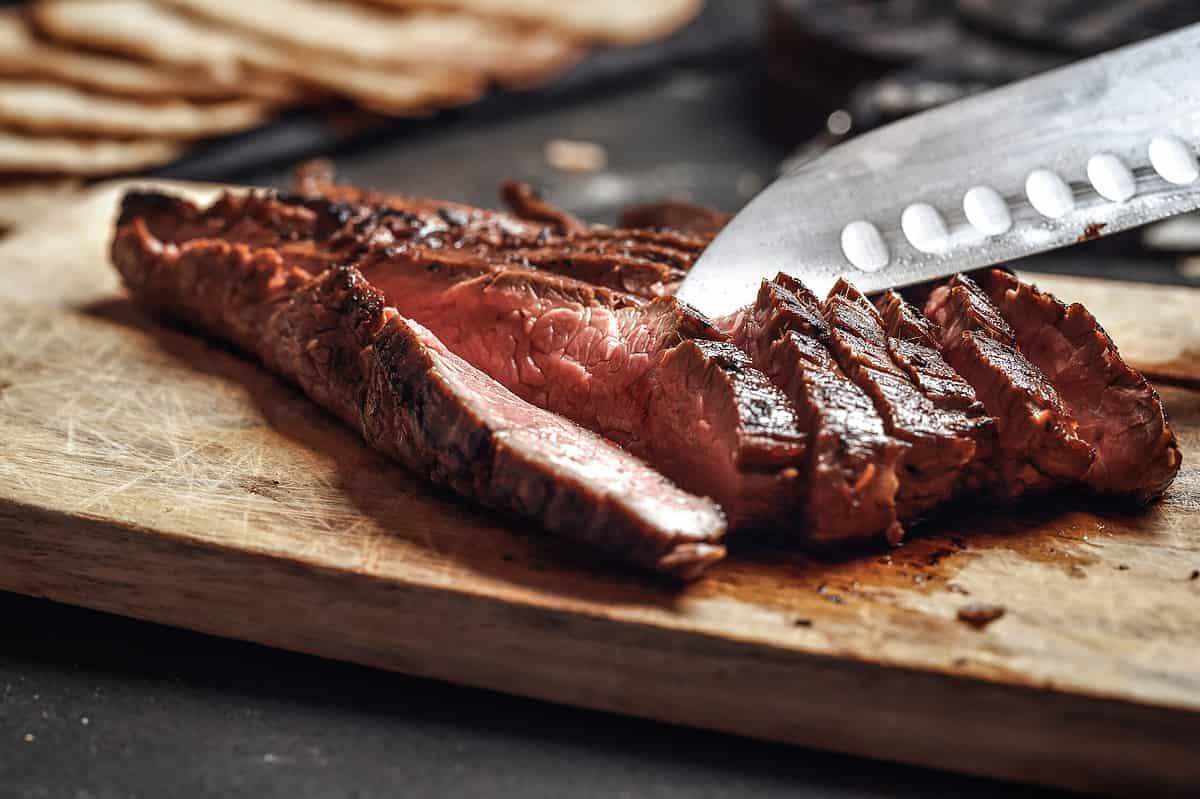 Appearance and Characteristic Differences
Regarding appearance, flank steak, and round steak have apparent differences. A flank steak is long, thin, and grainy. It is a flat slab of beef and is best when sliced against the grain.
A round steak is cut into small round pieces that sometimes have marbling around the edges, although not much. The texture is also smooth, unlike flank steak.
Should You Choose Flank Steak or Round Steak?
Whether or not you choose flank steak or round steak comes down to personal preference. If you're looking for an inexpensive steak that cooks quickly, you can choose either. Another benefit is that round steak and flank steak are interchangeable if need be, although the texture will be slightly different if you are substituting them. Remember, both of these cuts of meat can cook very quickly, resulting in an overcooked, chewy taste. However, to produce the best flavor for your dish cooking with care is essential. So, regardless of what you are making, whether beef stew or fajitas, either steak can go great in your dish.
One Final Note
Flank steak and round steak are popular among families, especially large families because they are inexpensive cuts of meat. They can produce a wonderful beefy flavor that brings your dinner to the next level. However, it's always important to remember that it is possible to overcook these two pieces of meat. Therefore, cooking carefully, and using a marinade with both of them, especially the round steak can bring back a juicy and tender flavor. So what will it be, round steak or flank steak? It's up to you; both are excellent ways to feed your family.
Steak Posts and Recipes