For many, when you wake up, your first thoughts are "I need a cup of coffee"! The aroma of a latte or coffee wakes up your senses and gets you ready for the day. Some only drink coffee in the morning, whereas others can drink lattes and coffee all day long. It might be a quick cup of black coffee or a delicious, frothy latte filled with different flavors and fragrances. Either way, it is a common ritual for many people all over the world. Latte and coffee are two popular hot drinks that many enjoy. While both are made from coffee beans, there are key differences between the two and how they are prepared. However, the choice depends on your personal preference. In this article, we will discuss latte vs. coffee differences and full nutritional comparisons between the two.
What Is a Latte?
Latte originated in Italy, it is made with a shot of espresso, and steamed milk with foam on top. It can be customized with many flavors and toppings to suit your taste buds. When creating a latte it is best to use whole milk to create the creaminess. However, skim and soy milk can also be used, depending on your preference. The milk is heated using a steam wand, which creates microfoam. This microfoam adds a smooth and silky texture to the latte. Now you're probably wondering what a steam wand is. Let's discuss how to create the perfect latte using a steam wand.
How to Use a Steam Wand to Create the Perfect Latte
First, picture your jug in four quarters, next place the wand at an angle in the bottom right-hand corner of the jug, this will allow just the steam to touch the tip of the milk. Next, turn the steam on, it will begin to rotate the milk in a circular motion by adding bubbles and consistency to the milk. If the steam tip is too far into the milk there won't be any air to create the frothy texture. Be sure to hold the jug in place during the steaming process and listen for the air being sucked into the milk. If you can't hear the air being sucked into the milk then you know that the wand is too far into the milk.
Creating Flavorful Lattes
Lattes are amazing, full of flavor, and can be created with a variety of ingredients, giving each one its unique twist to impress your taste buds. Let's take a look at some options to add to your latte.
Espresso: Use a high-quality bean to create a perfectly smooth aroma and flavor.
Milk: Your choice of milk can influence the taste and texture. Whole milk is primarily common, however, you can substitute it with soy, almond, and oat milk, to name a few.
Sweeteners: Besides adding brown, white, or artificial sugars, you can consider natural sweeteners such as maple syrup, honey, and agave nectar. A drizzle of syrup can wonderfully enhance and transform your latte.
Spices: These are a great way to add that extra flavor. You could consider adding nutmeg, pumpkin spice, cinnamon, or cardamom.
Chocolate: If you are a chocolate lover, you could always add a block or use a dash of cocoa powder or chocolate syrup as an added treat.
Extracts: This is another excellent way to add flavor to your latte. Try a few drops of almond, vanilla, or peppermint.
Whipped Cream: If you are in the mood for extra creaminess, add a dollop of freshly whipped cream.
What Is Coffee?
Made from the berries harvested from the Coffee plant, coffee has been around since the 15th century when Ethiopian monks used it to revitalize themselves during prayers. Once the coffee beans have been harvested, processed, and roasted they create a sweet yet bitter-smelling, flavorful drink that we know as coffee.
Two of the most expensive coffees in the world are strangely enough eaten and then defecated by two different and interesting animals. The Asian Palm Civet is responsible for the production of Kopi Luwak coffee, after which the coffee itself is named, and the other is the elephant. Produced in Thailand, Black Ivory trees are cared for by the elephants, and once eaten, the beans are then collected by paid children from the local high schools. The beans are then washed twice until the outer skin is removed, then sundried and roasted to perfection. For every 33 pounds of beans eaten by the elephants, only one pound of Black Ivory coffee is produced.
These coffees range anywhere from $1,300 to $2,500. This natural start to processing enhances not only the value but also the flavor and demand for these rich beans.
Nutritional Comparisons Between Latte vs. Coffee
Regardless of the time of day or place, lattes, and coffee are both widely enjoyed around the world. Let's have a closer look at latte vs. coffee and their nutritional values.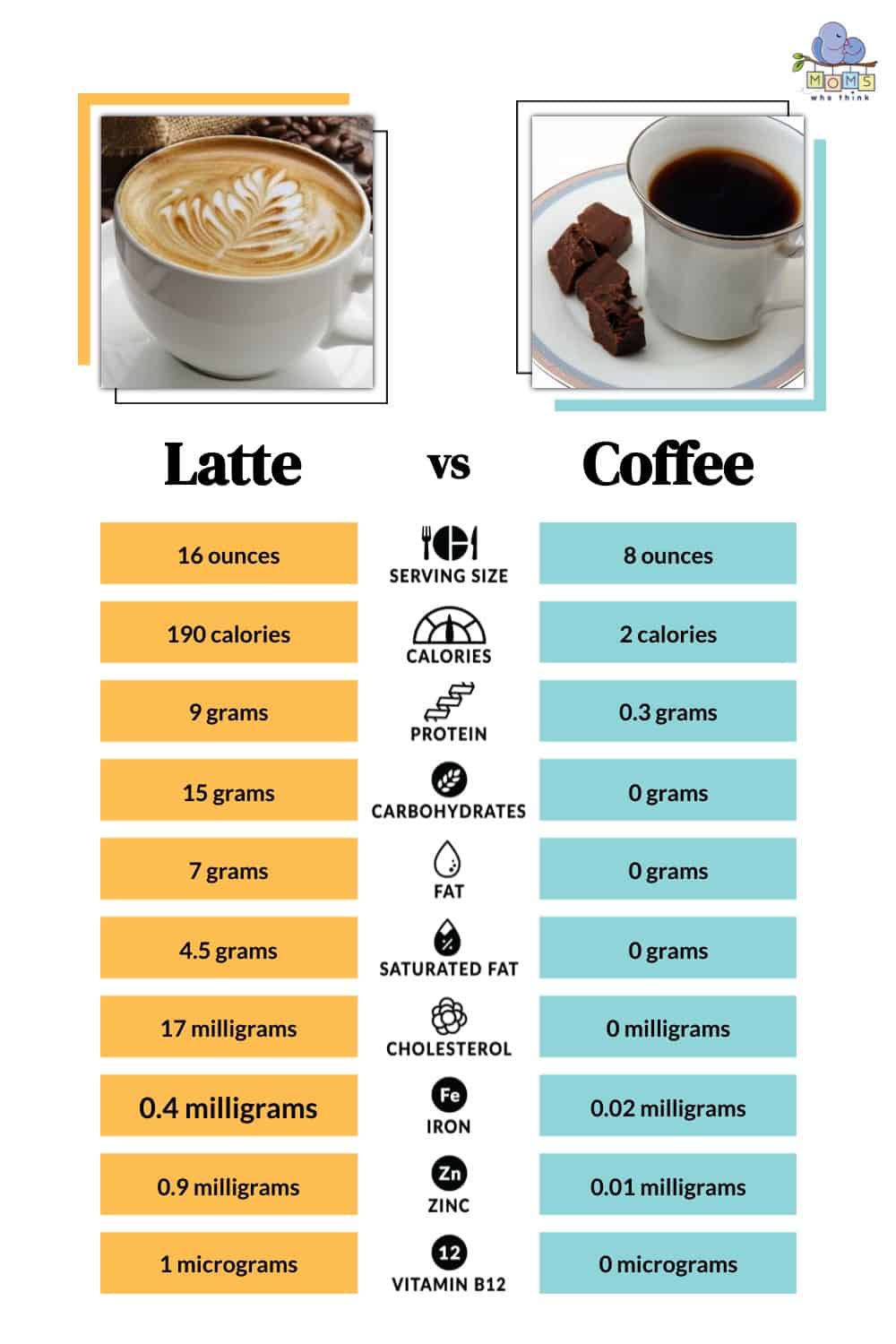 Lattes have between 150 and 300 calories per 250 ml cup, this all depends on your dairy choice, whether you choose whole milk, almond, or soy and add your preferred sweetener, it could have fewer calories. Meanwhile, coffee without any other added ingredients has fewer calories. However, caffeine stimulates the central nervous system, allowing your body to have a temporary boost of energy, the same thing occurs with caffeinated drinks such as Red Bull, Dragon, and many more.
On the other hand, if you are looking for a healthy sweet alternative, you could use stevia. Stevia is about 100-300 times sweeter than normal table sugar and is made from the leaves of the stevia plant. It doesn't contain any artificial ingredients, calories, or carbohydrates. Some people say it has a menthol taste, and others find it to be bitter.
Conclusion Latte vs. Coffee
In brief, the latte has an additional nutritional value due to the milk content used; this would depend on whether you used whole, low-fat, skim, almond, soy, or other alternatives. Coffee, on the other hand, is low in calories, however, this will all depend on whether you have added sugar or milk. It all depends on your personal preference. Both lattes and coffee are popular caffeinated drinks that we all love to drink.
Related Articles
Print
Cranberry Orange Overnight Coffee Cake
---
Streusel Ingredients:
1/3

cup

packed light brown sugar

1/3

cup

granulated sugar

1/3

cup

all-purpose flour

4 tablespoons

unsalted butter, cut into

1/2

-inch pieces and chilled

1 tablespoon

ground cinnamon

1

cup

pecans or walnuts, chopped
Coffee Cake Ingredients:
3

cups

all-purpose flour

1 tablespoon

baking powder

1 teaspoon

baking soda

1 teaspoon

ground cinnamon

1 teaspoon

grated orange zest

1/4 teaspoon

salt

1 3/4

cups

sour cream

1

cup

packed light brown sugar

1

cup

granulated sugar

3

large eggs

7 tablespoons

unsalted butter, melted and cooled

1

cup

dried cranberries
---
Instructions
Using your fingers, mix the brown sugar, granulated sugar, flour, butter, and cinnamon together in a medium bowl until the mixture resembles coarse meal. Stir in the nuts and set aside.
Coat two 9-inch cake pans with vegetable oil spray.
Mix the flour, baking powder, baking soda, cinnamon, orange zest, and salt together in a large bowl.
In a separate bowl, whisk the sour cream, brown sugar, granulated sugar, eggs, and melted butter together until smooth.
Gently whisk the egg mixture into the flour mixture until the butter looks smooth and well combined (do not overmix).
Gently fold in cranberries.
Scrape the batter into the prepared pans and smooth the tops. Sprinkle the streusel evenly over the top of both cakes.
Wrap the pans tightly with plastic wrap and refrigerate for up to 24 hours.
Christmas morning, preheat the oven to 350°F. Unwrap the cakes and bake on the middle rack until the tops are golden, 30 to 35 minutes.
Let cool 15 minutes on a wire rack before serving.