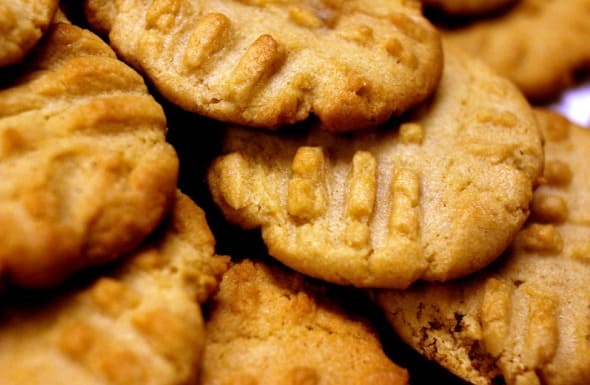 Peanut Butter Cookie Recipe
This peanut butter cookie recipe has been passed around our family for ages, the cookies never last long so always be sure to bake enough!
If you're wondering why the peanut butter cookie recipe calls for the cookies to be flattened (or criss-crossed) with a fork, it is to allow the dough to cook thoroughly in the center. Peanut butter cookies are richer, and because of the oil in the peanut butter they can end up unevenly cooked without adding the creases with a fork.
Remember…for crisp, perfect peanut butter cookies make sure you do the fork thing!
Peanut Butter Cookies
Ingredients:
2 1/2 cups all-purpose flour
1/2 teaspoon baking soda
1/2 teaspoon baking powder
1/2 teaspoon salt
1 cup (2 sticks) butter, softened
1 cup packed light brown sugar
1 cup granulated white sugar
1 cup crunchy peanut butter
2 large eggs
2 teaspoons vanilla extract
1 cup finely chopped peanuts
Directions:
1. Preheat oven to 350 degrees F (175 degrees C). Lightly grease a cookie sheet.
2. Sift together the flour, baking soda, baking powder, and salt in a medium bowl. Set aside.
3. In a large bowl, cream butter, brown sugar, and white sugar until smooth. Stir in peanut butter until fully incorporated.
4. Add the eggs, mixing in one at a time, then add the vanilla. Mix well.
5. Gently stir the dry ingredients into the peanut butter mixture. Stir in peanuts.
6. Roll dough into walnut sized balls. Place on the cookie sheet then use a fork to flatten slightly in the middle (use a crisscross pattern).
7. Bake for 10 to 12 minutes in the preheated oven. Cool on baking sheets for 4 minutes, then transfer to wire racks to cool completely. Makes about 36 cookies.