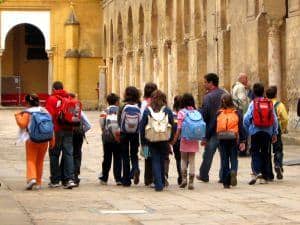 Prepare Your Child for Kindergarten
Let's Get Ready for Baby!
Sign up for our monthly pregnancy email series, and you'll get regular updates on your baby's development, helpful timelines to get ready for their arrival, must-have baby needs and so much more! PLUS, you'll get instant access to the MomsWhoThink "Ultimate Guide to Baby Naming in 2022."
CLICK HERE
to get started!
Leaving home to attend kindergarten for the first time can be thrilling in that scary exciting way. As a parent you want to find ways to ease the transition and prepare your child for the upcoming changes that the world of kindergarten represents. Preparing for kindergarten means getting ready for the big day-the first day—of school. It also means preparing for all the days that come after that first day. You want to be sure that you are sending you child off prepared to cope with the social, emotional, and academic pressures of being a student and going to school. How can you do that? By paying attention to your child's mental and emotional state and responding to it as it develops.
In the Long Term
Your child will need to come to kindergarten with a couple of different skill sets. The first is the ability to socialize appropriately with other children of his or her age.
If your child has not had much contact with other children, consider preschool or other types of group social settings. Practice important skills like joining in at games and sharing at home so that your child is ready to meet new people.
You will want your child to know some important information. Practice memorizing with your child and teach him or her their family name, phone number, and address in case they need to know it.
Your child will need to demonstrate fine motor skills in order to use a pencil and learn to write as well as to perform other classroom tasks. You can practice around the house by asking your child perform small tasks and encouraging coloring and paint.
You will want to introduce your child to basic concepts like language, numbers, and colors. Incorporate this sort of learning into your day-to-day routine by asking your child to answer counting questions or find the purple object. Foster your child's vocabulary by reading to him or her and playing verbal games.
Though kindergarten is not an academically rigorous experience, the more that you work with your child on the concepts they will encounter there, the more confidence he or she will have about it.
In the Short Term
When kindergarten is getting close, consider working to familiarize your child with the new environment and routine that he or she is facing. Take your child to the bus stop to catch the bus or watch other children catching the bus. Visit the school and the classrooms where your child will spend their time and take time to familiarize him or her with the environment.
If you can, attend an open house and introduce your child to their teacher. All of these activities will help to allay any fears your child may be feeling about the big day. Finally, the day before your child starts kindergarten, help them pack their own little backpack and your child will be ready to start school.
You might also find the following helpful: