About Us
Who We Are
Chris
That smile gets me out of trouble...a lot. Or I just hide under the desk like I did back then.


•I am the Co-Founder Moms Who Think, which may seem weird to people since I'm not a mom. I am, however, a dad of 5 great kids, ages 4, 6, 10, 12, and 14. They've taught me more about life and gratitude than any institution I've come into contact with.
•I am a creative thinker but have trouble with organization. Thankfully, I'm surrounded by organizers.
•I've been a pilot of various aircraft for my entire adult life. It helps me to keep my head in the clouds.
•I've been using the internet since 1987. I was quite the video game trader and on my way to becoming a teen tycoon (tycoon to a teen is a pretty low bar).
•I'm a big part of the communications side of Moms Who Think. I was invited to the White House to represent Moms Who Think at the Women's Online Summit.
If you click on the link to the story, you can see the back of my head. The guy on my left is the President of the United States.
Moms Who Think Goes to the White House
But enough about last week. This week, I hope to design an awesome email newsletter, help out with the research that goes into our content, and continue to try to make the user experience at Moms Who Think the best on the internet.
Judy
If you think that sweater is stylin', you should have seen the checkered green shorts and white knee socks I had going on with that. Confidence started young.


•I am the other Co-Founder Moms Who Think. When I started the site, I was a mom to growing kids. I am now a mom to twenty-somethings and a teenager. I'm also now a grandmom (Nana) to three sweet grandbabies.
•I am the list maker, the organizer and project planner at MWT... to a fault. I own entirely too many sparkly glitter notebooks and other office supplies.
•I've owned my own business in some form for most of my adult life. I left Corporate America over 20 years ago and never looked back.
•I've been using the internet since the late 1990s. I still remember the AOL disks and the "you've got mail" guy.
•I'm not only the content side of Moms Who Think, but I'm also the technical side. I taught myself html over 10 years ago, and built the first version of MWT that way. Over the years I've learned JavaScript, PHP, CSS and tons of other tech-related operations. Some of it was truly mind-bendingly boring, but I learned patience and the value of bootstrapping.
I am always working on new projects for the site, with the help of some pretty talented family members who also work on Moms Who Think.
Kelly
Cheerfully smiling in the kitchen, perfectly coiffed and dressed with a baby in that carriage while slaving over a stove. It'll be like that in adult real life right?


•I am the social media coordinator here at Moms Who Think. I am on our Facebook and Pinterest pages, getting the word out about MWT. I also coordinate our promotions to reach more people that can use our content to make their lives easier.
•My mom is one of the owners. She's the most amazing mom ever. She also wrote this.
•I've worked since I was old enough to get a job, doing everything from setting up a kids shoe store to working for a natural products company. I graduated college with a degree in Communications which has lead me down a path to work I find both fun and rewarding.
•I've been using the internet since I was young. My brother and I used to play Oregon Trail and Putt-Putt goes to the Moon along with all the Berenstain Bears programs. I was having so much fun and didn't realize I was learning on educational software. Now I favor apps but I'm always learning more, no matter what the platform is.
•I had no interest in working on the internet then social media happened. I am amazed at how quickly things move and change, I love the interactions and all the different ways to connect with people.
Megan
Seriously people, just go sit down. I know my way around the kitchen. Thanksgiving dinner for 20? I got this.


•I am the Executive Editor for Moms Who Think. My daily job is to decide on what recipe, article or quote you see in your daily news feed. I also update the content on the website and use my kitchen as one of the test kitchens for our recipes.
•My mother-in-law is one of the owners and also Nana to my kids (ages 8 weeks, 2 1/2, and 4 1/2). My kids keep me very busy and life can be chaotic, but I love being a mom.
•I am a licensed cosmetologist and have also worked as the assistant to a wedding photographer. I am super organized and logical, but also very creative and flexible.
•My husband and I count on the internet for so many aspects of our lives, but have somehow ended up living in places that have terrible internet service. We've managed though, and wouldn't trade the beautiful view of the mountains around us for anything.
•I am always scouring the internet to see what trends (good and bad) are popping up so we can keep offering up to date solutions for our users. I apply most of it to our own family life and avoid anything that has unrealistic standards for an average family; like half of Pinterest :-)
Martha
Unlike my brother, I was able to face the camera with a cherubic smile...without hiding under a desk (no matter how much he tried to pin on me).


•I have been responsible for making and photographing a good portion of the recipes on Moms Who Think. My husband and boys are great sports and eat what I've needed to photograph.
•My brother is one of the owners. Even though we're adults (and have been for a while), he still looks out for me.
Mercedes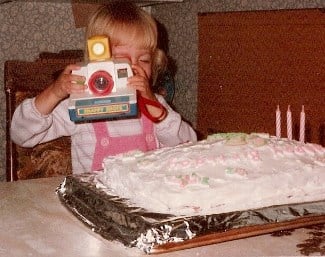 You'll get cake after I get a good photo of it! And you'll wait while I Photoshop it a bit too!


•I've cooked and photographed many of the recipes on Moms Who Think. I've also owned my own blog but now concentrate on wonderful but extremely busy volunteer commitments along with being the mom of a beautiful, active little boy.
•I am the niece of one of the owners, my mom is her sister. I come from a family of strong women, many who work on Moms Who Think.
What We Are and What We Believe
Moms Who Think began in 2000 as a place for all moms to get ideas, support, and help through all the exciting and ordinary parts of everyday life.
We have evolved and expanded over 18 years online to include recipes for real families, from quick and easy meals to get a delicious dinner on the table in a flash, to Sunday dinners from Mama Shirley's recipes that have been passed down through generations of family.
We provide you with the most comprehensive grammar and learning tools for grade schoolers to professional writers, activities and ideas for creating family memories, and one of the best resources on the internet to help you choose a baby name. We also have hundreds of pages that cover everything from birthday party games to health issues.
♦ We believe that moms shouldn't go through life trying to live in the mold that society has set for them, attempting to achieve the "perfect mother" status created by other people or even worse...attempting to live up to the perfection of the "highlight reels" of friends, blogs and Pinterest pins.
♦ We disagree with the current media, who would like to convince you that, like Pooh Bear, mothers are creatures of very little brains. The media celebrates motherhood by how many weeks/days/hours a new celebrity mom takes to look like they never gave birth.
♦ For the moms and women who sometimes fall into the trap of believing that what they see in the media and online social media is real life, we're here to say it isn't. Life is messy, it isn't perfect, it's lived in. As it should be, lived in to the fullest that every day has to offer (even if that means a pajama day with the kids because you all need a day off).
♦ We are a family owned website with kids of all ages and moms at all stages in our own lives. We hope that the tools we've used to make our own lives easier and happier make your life better by being able to access what you need all on one website. We are a website for all types of moms...including moms of young children or teenagers, moms of adult children, grandmoms, and their children big and small. We're grateful for each and every one of you.