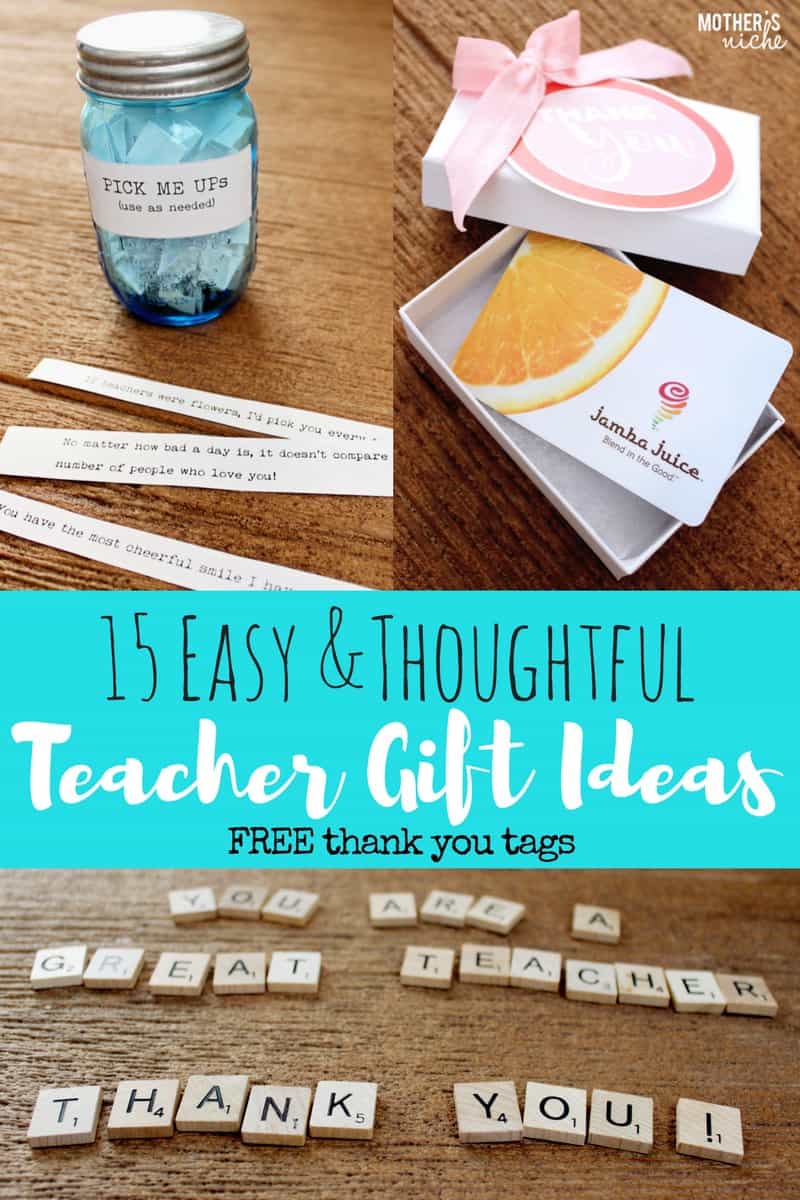 These teacher gift ideas are part of the #LIGHTtheWORLD initiative. This day's theme, is "Jesus Taught Others" To see the themes for the other days, see: LIGHT THE WORLD: 25 Ways in 25 Days. As part of today's theme, we are showing appreciation and love for the TEACHERS in our lives!
I know a lot of teachers. Friends, family, and many of my own kids' school teachers. I have asked many of them what they like for gifts. You know teachers get gifts pretty often. Beginning of school, Christmas, End of school, teacher appreciation week etc… When I asked what their favorite kind of gift is EVERY ONE OF THEM said they like things that are useful and personal. Some of them also mentioned that because of the limited space in their classroom they prefer any decorations or desk displays to be on the small side. I have come up with a list of simple but thoughtful gifts that kids can make with you.
EASY and THOUGHTFUL GIFTS FOR TEACHERS:
PICK ME UPs- Fill a jar with positive, uplifting and kind thoughts for your teacher when they have a hard day. PRINTABLE at the end of the post! You're welcome! 🙂
POEM: Have your kids write a poem. When my oldest daughter was in First Grade she gave the teacher a poem that she wrote about her. Her teacher loved it. She even framed it and put it on her file cabinet and it has been there for 3 years.
SUCCULENTS PLANT: These little beauties need very little attention, are very small and brighten up any desk.
FAVORITE TREAT: Ask your teacher what their favorite treat is and wrap up their surprise.
MOVIE TICKETS: Get a gift card for a couple of tickets to a local theater. Throw in a popcorn voucher or two. Teachers need a night out.
CANVAS TOTE BAG: Teachers always have things to carry. Papers and tests to grade, so get them something to carry it in. You can even personalize it with their name.
SCRABBLE TILE SCRAMBLE: Spell out a sentence using the scrabble tiles. Number them from the first letter to the last. Once all the letters have been numbered put them in a box or jar. Write a note inside of the box that says, "Unscramble the secret message by putting the numbers in order and then turn the tiles over to reveal the message."
THROW BLANKET: Find a nice knitted throw blanket they can wrap up in while they grade their late night papers.
LEMONADE: Get a little milk bottle and fill it up with single serving lemonade packets. I love these. And your teacher will too.
GIFT CARDS: Think about your teacher. Have you heard her mention a favorite restaurant, cafe, or ice cream shop? We overheard my oldest daughter's teacher, mention that she loves smoothies when talking to another teacher after a parent conference.
SCHOOL SUPPLIES: Every teacher I know spends a little or a lot of their own money to help with meeting the needs of their classroom. Supply them with more school supplies. Don't know what to get? TOP 5 Requests from teachers: Lysol wipes, hand sanitizer, pencils, crayons, dry erase markers, etc…
A GOOD BOOK: Nothing like relaxing with a good book. Buy a book and you could even make a bookmark to go with their book.
A HANDWRITTEN CARD AND PICTURE: Who doesn't love the sweet words and art made by little hands!
HAND SANITIZER LOTION: I LOVE THIS STUFF! Keeps the classroom germs off and keeps your hands moist.
FREE PRINTABLES HERE
DAY 12: Jesus taught others
To see the themes for the other days, see: LIGHT THE WORLD: 25 Ways in 25 Days