Christmas Cookie Gift Ideas
Baked goods are a wonderful gift to give to neighbors, coworkers, or teachers around the holidays. Whether you like to give something homemade and aren't necessarily all that 'crafty' or you're on a budget this year but don't want to skip those important people who help make your life better throughout the year.
Eggnog Snickerdoodle Cookies and Homemade Eggnog in Mason Jars
These homemade Eggnog Snickerdoodle Cookies are light and tasty for someone who doesn't love super sweet cookies. The cookies are really easy to bake if you're a beginner baker. Just pop some in a mason jar or two and pair with homemade (or even store-bought) eggnog. Eggnog (Alcoholic and Non-Alcoholic Recipes) You can put them in a small basket or a gift bag and surprise your helpful neighbor with a wonderful treat.
Lemon Tea Biscuits in Vintage Tea Cups
This gift is perfect for any tea lover. Browse local antique shops or thrift stores for cute, vintage-looking tea cups and fill with these tasty Lemon Tea Biscuits. You could also try our recipe for homemade Lady Fingers or Russian Tea Cakes, both can be found in our Christmas Cookie Recipes along with hundreds more.
Candy Cane Puffs in a Christmas Tin
This cookie is definitely a cute cookie to gift to a teacher or coworker. Pick up a Christmas tin at your local dollar store or you probably even have one laying around from a Christmas passed. A little tip for crushing those candy canes, break them up into a few pieces and toss them in a food processor to get a finer crunch. You can find the recipe for Candy Cane Puffs here (the 5th one down) 'C' Christmas Cookie Recipes
Boxed Brown Sugar Cookies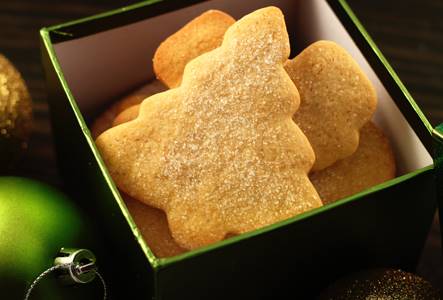 Brown Sugar Cookies are a great alternative to traditional sugar cookies if you don't like to frost cookies for hours after you've baked all day. Sprinkle with plain granulated sugar or colored and you've got delicious cut-out sugar cookies in a fraction of the time. The brown sugar baked into the cookies instead of granulated is also a tasty change-up. The recipe can be found here 'B' Christmas Cookie Recipes about halfway down the page.
Cookie Bars on a Christmas Plate
Bar cookies and fudge are great for a baked good you can make in batches and slice up portions on festive plates or platters. We chose Coconut Raspberry Ribbon Squares, they're super sweet and delicious. Browse discount stores or end of the season sales for cute Christmas plates and platters to keep on hand for last minute gifts.
The image featured at the top of this post is ©Lydia Matzal / Unsplash.