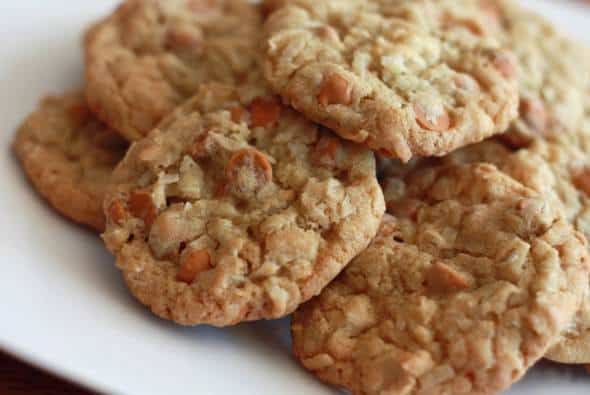 Coconut Cookie Recipe
This is a coconut cookie recipe that is easy to make and very tasty with the addition of butterscotch chips. It has just the right amount of coconut for flavor without being overwhelming.
Coconut Cookies
Ingredients:
1/2 cup coconut oil
1 cup + 1 Tablespoon brown sugar, packed
2 large eggs
1 Tablespoon pure vanilla extract
1 3/4 cups all-purpose flour
1/2 teaspoon salt
1 teaspoon baking powder
1/4 teaspoon baking soda
1 1/2 cups butterscotch chips
1 cup shredded coconut, toasted
Directions:
1. Preheat oven to 375 degrees F and prepare a baking sheet with cooking spray.
2. In a large mixing bowl, use a mixer to beat coconut oil and brown sugar.
3. Add the eggs and beat until fluffy. Add vanilla extract.
4. In a separate medium bowl, combine flour, baking powder, baking soda, and salt with a whisk.
5. Mix the flour mixture into the coconut oil mixture a little bit at a time with a wooden spoon until flour is well mixed.
6. Add in the butterscotch chips and coconut and mix well.
7. Drop by the spoonful into the baking sheets. Bake 8 minutes or until slightly browned around the edges.