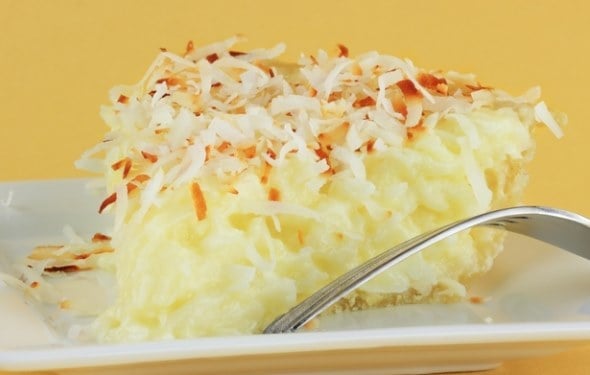 Coconut Cream Pie Recipe
This coconut cream pie recipe produces a sweet, rich, creamy pie thats filled with the decadent taste of coconut. Topped with a homemade meringue topping, it is sinfully delicious
Coconut Cream Pie
Ingredients:
5 Tablespoons flour
1/2 cup sugar
1/8 teaspoon salt
1 1/2 cup scalded milk
1/4 cup cold milk
3 egg yolks
1 cup shredded coconut
1 teaspoon vanilla extract
9 inch baked pie shell (recipe here)
Directions:
1. Blend flour, sugar, and salt with the cold milk. Gradually add the scalded milk, stirring constantly.
2. Cook on a low heat until thickened, then add beaten egg yolks and cook for an additional two minutes.
3. Remove from heat. Add vanilla extract and shredded coconut.
4. Cool filling, then pour into baked pie shell. Top with meringue (recipe below).
Meringue Recipe:
Ingredients:
3 egg whites
6 level Tablespoons sugar
Meringue Directions:
1. Beat egg whites until stiff. Very gradually, add the sugar. Cover pie with meringue.