As parents, we only want the best for our babies, and so we look for the best formula to help them grow and thrive. Today, we'll explore two brands and see how they differ. They're not vastly different. However, the primary difference between Enfamil vs. Similac is that even though they contain many of the same elements, Enfamil includes some formulas that Similar does not. Still, they're both high-quality products, and today we'll explore a breakdown of each of them.
What is Enfamil?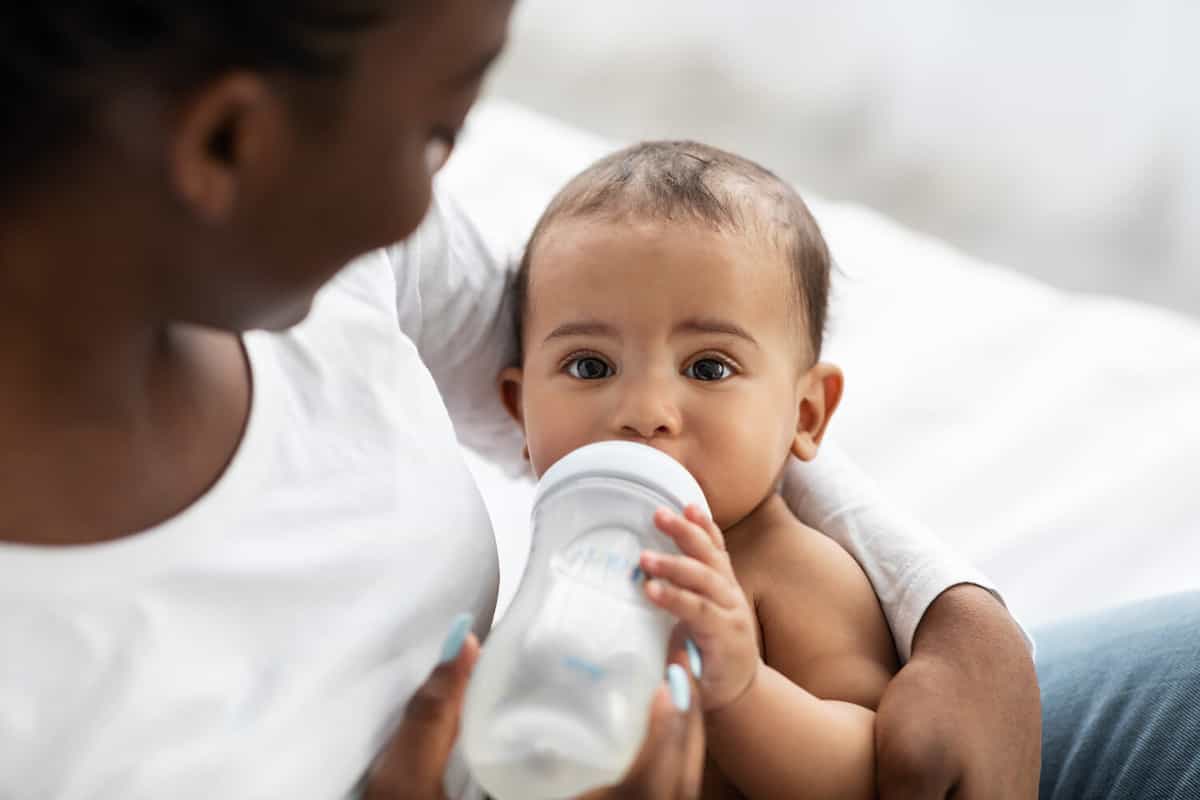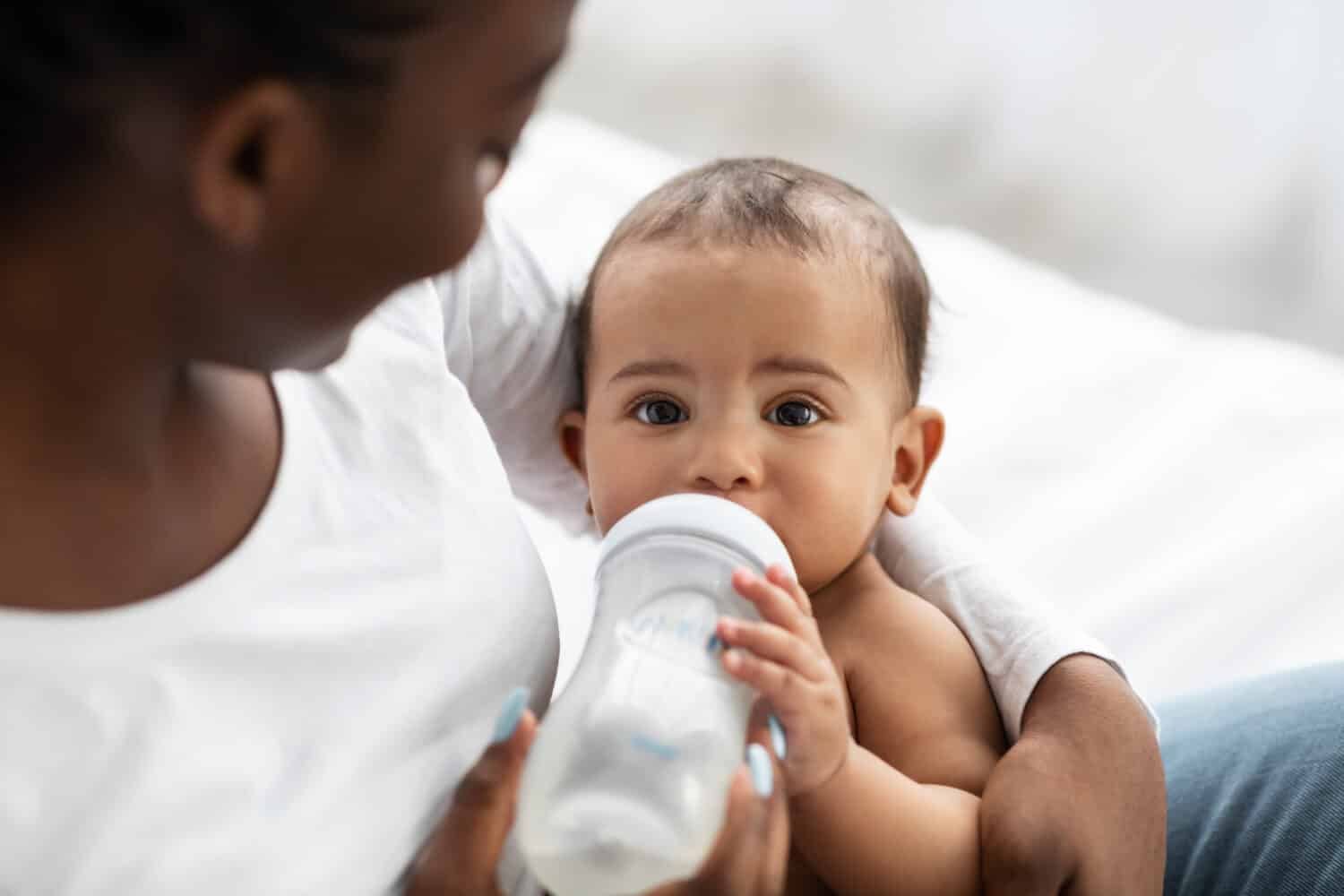 This is a baby formula created by Mead Johnson, and it's designed to be a near-perfect supplement for breastfeeding a child. It's a formula that has been continuously updated as new science becomes available. There are various forms of Enfamil available depending on the specific child. There's a version for tummy troubles, allergies, special dietary needs, and general everyday nutrition.
Many pediatricians consider Enfamil to be a reliable source of baby formula, and they like that it contains a good blend of proteins. The brand is great for premature infants because they often have specific needs.
Enfamil contains many incredible nutrients that help babies thrive. It contains Omega 3 DHA, which is necessary for brain development. It also contains a number of nutrients that support immune health, including vitamins C&E, Selenium, and GOS. Enfamil is inspired by breast milk, so it's about as close as you can get to the real deal.
The immune blend in Enfamil has several functions. The prebiotics stimulate the growth of good gut bacteria, and it helps to support immune and digestive health.
Pros and Cons of Enfamil
While talking to parents and combing through reviews, we have found some pros and cons of the various Enfamil products.
Pros:
Price – While it can depend on where you shop, Enfamil is often a more affordable choice than many of the competitors.
Availability – When in need, you can find Enfamil in almost any grocery or convenience store, even late at night when your child may be crying for food.
Options – Parents have a variety of options from which to choose, and since every baby is different, it's essential that they get what they need.
Cons:
Child's Choice – Every child will have their own taste, and many won't like the taste or texture of Enfamil. As a result, they may throw it up.
Odor – The formula can have a peculiar smell, especially after it's been sitting in a bottle for a while.
What is Similac?
Similac and its variety of formulas are for young children who aren't breastfed or can't consume breast milk. The products are produced by Abbott Laboratories, a company that controls 40% of the market. Enfamil also controls 40%, so they share that similarity. Also, like Enfamil, Similac offers a variety of formulas for different babies. There are options for milk allergies, sensitive tummies, lactose intolerance, gas, reflux, fussiness, and more. The idea is to mimic breast milk as closely as possible.
The special formulas of Similac offer many benefits for a growing baby. They have a complete set of nutrients for development and growth, including docosahexaenoic acid and lutein, which both help with brain development, vitamin E that protects your child's cells and tissues, and nucleotides that help with their immune response.
Similac is also free of added sugars, and it's free of palm olein oil, which can lead to weak bones. There are also some non-GMO options, which is good because GMOs can cause autism, allergies, and growth failure. Like the other formulas, Similac is also good for premature babies, and it contains linoleic acid that reduces cholesterol. The formula also contains taurine, which is critical for brain development.
Pros and Cons of Similac
There are many perks and benefits as well as a few shortcomings of Similar that new parents may want to consider.
Pros:
Variety – Similac comes in just about any variety that your baby may need, including soy-based, lactose-free, and hypoallergenic options.
Safety – Although, like Enfamil, Similac doesn't require approval from the Food and Drug Administration to market its products, parents can rest assured that the product does meet their standards and is safe for your child.
Cons:
Lack of Probiotics – Probiotics are good bacteria for a healthy tummy, and only a few Similac products contain them.
Non-Organic – Most Similac products are not organic formulas, which many parents consider to be a healthier alternative.
Negative Ingredients – Many of the formulas contain some ingredients that aren't really considered good for a baby, such as processed vegetable oils that contain unhealthy trans fats. There's also maltodextrin, which can cause bloating, colic, and green stools. Some also contain corn syrup, which can promote obesity.
Possible Side Effects – Like most other types of formula, there are potential side effects, including gas, tummy ache, diaper rash, stains, and constipation.
Enfamil vs. Similac: Different Formulas
As we mentioned at the start, although Enfamil and Similac are general products, they each have a number of different formulas for different types of babies and mothers. There are many sub-categories of products for different types of mothers and babies. For instance, each company has a special form of their product for pregnant women and a formula for overall infant development.
However, Enfamil has some special formulas that Similac does not. For instance, Enfamil has a formula called Enfamil Restfull that helps infants to be full for longer, and Similac does not. Enfamil also has a formula called Pregestimil, that helps infants who have trouble absorbing fat, and Similac does not. Enfamil also has a product called Enfamil Tri-Vi-Sol, which offers additional vitamins A, C, and D for breastfed infants, which Similar does not. Of course, these products change over time, and new products are always introduced, but these are differences to consider.
Enfamil vs. Similac: Other Considerations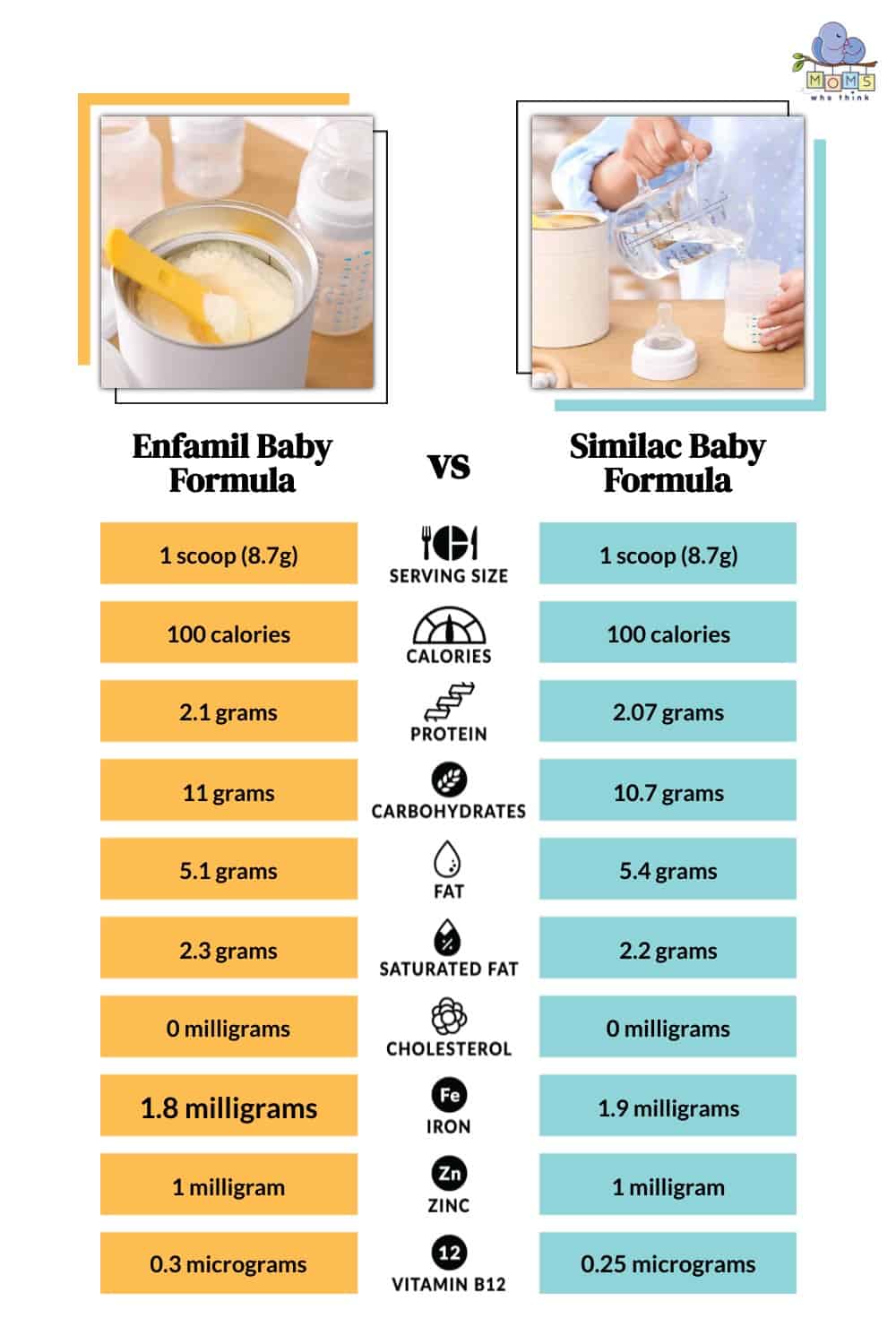 There are various other factors to keep in mind when you're using or buying Enfamil or Similac baby formula.
Nutritional Differences
Since there are many variations of each formula, the nutritional differences can vary. However, in the overall debate of Enfamil vs. Similac, both are about the same. When comparing one scoop of each, they have about the same amount of calories, protein, saturated fat, and vitamins. So, from that standpoint, you can go with either option. There are formulas available for both products that contain more positive nutrients, so read the labels before you buy.
Price
Since the products are competitors of each other, you'll find that both are sold for about the same price, depending on where you shop.
Availability
Both Enfamil and Similac are found in the baby section of your favorite store or retailer and are readily available in the United States, Canada, and various other countries.
Benefits of Formula Feeding With Any Brand
Most doctors recommend that mothers breastfeed their children for the first six months of life because that provides all of the nutrition a growing baby needs. However, some mothers cannot breastfeed for various reasons, so formula may be the answer. Formula feeding does offer many benefits, including more convenience since a mother can simply give the baby a bottle to fulfill his or her needs. Formula feeding also provides more flexibility since a family member or fellow caregiver can feed the baby once they have a bottle.
It's also worth mentioning that formula is also less digestible than breast milk and so your baby will likely be fuller for longer, which means less frequent feedings. Finally, when breastfeeding, a mother must be careful about the food and drinks she consumes so unhealthy stuff isn't transferred to the baby. Formula feeding mothers can be less concerned about having a strict diet.
Enfamil vs. Similac: Which is Best?
In the end, there is no clear winner for whether Similac or Enfamil is better for your new baby. However, you should do your research and look at the different formula variations that each product offers and choose the one that's best for your child's needs.