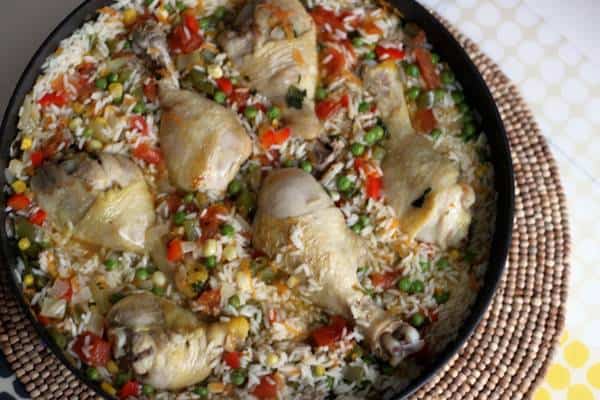 Healthy Chicken and Rice Recipe
Let's Get Ready for Baby!
Sign up for our monthly pregnancy email series, and you'll get regular updates on your baby's development, helpful timelines to get ready for their arrival, must-have baby needs and so much more! PLUS, you'll get instant access to the MomsWhoThink "Ultimate Guide to Baby Naming in 2022."
CLICK HERE
to get started!
Ingredients:
6 chicken pieces (legs and/or breasts), skinless
2 teaspoon vegetable oil
4 cups water
2 tomatoes, chopped
½ cup green pepper, chopped
¼ cup red pepper, chopped
¼ cup celery, diced
1 medium carrot, grated
¼ cup corn, frozen
½ cup onion, chopped
¼ cup fresh cilantro, chopped
2 cloves garlic, chopped fine
⅛ teaspoon salt
⅛ teaspoon pepper
2 cups rice
½ cup frozen peas
2 oz. Spanish olives (optional)
¼ cup raisins (optional)
Directions:
1. In large pot, brown chicken pieces in oil.
2. Add water, tomatoes, green and red peppers, celery, carrots, corn, onion, cilantro, garlic, salt, and pepper. Cover and cook over medium heat for 20–30 minutes or until chicken is done.
3. Remove chicken from pot, put on plate, and cover with foil. Add rice, peas, and olives to pot. Cover pot and cook over low heat for about 20 minutes or until rice is done.
4. Add chicken and raisins, and cook for another 8 minutes.
Yield: 6 servings
Serving size: 1 cup of rice and 1 piece of chicken
Each serving provides:
Calories: 448
Total fat: 7 g
Saturated fat: 2 g
Cholesterol: 49 mg
Sodium: 352 mg
Total fiber: 4 g
Protein: 24 g
Carbohydrates: 70 g
Potassium: 551 mg