McDonald's fast food chain has been serving hamburgers since it opened its doors in 1955. The menu has changed throughout the years due to customer demand. The franchise has opened the menu and offers breakfast, desserts, and even healthy salads, but the fan favorite is always the burgers. If you love McDonald's, you are probably familiar with the McDouble and the Double Cheeseburger but have you ever wondered what the differences are between these two popular menu items? Let's look at the McDouble vs. Double Cheeseburger to find out which is the best choice for taste, price, and nutrition.
McDouble vs. Double Cheeseburger: What Are the Differences?
The McDouble hamburger and the double cheeseburger both feature two all-beef patties between a bun with pickles, onions, ketchup, mustard, and a slice of American cheese. But the difference lies in one slice of American cheese. The McDouble has only one slice of American cheese, while the double cheeseburger has two slices.
So how does this one slice of American cheese make such a big difference to these two burgers? It comes down to taste, texture, and price.
Taste
Two pieces of cheese rather than one makes the double cheeseburger a favorite among cheese lovers. The double dose of melted cheese adds a rich creaminess that only American cheese melted on a burger can provide. The McDouble lags behind in flavor because it lacks that extra slice of cheese.
Texture
The double cheeseburger has a moist texture as the extra cheese slice holds the whole thing together perfectly. The McDouble with only one slice of cheese between two beef patties can have a dry texture that feels like it's missing something.
Price
McDonald's fast food chain is a franchise restaurant, meaning that not all stores participate in all of the promotions simultaneously. So the prices will vary depending on which location you visit. Historically the McDouble has been on the dollar menu. Nowadays, it is on the regular menu but is still cheaper than the other classic Mcdonald's burgers, like a Big Mac and Quarter Pounder. A double cheeseburger with an extra slice of cheese is always more expensive. Of course, it is; it has an extra slice of cheese that makes a lot of difference in taste and price. According to MC Menu, which looks at the price ranges of Mcdonald's products across the U.S. states, the double cheeseburger ranges in price between 1.89 and 3.79. While the McDouble is at a price of 1.59 to 3.50.
Availability
The double cheeseburger was created as a promotional item in the 1950s and later, in 1965, became a regular part of the McDonald's menu; since then, it has always been on the menu. But the McDouble, which hit the menus in 1997, and was a big hit on the dollar menu, was later removed from the dollar menu in 2008.
McDouble vs. Double Cheese Burger: Nutritional Differences
The McDouble has 400 calories, and the double cheeseburger has 450 calories; that extra slice of American cheese adds another fifty calories. The McDouble has 22 grams of protein, 33 grams of carbohydrates, 20 grams of fat, and 2 grams of dietary fiber. It also has 920 milligrams of sodium. The double cheeseburger has 25 grams of protein, 34 grams of carbohydrates, 24 grams of fat, and 2 grams of dietary fiber. The double cheeseburger also has 1120 milligrams of sodium. So the double cheeseburger with that extra slice has more protein, carbs, fat, and sodium than the McDouble.
What is a McDouble?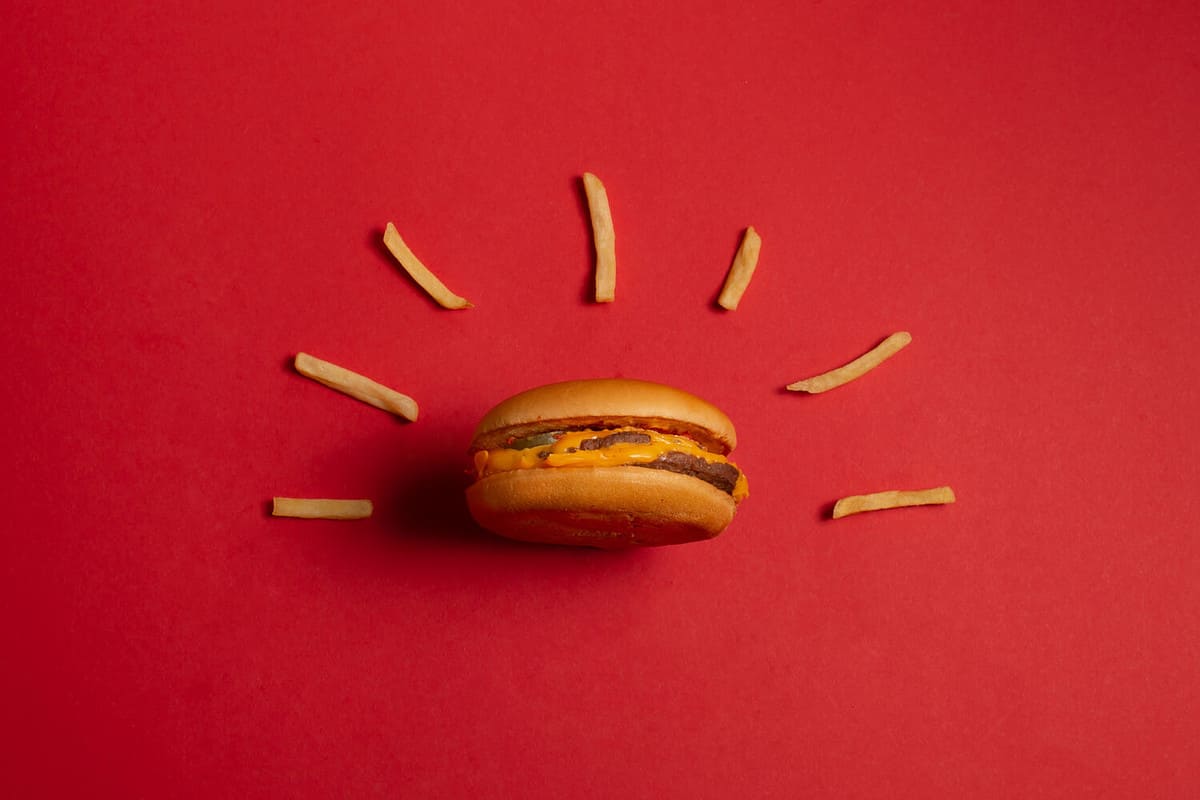 McDonald's created the McDouble burger in 1997 as part of the dollar menu. The burger features two all-beef patties, a bun, pickles, onions, ketchup, mustard, and one slice of American cheese. It was popular on the dollar menu, but the company was selling it at a loss and have since moved it to the regular menu.
Many diners loved the McDouble when it was on the dollar menu because it felt like a hack to get a double burger without a double burger price. However, the two patties without the extra melty cheese to hold them together were dry and lacked that greasy mouthfeel that extra cheese brings to the meal.
What is a Double Cheeseburger?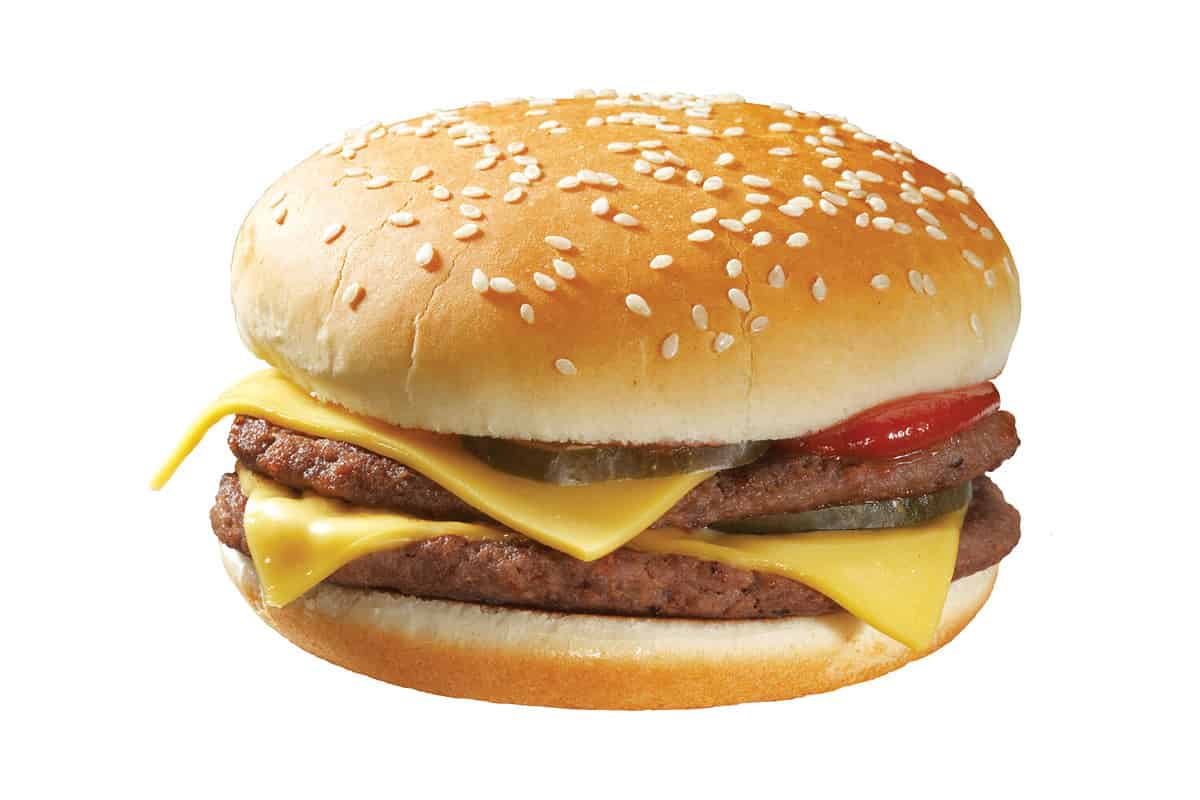 The double cheeseburger has two all-beef patties, two slices of American cheese, a bun, onions, pickles, ketchup, and mustard. It is available at all McDonalds locations within the U.S.
The double cheeseburger first hit the fast food scene in 1939 at Bob's Big Boy Restaurants. It was quickly a hit, and Mcdonald's decided to add it as a promotional item in the 1950s. It was such a popular menu item that they put it on the regular menu in 1965. So while McDonald's didn't create the iconic burger, they did perfect it. And it is now part of the classic McDonald's menu.
Fast Food Considerations
Fast food is easy and convenient. Every mom wants to fix healthy dinners each night for their family, but the reality is that some nights fast food is the best option for tired moms and busy families. Many families visit their favorite fast-food restaurants regularly. But while a McDouble and a double cheeseburger are tasty, they both have high levels of sodium. The American Heart Association recommends no more than 2,300 milligrams of sodium per day. Ideally, healthy adults should stick to 1,500 milligrams. Many physicians agree that a diet of solely fast food can have negative effects on overall health. So enjoy your McDoubles and double cheeseburgers in moderation.
Comparison of McDouble vs. Double Cheeseburger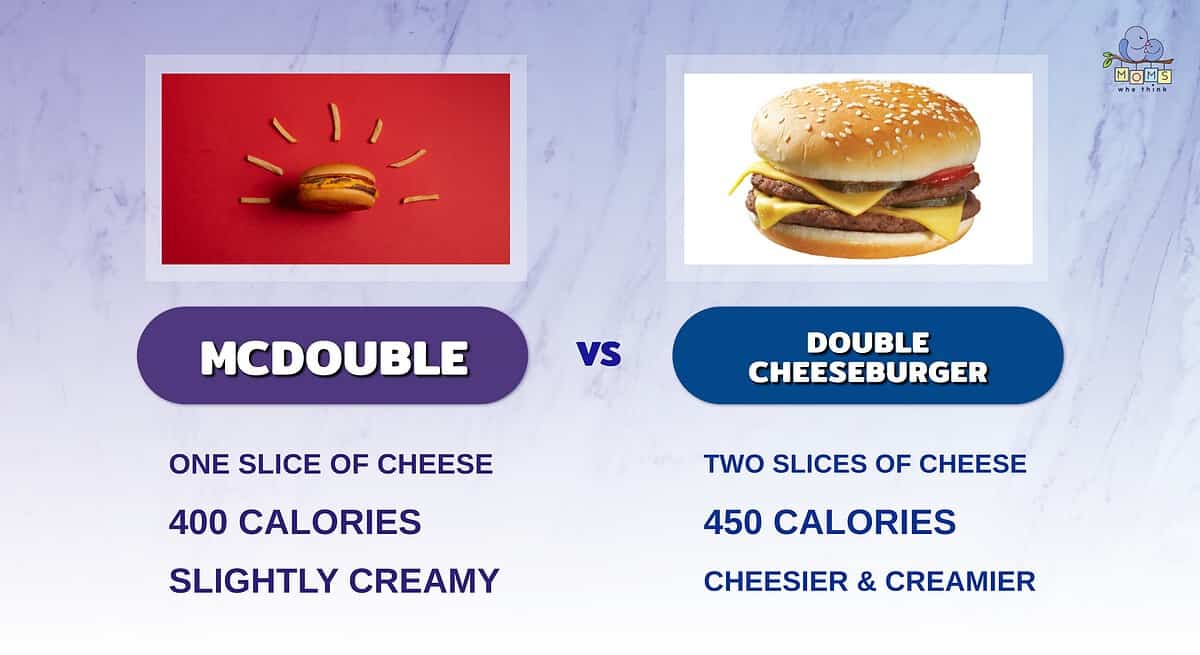 It's not surprising that many are confused about the difference between these two burgers. After all, the element that sets these two apart is the one slice of cheese. However, this detail makes all the difference when it comes to taste, texture, and price point. While you're still getting the same delicious flavor of this fast food chain's infamous burgers, it comes down to the individual's preference.
If you crave all the cheesiness and a more creamy texture, opt for the double cheeseburger. You may pay a little extra for the cheesier version, but it's a small price to pay.
On the other hand, if you're on the hunt for a classic cheeseburger that has a standard cheesy taste, or if you are counting calories and every calorie matters, then your safest bet is the McDouble.
Whatever you choose, one thing rings true, McDonald's burgers are arguably unrivaled.
Print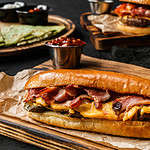 French Bread Cheeseburgers
---
Author:

Yield:

4

servings

1

x
3/4

pound

lean ground beef (90% lean)

1

small onion, chopped

1

medium green pepper, chopped

2

garlic cloves, minced

2 Tablespoons

all-purpose flour

2 Tablespoons

Dijon mustard

1 Tablespoon

ketchup

1

tube (11 ounces) refrigerated crusty French loaf

4

slices (1 oz. each) reduced fat American cheese

1

egg white, lightly beaten

3 Tablespoons

shredded Parmesan cheese
---
Instructions
In a large frying pan, cook the beef, onion and pepper over medium heat until meat is no longer pink.
Add garlic; cook 1 minute longer. Stir in the flour, mustard and ketchup; set aside.
Unroll the bread dough starting at the seam.
Form dough into a 14×12 inch rectangle. Spoon meat mixture lengthwise down the center of the dough; top with cheese slices.
Bring long sides of dough to the center over filling; pinching the seam to seal.
Place the filled dough seam side down on a baking sheet coated with cooking spray.
Brush with egg white. Sprinkle with Parmesan cheese.
With a sharp knife, cut diagonal slits in top of loaf. Bake at 350° for 25 minutes or until golden brown.
Nutrition
Serving Size:

1 slice

Calories:

415

Sodium:

975mg

Fat:

10.5g

Saturated Fat:

4.5g

Carbohydrates:

43g

Fiber:

2g

Protein:

32g

Cholesterol:

49mg
The image featured at the top of this post is ©P Maxwell Photography/Shutterstock.com.