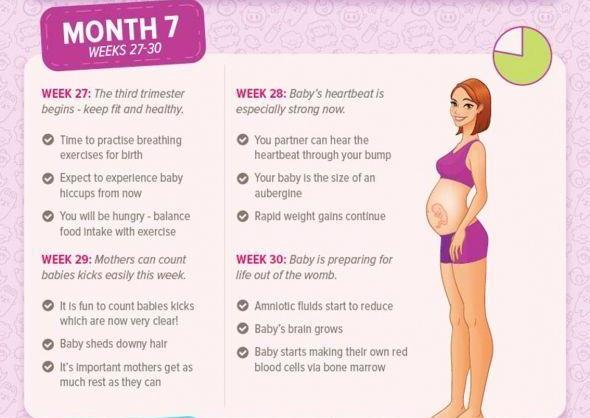 Your Baby's Growth:
Let's Get Ready for Baby!
Sign up for our monthly pregnancy email series, and you'll get regular updates on your baby's development, helpful timelines to get ready for their arrival, must-have baby needs and so much more! PLUS, you'll get instant access to the MomsWhoThink "Ultimate Guide to Baby Naming in 2022."
CLICK HERE
to get started!
Rapid brain growth continues in month 7. The fetus is getting too big now to move around very much but can kick strongly and roll. You may notice the shape of an elbow or heel through your belly.
The bones of the head are soft and flexible which make it easier for the baby to fit through the birth canal. The lungs may still be immature, but even if born before 37 weeks pregnant, the fetus is premature but has an excellent chance for survival. Your baby is now about 18 inches long and weighs about five pounds.
Your Body's Changes:
If your ankles and feet swell from standing or walking, lie down with your feet raised. If swelling lasts longer than 24 hours, or if your hands or feet swell suddenly, call your health care provider immediately. Stretch marks may appear on your abdomen and breasts. You may feel false Braxton Hicks contractions which will prepare your body for labor. This is normal, but call your health care provider if you have more than five contractions in one hour. As your belly gets bigger, you may lose your sense of balance.
Prenatal Care:
Visit your doctor or health care provider for your month 7 checkup. Continue to eat a variety of foods that are good for you. You should gain about one pound a week this month. This is the month to start looking into childbirth education classes. Most health care providers do a blood test for gestational diabetes at 28 weeks pregnant to 30 weeks pregnant.
Most Popular Pregnancy Links: