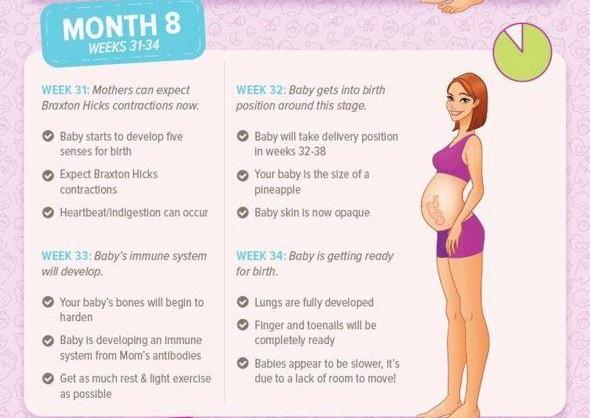 Your Baby's Growth:
Let's Get Ready for Baby!
Sign up for our monthly pregnancy email series, and you'll get regular updates on your baby's development, helpful timelines to get ready for their arrival, must-have baby needs and so much more! PLUS, you'll get instant access to the MomsWhoThink "Ultimate Guide to Baby Naming in 2022."
CLICK HERE
to get started!
Rapid brain growth is continuing in month 8 of your pregnancy. The fetus can kick strongly and roll. The bones of the head are soft and flexible to make it easier to fit through the birth canal.
The lungs may still not be fully developed. If born before 37 weeks pregnant, the baby is premature but has an excellent chance for survival. The baby is now approximately 18 inches long and weighs about five pounds.
Your Body's Changes:
Stronger contractions may start this month. Your breasts may leak colostrum (the fluid that will feed your baby until your milk comes in) as they begin to produce milk. You may have trouble sleeping as your belly grows and your discomfort increases.
Try putting a pillow between your knees to align your spine. You may also develop shortness of breath as the baby crowds your lungs. The baby may also crowd your stomach so eating five or six smaller meals during the day can help. The top of your uterus now lies just under your rib cage.
Prenatal Care:
After the 32nd week of pregnancy, you'll need to visit your doctor every two weeks for prenatal care check-ups. You should gain one pound a week this month. Call your health care provider right away if you have:
* Blurry vision, or spots before your eyes
* Bleeding or a gush of fluid from your vagina
* A noticeable decrease in your baby's movements
* Cramps, stomach pains, or a dull backache
* More than five contractions in one hour
* A feeling that the baby is pushing down
Most Popular Pregnancy Links: