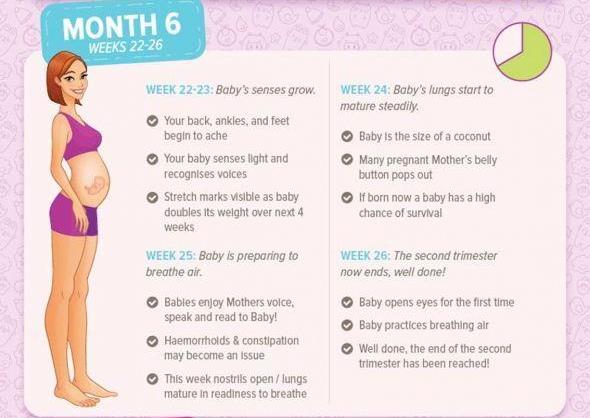 Your Baby's Growth:
Let's Get Ready for Baby!
Sign up for our monthly pregnancy email series, and you'll get regular updates on your baby's development, helpful timelines to get ready for their arrival, must-have baby needs and so much more! PLUS, you'll get instant access to the MomsWhoThink "Ultimate Guide to Baby Naming in 2022."
CLICK HERE
to get started!
The baby's skin is red and wrinkled and covered with fine, soft hair called lanugo. At this stage the fetus is usually too small to be born; its lungs are too immature for life outside its mother. If born now because of preterm labor, the fetus may possibly survive with intensive care. The eyelids begin to open this month. Fingerprints can be seen.
The fetus continues its rapid growth to a length of 11 to 14 inches long and a weight of about one and a half pounds by the end of month 6.
Your Body's Changes:
You may feel your baby kicking strongly now. The skin on your expanding belly may start to itch. Your back may hurt; wear low-heeled shoes and take breaks by putting your feet up. Exercise can help prevent backaches. You may feel pain down the side of your belly as your uterus stretches.
Prenatal Care:
Visit your doctor or health care provider for this your month 6 checkup. Continue eating a healthy, nutritious diet and take your vitamins. Be sure to exercise daily.
Most Popular Pregnancy Links: