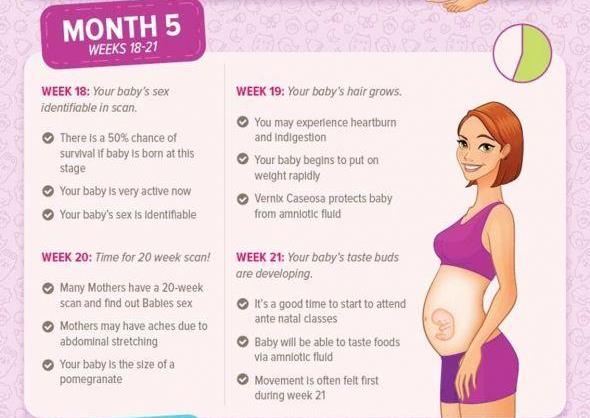 Your Baby:
Let's Get Ready for Baby!
Sign up for our monthly pregnancy email series, and you'll get regular updates on your baby's development, helpful timelines to get ready for their arrival, must-have baby needs and so much more! PLUS, you'll get instant access to the MomsWhoThink "Ultimate Guide to Baby Naming in 2022."
CLICK HERE
to get started!
The fetus becomes more active now, turning from side to side and sometimes doing somersaults. The fingernails have reached the tips of the fingers. The fetus now sleeps and wakes at regular intervals. This is a month of rapid growth; at the end of the fifth month of pregnancy, your baby is 8 to 12 inches long and weighs between eight ounces and one pound.
Your Body's Changes:
If you haven't already, you will begin to feel your baby moving. Your uterus has grown to the height of your belly button. Your heart beats faster due to increased blood volume. You may need more sleep each night. Take rest breaks during the day if you feel tired. You may get leg cramps if you're not getting enough calcium. Let your doctor know.
Prenatal Care:
Visit your doctor or health care provider for your month 5 checkup. Continue eating a healthy, nutritious diet and drink lots of juice, water, and milk every day along with exercising.
Most Popular Pregnancy Links: